3-Minute Easy Chocolate Sauce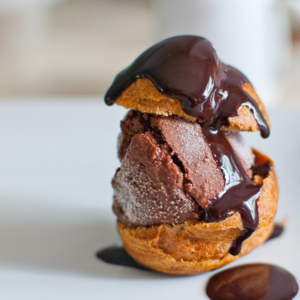 30 grams (1/4 cup) best-quality cocoa powder (I used Varlhona cocoa)
55 grams (1/4 cup) caster sugar (more if you like a sweeter sauce)
100 ml water (1/3 cup + 1½ tablespoons) (substitute with milk for a creamier texture)
10 grams (2 teaspoons) unsalted butter, diced
Combine the cocoa powder, caster sugar and water in a small pot. Bring it to a boil over medium-high heat, whisking constantly to dissolve the sugar and cocoa powder.
Remove the pot from heat and stir in the butter. Let the sauce cool before transferring it to a serving container. The sauce will thicken slightly when cooled.
Make ahead: Keep the sauce covered in the refrigerator for up to 1 week. Warm it up in the microwave or in a pot and whisk till smooth before using.
Recipe by
Foodie Baker
at https://www.foodiebaker.com/3-minute-easy-chocolate-sauce/