Chicken Karaage (Japanese Fried Chicken)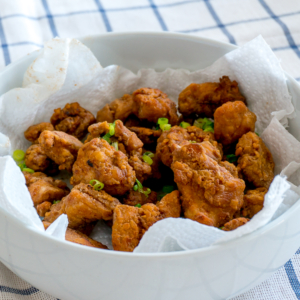 2 boneless, skinless chicken thighs, cut into 1-inch chunks (about 300 grams)
1 thumb of ginger, peeled and grated
1 clove garlic, peeled and grated
1½ tablespoons light soy sauce
5 to 6 tablespoons corn starch / potato starch
Oil for frying (I used canola)
2 tablespoons mayonnaise
1 to 2 teaspoon lemon juice
1 to 2 teaspoons sriracha sauce
Combine chicken thighs, ginger, garlic and soy sauce in a mixing bowl. Cover and chill in the refrigerator for at least 1 hour, up to 4 hours.
Remove the marinated chicken from the refrigerator 30 minutes before cooking to let them come back to room temperature.
Place corn starch / potato starch on a shallow bowl. Line and bowl with paper towels to absorb excess oil. Set aside.
Heat 2-inch deep of oil in a pot / wok over high heat until it reaches 160-170C / 320-340F.
If you don't have a thermometer, insert a wooden spoon or a pair of chopsticks in the oil - if the oil bubbles vigorously around the spoon / chopsticks, the oil is ready for frying.
Turn the heat down to medium.
Once the oil is ready, coat a few chicken pieces (I do 5 or 6 at a time) with the corn starch / potato starch and add them into them hot oil.
Fry the chicken pieces for about 2 to 3 minutes, flipping frequently, until lightly browned on all sides. If the chicken pieces are browned too quickly, reduce the heat.
Remove the cooked chicken pieces with a slotted spoon, drain well and transfer to the bowl lined with paper towels.
Use a metal mesh strainer to scoop up any bits of flour or smallish chicken bits so they don't burn in the oil.
Repeat until all the chicken pieces are fried.
Turn the heat back up to high and heat the oil until it reaches 180C / 360F. Just let the oil continue to heat up for another minute after the oil bubbles vigorously around the wooden spoon / chopsticks. If the oil is smoking, the oil is too hot. Remove from heat and let cool slightly before using.
Add all the chicken pieces back into the hot oil and cook for another 30 seconds to 1 minute for the chicken pieces to expel the excess oil absorbed by the chicken pieces.
Drain the chicken pieces well and transfer them to the bowl lined with paper towels.
Transfer the chicken pieces to a serving plate and serve with the Dipping Sauce.
Stir mayonnaise, sriracha and lemon juice together in a small bowl. Adjust the sauce according to your liking.
- Note that cornstarch = corn flour but potato starch is also not the same as potato flour!

- Frying the chicken in batches will prevent the oil temperature from dropping too much, resulting in oily chicken.
Recipe by
Foodie Baker
at https://www.foodiebaker.com/chicken-karaage/