Creamy Avocado and Tuna Spread / Dip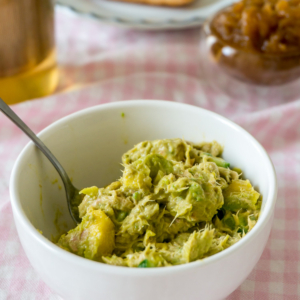 Yield:
Serves 2 (Recipe will serve more if it's a side)
½ large avocado (or 1 small avocado)
1 can tuna in water, drained (about 100 grams drained weight)
2 tablespoons mayonnaise
1 to 2 tablespoons lemon juice / apple cider vinegar
1 to 2 teaspoons mustard
Freshly ground black pepper
½ Japanese cucumber, diced (optional)
Scoop out the avocado and dice into small cubes. Place into a mixing bowl and mash with a fork slightly.
Add in drained tuna, mayonnaise, 1 tablespoon lemon juice/apple cider vinegar, 1 teaspoon mustard and black pepper. Mix well, mashing the avocado more if desired. Taste and add more acid/mustard if desired. Stir in the diced Japanese cucumber if using.
Spread on top of toasts (with caramelised onion!), wrap up in warmed tortillas, top on salad greens, or serve in a large bowl with tortilla chips on the side. Leftovers can be stored in an airtight container in the refrigerator for up to 1 day.
Recipe by
Foodie Baker
at https://www.foodiebaker.com/creamy-avocado-and-tuna-spread/