Mango Pound Cake with Mango Caramel Sauce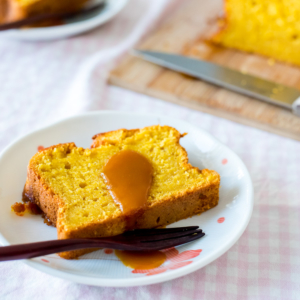 75 grams sugar
30 grams water
40 grams cream, minimum 30% fat, slightly warm
75 grams mango purée
Place sugar and water in a small pot. Cook, over high heat, until caramel turns a dark golden brown. Do not use a spatula or whisk, just swirl the pot when needed.
Take a whisk and carefully whisk in the cream in 3 parts. Whisk in the mango purée. Bring the sauce to a boil and remove from heat.
Transfer the sauce into a small bowl or a jug and let cool slightly before using. The sauce is good with pancakes, waffles, ice cream and cakes.
- Mango Caramel Sauce recipe adapted from
Bobby Flay
Recipe by
Foodie Baker
at https://www.foodiebaker.com/mango-caramel-sauce/