Here is our 8-day itinerary in Denmark!
Day 1 & 2
Copenhagen (exploring the city, Tivoli and Copenhagen Pride)
Day 3
Vejle → Legoland
Day 4
Odense
Day 5
Funen Village → Egeskov Castle → Ærø
Day 6
Ærø
Day 7 & 8
Copenhagen (Dyrehaven, Bakken and exploring the castles)
Check out all the posts on Denmark here:
Budget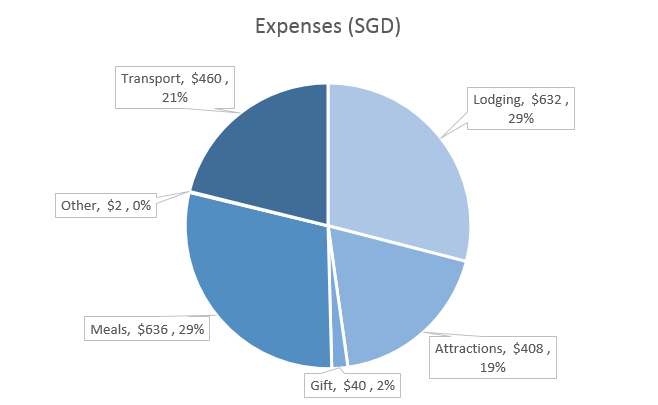 In total, we spent about SGD 3,300 (exclusive of airfare) for the both of us for 8 days. This averaged out to be SGD 200 per day per person.
Meals: Everything in Denmark is expensive – the cost of a KFC 2-piece chicken meal is already DKK 65 (about SGD 13) – in Singapore, the price is only about SGD 8.50. So in order to cut down some of the costs, we prepared sandwiches for most of the breakfast and lunch and for 2 of the dinners, we cooked in our hostel, which really helped to bring down the food costs to an average of about SGD 40 per day per person.
Transport: Not sure if you've read it in the previous travelogue, but we managed to save on transport by buying orange tickets, which are discounted train tickets sold by DSB (the railway company in Denmark) for some of the train routes. These tickets are available, in limited quantities, only online (means have to pay with a credit card) and you can start purchasing the tickets 2 months before the date of departure. We "stalked" the website and purchased some of the train tickets at only about 1/3 of the original price. So it's best to plan your trip in advance so that you can make use of these discount.
Lodging: Lodging was either AirBnB or hostel, and for SGD 40 per day per person, I think it's still pretty reasonable.
Attractions: The most expensive attraction was Legoland (SGD 117 – which was slightly discounted as we purchased them in advance), followed by Bakken (SGD 109 – we bought the unlimited ride wristbands), then Egeskov Castle (SGD 78), Tivoli (SGD 77 – we paid for the entrance and only sat 1 ride) and lastly Funen Village (SGD 25). We did not visit any other castle or museums, so if you are planning to visit them, the costs will increase. You can also check out the Copenhagen Card which will entitle one to free admission to 74 museums and attractions, free public transport on the bus, train and Metro and discounts on restaurants and sights.
Lesson learnt: plan for your trip to Denmark in advance to take advantage of the "early bird" discounts! Hope this will be useful in planning and budgeting for your Denmark trip!!