Hello! I'm back with another travelogue of Denmark, where X and I visited a few months back in August. This time we are in Copenhagen, the capital of Denmark, where we spent about 3 days there, out of 8 days we are in Denmark. After sorting out the photos, I've came up with 19 things to do in Copenhagen – and let's get started!
1) Stroll Along Nyhavn
Nyhavn is a 17th-century waterfront, canal and entertainment district with brightly coloured 17th and early 18th century townhouses, bars, cafes and restaurants and wooden ships. All of these create a picturesque scene, attracting plenty of tourists and locals to this place every day. As we were there on a Friday evening, it was extremely crowded with people – I guess partying in Copenhagen starts early! Definitely not a place to miss while you are there – but I won't be so sure about dining there, pretty sure it's going to be expensive!
Nyhavn, København K, Denmark
---
2) Rent a Bike

Denmark is a country made for cyclists, period. With over 12,000 kilometres of sign-posted cycle routes and gentle terrain, and add the fact that you can bring your bikes up the trains, cycling is the best way to explore not just in Copenhagen, but all around Denmark.
---
3) Selfie with The Little Mermaid
Den Lile Havfrue (The Little Mermaid) is a small, bronze statue commissioned in 1909 by Carl Jacobsen (son of the founder of Carlsberg), which was sculpted by Edvard Eriksen. Don't be fooled by the photo, the statue's really small in real life – it's only 1.25 metres tall! The statue was sculpted based on the fairy tale The Little Mermaid and is a major tourist attraction since 1913.
Den Lile Havfrue
Langelinie, 2100 København Ø, Denmark
---
4) Go Green
One really interesting thing that I've learned during my trip in Denmark is their remarkable efforts put into going green. They have different bins for different types of waste, they do not give out plastic bags in supermarkets (you have to buy them, which is an initiative I hope will be implemented in Singapore soon), and when you buy bottled (plastic) or canned drinks, there will always be an additional charge called "PANT" on top of the price of water, which is something like an environmental tax. But this "PANT" is refundable – when you recycle the bottles and cans using the recycling machine above (available at most supermarkets), it will churn out a coupon that you can use to offset your next purchase – but note that the coupon is only valid at the supermarket you redeemed at! We made the mistake of keeping some of the coupons then only found out that we cannot use them as they are from a different supermarket.
---
5) Be Enchanted at Nyboder
Nyboder is a historic house district – it was originally built for the growing Royal Danish Navy and their families in 1631. The neat row of houses, cobbled paths, the setting sun and the lack of tourists create a pretty scene.
Nyboder, Copenhagen, Denmark
---
6) Picnic at Frederiksberg Garden
Frederiksberg Have (Frederiksberg Garden) is one of the largest and most beautiful public parks in Copenhagen. It was commissioned by King Frederik IV together with the construction of Frederiksberg Palace. With such a lush and green scenery, it's no wonder that we spotted many locals exercising or having picnic in the parks.
Next to Frederiksberg Garden is the Copenhagen Zoo, and when the zoo was built, they extended it in such a way so that visitors to the public park can view the elephants. We spent some time watching the elephants using their trunks to reach for the food in the blue bins.
This may sound weird, but within the park itself lies a Chinese Teahouse, completed in 1803, which is sitting on a small artificial island, accessible via a bridge. The Chinese Teahouse opens only on summer Sundays, and as we were in the park on a Saturday, we can only catch a view of it from afar. One can also rent a boat and row around the canals.
Frederiksberg Have
Frederiksberg Runddel, 2000 Frederiksberg, Denmark
Free admission
Opening hours
---
7) Visit the Public Toilet
Whenever we travel, we found that it's always not easy to find free public toilets – but we did not face this problem while in Copenhagen. Copenhagen has 31 public toilets, of which 6 are staffed (these cost DKK 2 to visit). In addition, there are 9 free self-cleaning toilets (which is really interesting) and 16 automatic, coin-operated bathrooms around the city.
---
8) Join a Local Festival
We were really lucky that we visited Denmark during the Copenhagen Pride Week. There was a parade held on Saturday, where many different organisations participated – with the participants dressing up and parading / dancing down the streets. The scale of the parade was immense and I love watching the different costumes that the participants are dressed in. Some organisations were even giving out snacks or sweets, much to the delight of kids. We spent about 3 hours at the parade then head off to another place for lunch (the parade was still ongoing!)
---
9) Have a Peek at Christiania
Fristaden Christiania (Freetown Christiania) is a self-proclaimed autonomous neighbourhood of about 850 residents – what makes this place stand out are the graffiti and the repugnant smell of marijuana (which reminds me of night time in Amsterdam).
Christiania is "famous" for its open cannabis trade in the "Green Light District" – we saw store owners wearing masks (I wonder if they are trying to conceal their identity or trying not to inhale the smell of cannabis) selling little pots of weed. As we are not allowed to take any photos inside the district, we only managed to take a photo of the entrance of the district (I saw a tourist who got chided for trying to take photos of the district). We couldn't stand the smell, so we hastily left the place after taking some photos.
Freetown Christiania, København, Denmark
---
10) Climb for Free at Christiansborg Palace
The Christiansborg Palace houses the Danish Parliament, the Prime Minister's Office and the Supreme Court. On this very site stood 4 other castles (the first constructed in 1167), which were either demolished or burnt down. Hence this new palace, built from 1907 and completed in 1928, is actually relatively new. During the construction, they came across the ruins of the old castles, which is now opened to public at a price.
So if you are not interested in the ruins, you can simply pass the security checks, then take the elevator up to the viewing point at the Tower, which will provide you with a panoramic view of Copenhagen. And if you like something even more fancy, there is also a restaurant in the Tower that you can dine in.
In the background of the above photo, you may catch a glimpse of a spiral tower – which is actually a famous helix spire of a baroque church, Vor Frelsers Kirke (Church of Our Saviour). The spire has an external winding staircase that visitors can climb to the top for another panoramic view of Copenhagen – but costs DKK 35 / 40 (depending on the season).
Christiansborg Palace
Prins Jørgens Gård 1, 1218 København, Denmark
Opening hours; Admission fees
Climbing the Tower is free of charge.
Vor Frelsers Kirke
Skt. Annæ Gade 29 1416 København K
Church
Daily 1100 – 1530 (closed during services)
Tower
Mon – Sat 0930 – 1900; Sun 1030 – 1900 (May – Sep) / DKK 40
Mon – Sat 1000 – 1600; Sun 1030 – 1600 (Oct – Dec) / DKK 35
The opening hours are not fixed, so it's best to check out the website here before visiting.
---
11) Watch the Change of Guards at Amalienborg Palace
Amalienborg Palace is made up of four identical buildings and tourists gather around here at noon daily to watch the change of guards. The scale of the change of guards depends on whether there are any royalty residing in the palace that day. I think there weren't many royalties (or maybe even none) residing in the palace when we went to watch it as the number of guards on duty was really small (as compared to what we had seen at Buckingham Palace, London). As usual, tickets can be purchased to visit some of the exhibitions and rooms opened to public.
Amalienborg Palace
Christian VIII's Palæ 1257 Copenhagen K
Jan – Oct 1000 -1600 (Monday closed from Jan – Apr); Nov – Dec 1100 -1600
Admission: DKK 90 (adults); DKK 60 (students)
Website
You can purchase a combined ticket to visit both Amalienborg Palace and Rosenborg Castle at DKK 130 (valid for 36 hours).
Opening hours may change or palace may be closed during holidays, check here.
---
12) See the Crown Jewels in Rosenborg Castle
Rosenborg Castle was built by one of the most famous Scandinavian kings, Christian IV, in the early 17th century. Besides viewing the crown jewels, the ticket will also allow you to take a peek at the coronation thrones, the king's private writing cabinet, his bathroom and wax figurines of former royalty living in the castle.
Rosenborg Castle
Øster Voldgade 4A 1350 København K
Jan – Apr & Nov – Dec: 1000 – 1400 (Monday closed); May & Sep – Oct: 1000 – 1600; Jun – Aug: 1000 – 1700
Admission: DKK 90 (adults); DKK 60 (students)
Website
You can purchase a combined ticket to visit both Amalienborg Palace and Rosenborg Castle at DKK 130 (valid for 36 hours).
Opening hours may change or castle may be closed during holidays, check here.
---
13) Shop Window-Shop at Strøget
Tired of all the museums and exhibitions? Take a walk down Strøget shopping street – one of Europe's longest pedestrian streets filled with shops – from budget-friendly to wallet-unfriendly. The Stork Fountain in the photo above was donated by the Society of Copenhagen's Embellishment in celebration of King Frederik VIII and Queen Louise's wedding in 1894.
Strøget shopping street
Frederiksberggade 1459 København K
---
14) Relax on a Boat Tour
If you have the spare cash / budget, taking a boat tour down Copenhagen's canals is a beautiful and relaxing way to soak in the views of Copenhagen. You can choose a huge tour boat like the one above, a solar-powered picnic boat for 4 to 5 people or even a kayak (but this won't be as relaxing anymore haha).
For more information on boat tours and the companies that offer them, click here.
---
15) Just Get Lost
And if you are not a fan of doing touristy stuff or just looking for budget things to do, getting lost in the Copenhagen alleys will be a really beautiful and fun thing to do. All the houses are so pretty and colourful!
---
16) Relive your Childhood at Tivoli Gardens
Perhaps what make Copenhagen so happening and fun is the fact that there is a theme park located in the city itself. Tivoli Gardens, opened in 1843, is the second-oldest amusement park in the world (don't worry, I'll bring you to the oldest theme park in the world soon). You will need to purchase an entrance ticket to enter Tivoli Gardens and then ride tickets separately if you want to take the rides, making the prices pretty steep, but this definitely did not deter millions of visitors from visiting each year.
Tivoli Gardens
Vesterbrogade 3 1630 København V
Sun – Thu 1100 – 2300; Fri – Sat 1100 – 0000
Entrance fee: DKK 99; Ride: DKK 25/50/75; Multi-ride (unlimited rides): DKK 209
Website
---
17) See Some Many Deers
Dyrehaven (The Deer Park) is a UNESCO World Heritage forest park about 10-km north of Copenhagen. If you have some time, I highly recommend travelling out of Copenhagen to visit this place. It's easily accessible by train, just take the S-train from Copenhagen to Klampenborg station and within minutes from the station you will reach the park. However, in order to see the herd of about 2,000 deer, you will need to walk quite far in, about 2.5 to 3 kilometres, towards The Hermitage – the royal hunting lodge built in the 18th century. So I highly suggest renting a bicycle – there is a bicycle rental shop just outside Klampenborg train station or you can rent one in Copenhagen and bring it up to the train to Dyrehaven. We didn't rent the bicycle and had to walk for almost 45 minutes under the hot sun before we saw some deer (but it was worth it because I've never seen so many deer in the wild in my life!) You can also take a horse carriage ride like the one below but we didn't check out their prices. Also, bring along a good zoom lens as the deer won't approach human beings.
We noticed that does (female deer) and their fawns graze together while the bucks (male deer) form another grazing group together. We wandered into the grass to take some photos – but beware of stinging nettle – there are plenty of them among the grass (especially in shaded areas) and their leaves and stems are full of tiny stinging hair. I didn't see the hair and went to touch them, which immediately caused a painful and stinging sensation that lasted for hours. X was also scratched a little on the legs when he walked into the grass (I was wearing a long skirt hence I was spared).
Dyrehaven 2930 Klampenborg
Open 24/7
---
18) Take More Rollercoasters at Dyrehavsbakken
Within the park itself lies the world's oldest amusement park – the Dyrehavsbakken (or simply known as Bakken). Founded in 1583, the park offers free entrance (you just have to pay for the rides) and a wide variety of rides, games, restaurants and fast food. The park is also less crowded than Tivoli Gardens (maybe because we went there on a Thursday) so there was almost no queue to all the rides!
Bakken
Dyrehavevej 62 DK-2930 Klampenborg
Admission: Free; Individual ride: DKK 15 – 40; Unlimited: DKK 249
Website
There are also 44-coupon booklet at DKK 199, in which the coupons can be used to redeem for rides (3 to 8 coupons per ride).
For unlimited, you'll get a wristband, which allows you to sit up to 10 times per ride.
On Wednesdays, most of the rides are discounted, up to 50%. (See price guide)
The park opens only from March to August, check the website for opening hours.
The Danish website is more comprehensive than the English one, so I suggest using Chrome and use the "Translate to English" function to access the Danish website.
---
19) And Don't Forget to Eat!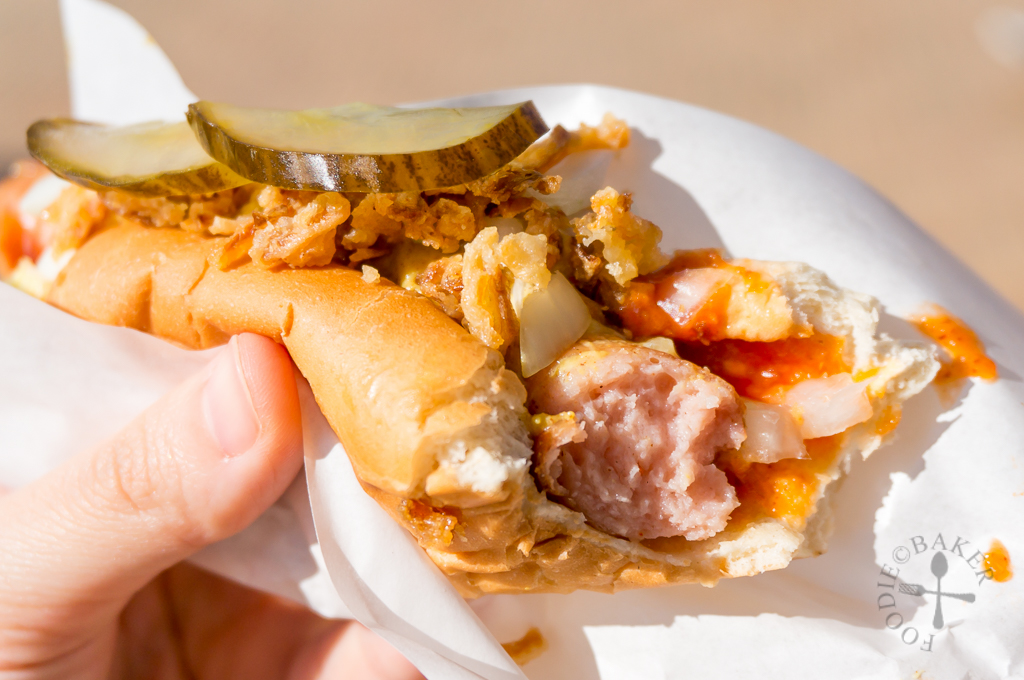 And of course, how can we forget about food? From hotdog to seafood to sweets… check out my previous post on 5 things to eat in Copenhagen!
---
And that's all – 19 things to do in Copenhagen! Here is a map for all the places I've mentioned in this and previous post, hope that it will be useful when you are planning your Copenhagen trip! Till the next travelogue!