I was craving a tea-time treat 2 days back and I ended up baking this incredibly easy, simple, one-bowl and no-mixer yogurt cake flavoured with a little lemon zest, lemon juice and vanilla. They go sooo well with the Earl Grey tea I was having that I went for a second slice, with an additional scoop of ice cream on top (no photos of that as I was busy pigging away haha).
Jump to: Step-by-Step Photos · Recipe
Yogurt – I used plain and full-fat Greek yogurt for this recipe. They can be easily substituted with any kind of yogurt you like – flavoured, plain, non-Greek… in a pinch, sour cream can also be used also.
Oil – I used a mix of extra-virgin olive oil and canola oil as I ran out of extra-virgin olive oil. You can use hazelnut oil, almond oil, peanut oil, vegetable oil and in a pinch, even melted butter.
Sugar – I used only caster sugar this time round, but I may substitute some with brown or golden sugar the next time for a change.
Add-Ons – I used vanilla paste (love seeing the specks of vanilla in the cake), lemon zest and lemon juice to give the cake a refreshing flavour. You can use orange or lime zest / juice instead and I'm thinking of experimenting with a chocolate version soon.
The cake is so easy to make (took me only about 5 minutes to put them together and send the batter into the oven) and though it takes a pretty long time to bake in the oven, the texture is still soft and tender. It has a pretty tight crumb so it doesn't crumble easily when cut. It's denser than a regular sponge / chiffon cake but much lighter than a butter cake. I love how it has just the right amount sweetness and I can't wait to experiment more on this basic recipe – baking them into cupcakes, changing the flavours etc. And really, I don't think you will need any step-by-step photos, but here are them just in case!
Step-By-Step Photos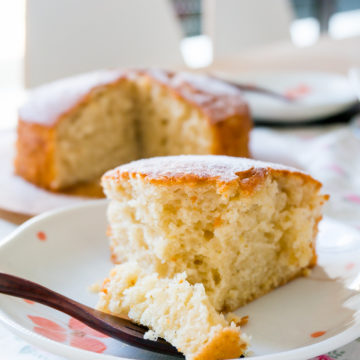 Easy One-Bowl No-Mixer Lemon Yogurt Cake
Double the recipe to bake the cake in a loaf tin (8 x 4-inch) or a 7-inch round tin.
Ingredients
75

grams

caster sugar

1/3 cup

125

grams

yogurt

1/2 cup, at room temperature

3

tablespoons

oil

1

egg

at room temperature

1/2

teaspoon

vanilla

1

tablespoon

lemon juice

Zest of 1/2 lemon

100

grams

all-purpose flour

3/4 cup + 1 tablespoon

1/2

teaspoon

baking powder

1/4

teaspoon

baking soda

1/8

teaspoon

salt
Instructions
Preheat oven to 175 degrees Celsius. Grease a 5-inch cake tin and line the bottom with baking parchment. Set aside.

Measure sugar, yogurt, oil, egg, vanilla, lemon juice and lemon zest directly into a large mixing bowl and whisk together until incorporated.

Sift in flour, baking powder, baking soda and salt and whisk in gently until just incorporated. Use a spatula and scrape the sides and bottom of the mixing bowl to make sure all the flour mixture is incorporated.

Scrape the batter into the cake tin and smooth the top. Bake for 40 to 45 minutes until a skewer inserted into the center of the cake comes out clean. If the top is browning too fast, tent it with a piece of aluminum foil.

Place the cake tin on a wire rack and let the cake cool completely. Run a spatula along the sides of the cake tin and turn out the cake. Peel off the baking parchment and turn the cake right side up and transfer to a serving dish. Dust with icing sugar and serve.
Notes
- Make sure the ingredients are at room temperature before mixing them together - take them out of the refrigerator and place on the table counter for 30 minutes before using.
- For the yogurt, you can use Greek or non-Greek, plain or flavoured, full-fat or low-fat - it's entirely up to you. I used plain full-fat Greek yogurt for this attempt.
- For the oil, you can use extra-virgin olive oil, canola oil, vegetable oil or any nut oil. I used a mix of extra-virgin olive oil and canola oil for this attempt.
- Adapted from The Kitchn