Crêpe is a type of French pancake that can be used for both savoury and sweet dishes. For savoury dishes, crêpes can be rolled up with a filling made of fish, meat or vegetables inside, spread with sauce and browned in the oven, or piled up like a lasagna and heated up in the oven. Sweet crêpes can be filled simply with sugar, or more elaborately with jams, preserves, chocolate, whipped cream, fruits or used to prepare crêpe suzette.
I've made crêpes a few times (one stacked into a chocolate Kahlua cake and another with bananas and a boozy sauce), and after making a crêpe cake with two of my new friends here two weeks ago, the craving for crêpes remained so I decided to make some again for a tea session with them last week. And instead of Googling for a new recipe and use one I've tried previously, I chose to use one from Julia Child's cookbook. I followed her recipe closely, only adding a teeny bit of sugar to the batter.
I filled a few of the crêpes with a savoury chicken and mayonnaise filling (which couldn't be any simpler) and saved the rest to fill with a combination of spreads, whipped cream, and my favourite 3-minute chocolate sauce. Crêpes can keep really well, so I wrapped the leftover plain crêpes with plastic wrap and enjoyed them the next day for breakfast.
I like both sweet and savoury crêpes, but I think I prefer sweet ones a little bit more – what about you? Oh and by the way, I found the video of Julia Child cooking the crêpes on YouTube – it's in black and white, which is such a treasure! Here's the video and below are the step-by-step photos and recipes – happy cooking!
| Step-by-Step Photos | |
| --- | --- |
| | |
| 1) Place milk, water and egg in a large mixing bowl. | 2) Add in flour, sugar and salt. |
| | |
| 3) Add in melted butter. | 4) Blend until everything is incorporated and chill for at least 2 hours. |
| | |
| 5) Pour a thin layer of batter into a heated and buttered pan. | 6) Flip to the other side and cook until done. |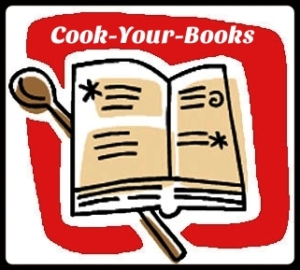 This post is linked to Cook Your Books Event #29 hosted by Joyce of Kitchen Flavours.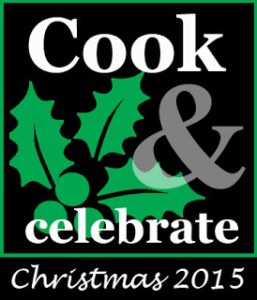 This post is also linked at Cook and Celebrate: Christmas 2015 hosted by Yen from GoodyFoodies, Diana from The Domestic Goddess Wannabe and Zoe from Bake for Happy Kids.
Julia Child's Basic Crêpes Recipe
This is an all-purpose crêpes recipe that can be used to make crêpe cakes, simple breakfast / brunch, or filled and rolled with a savoury filling.
EQUIPMENT
8-inch frying pan

(preferably non-stick)
INSTRUCTIONS
Making the Crêpe Batter
Blender: Combine all the ingredients in a large mixing bowl (or blender jug). Blend with an immersion blender until everything is combined, scrapping down the sides of the bowl a few times. If there are lumps, continue blending until the lumps are gone. If there are still lumps remaining, strain the batter and discard the lumps.

Whisk: In a mixing bowl, whisk milk, water, egg and butter together. In a separate large mixing bowl, whisk flour, sugar and salt together. Pour in the wet ingredients slowly, whisking constantly until everything is incorporated. Strain the batter and use a spoon to press down on the lumps against the sieve to incorporate them back into the batter. Strain the batter and discard any remaining lumps.
Chilling
Cover the mixing bowl with a plastic wrap, place the bowl in the refrigerator and chill the batter for at least 2 hours before using to allow flour particles to expand in the liquid to yield a tender and light crêpe. The batter can be made the day before and kept chilled until ready to use.
Cooking the Crêpes
Heat an 8-inch frying pan over medium heat. Sprinkle droplets of water onto the frying pan and if the water sizzles immediately, it means the frying pan is hot enough for use.

Brush a thin layer of softened or melted butter on the frying pan. Give the crêpe batter a stir and scoop ¼-cup of batter.

Hold the frying pan in your dominant hand and pour the crêpe batter into the middle of the pan with another hand, tilting the pan in all directions as you pour (the batter should set almost immediately as you pour in the batter) so that the batter coats the bottom of the frying pan in a thin layer.

Cook for about 30 seconds until the edges begin to brown, then loosen the crêpe with a spatula and turn to the other side to cook for another 30 seconds. Transfer the cooked crêpe onto a plate. Repeat until all the batter is used up.

Note: After cooking the first crêpe, determine if ¼-cup of batter is too much or too little and adjust the batter amount for the subsequent crêpes. The crêpe batter consistency should be that of a light cream, just thick enough to coat a spoon. If you find the batter too thick or heavy you may whisk in water, tablespoon by tablespoon.If the crêpe is burning or setting too fast for your comfort, lower the heat slightly or place the frying pan on a wet tea towel for 5 to 10 seconds to cool down the frying pan slightly.
NOTES
Chicken and Mayonnaise Filling: Shred 5 poached chicken fillets and combine with 1/2 cup mayonnaise, 1 to 2 tablespoons of mustard, 1 to 2 tablespoons of honey, and 2 tablespoons chopped fresh flat-leaf parsley in a mixing bowl. Season to taste with salt and freshly ground black pepper. Makes enough to fill about 8 crêpes.
Adapted from Julia Child's Mastering the Art of French Cooking