Hello I'm back again with a travelogue to… Switzerland! X and I travelled to Switzerland in late August for 9 days and it was such an incredibly beautiful trip. Besides visiting the cities, we also head to the alps and see snow in summer – yes, snow in summer! Before I go into detailed posts about Switzerland, I thought it'd be good to share some FAQ that most have on Switzerland. Let's go!
---
1) What Do People Speak in Switzerland?
Switzerland has 4 national languages, German, French, Italian and Romansh. German is learned mainly in northern, central and eastern Switzerland, French in the west and Italian in the south. Romansh is the least-used language, spoken by only around 0.9% of Switzerland's 7.7 million inhabitants. However, it is not easy to find one who can speak all 4 languages because Swiss don't learn all 4 languages in school.
It is quite intriguing to see the same company having different names in different parts of Switzerland. We saw Swiss Post having "Die Post" (German), "La Poste" (French), and "La Posta" (Italian and Romansh) names while we were travelling through Switzerland. When we paid for our groceries at the supermarkets, the cashiers would say, "merci" (French), "danke" (German) or "danke merci".
Not to worry even if you don't know any of those 4 languages (because we don't too) – English is regarded as the unofficial fifth language and spoken by many throughout Switzerland.
---
2) Can I Drink Tap / Fountain Water?
You will see a lot of fountains in Switzerland, like, really, a lot! In Zurich itself, there are already over 1,000 fountains! And the best part is, the water is safe for drinking (unless otherwise stated). The same goes for tap water. Bring a bottle when you are going to Switzerland, take photos of the fountains (or pose with them), then fill up on some refreshing water!
---
3) Are Shops Closed on Sundays?
Unless you are in extremely touristy areas like the Jungfraujoch and Zermatt, Sundays are rest days in Switzerland. Shops (including supermarkets), close early on Saturdays (around 4p.m.) and remain closed on Sundays. If you need something on a Sunday, your best bet is to head to railway stations – hopefully there will be a mini-mart open!
In smaller towns and villages, shops will sometimes close for a 1 to 2 hour lunch break, which we experienced in Murren. Restaurants are usually open so no worries about food.
---
4) When to Visit Switzerland?
Switzerland is a place where one can enjoy all year round, so it's really hard to tell you when is the best time to visit!
If you like to ski / snowboard / winter sports, head there from mid-January to March. February will be the most crowded due to European school holidays, while in March the crowds will start to thin. However, there are also places where you can ski/snowboard during summer too.
If you like to hike and see greenery, anytime from April to October will be good. From July to early September, prices will peak as it's the most popular period to visit Switzerland. Book your flights and accommodation early to snag better deals.
Swiss Vistas have a really in-depth post about the different seasons in Switzerland, so head there for a better understanding!
---
5) Where to Go in Switzerland and How Many Days at Each Place?
In my honest opinion, if this is the first time you are going to Switzerland, the alps should be the main focus of your trip. You can head to the cities, the old towns for a visit but spend the bulk of your trip in the alps.
We allocated 1 day for the cities and the towns (Bern, Lucerne, Zurich – one of the days in Lucerne we went up to Mt. Rigi). As for the alps, we spent at least 2 days there. When you have finally reached the alps like Jungfraujoch or Zermatt, the last thing you want is to experience a rainy/cloudy weather and miss the chance of taking a photo of the alps and the surrounding scenery. When you have at least 2 days there, you can check the weather forecast and plan for the best day to head up the alps. If both days are rainy/cloudy… :'(
We had 3 days at Jungfrau region but went up to the top of Europe, Jungfraujoch on the first day because the weather forecast predicted cloudy weather for the next 2 days of cloudy weather. We were glad we went up on the first day because we really got cloudy weather for the next 2 days.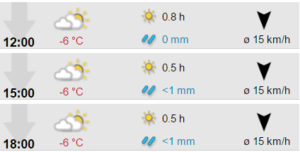 We used MeteoSwiss and MeteoNews to check the weather forecast throughout our trip. X liked MeteoNews as it estimates the sunlight duration over a 3-hour period. From the example above, we can estimate that there will be only about 1/2 hour of sunlight from 3p.m. to 6p.m., meaning the rest of the 2 1/2 hours will likely be cloudy.
---
6) What to Wear?
If you are not going to the alps, dress like how you would dress in cities. When we were there in late August, we wore shorts and T-shirts in Lucerne, Bern, and Zurich.
If you are going to the alps, the mornings and evenings can be quite chilly but in the afternoons it could get quite warm (especially even more so when you are hiking) so you would need clothing that you can layer on.
If you are planning on hiking around the alps (which you most definitely should), bring a pair of good hiking boots that you have broken in.
---
7) How to Get Around in Switzerland?
The trains are the best way to get around in Switzerland. In Zurich, the Zürich Hauptbahnhof (main train station) has over 40 platforms and serve over 2,900 trains per day! The trains are often punctual and efficient, and their timings are staggered in such a way that you will be able to catch a connecting train to wherever you want to go. Train tickets have to be purchased before you board the train, automated machines are easy to find at train stations and you can use cash or credit card to pay for them. The Swiss Federal Railways (SBB/CFF/FFS – in different national languages, but I'm going to just call it SBB) is the national railway company of Switzerland has a mobile app in which you can purchase train tickets via the app too.
Within the cities or towns, you can get around either via the trams or the buses. Tickets are usually purchased at the tram/bus stops, but for some buses, tickets are purchased on board (like the buses in Montreux). In some places, you can also take scenic boat rides to explore the place!
There are also travel passes that you can purchase for your trip, which I will cover in just a bit!
---
8) Do I Need Train Reservations?
It's possible to make train reservations, but 99% of the time it's not needed (not even for when you are travelling to/from the airport). You can consider making a reservation if high occupancy is expected for the train you want to take and that you are travelling in a big group (of course you will need to pay extra). Reservations are also required for some scenic trains rides, such as the Glacier Express, and some international trains.
---
9) Is Switzerland Expensive?
The short answer is… yes. Switzerland is perhaps the most expensive country that we had been to. Everything from food, drinks, transport, accommodations to attractions can add up quickly and burn a hole in your pocket, but not to worry, below are some tips on keeping your budget in check!
---
How to Save Money in Switzerland
1) Plan Your Trip
Planning your trip helps to keep your costs in check and prevent any surprise expenses from springing at you at the last minute. Book your air tickets and accommodation early, especially during peak season as cheap ones will run out fast.
---
2) Travel Passes
The Swiss Federal Railways (SBB) offers various types of travel passes for travellers to help make travelling in Switzerland cheaper (locals have their own pass called the GA pass):
Swiss Travel Pass (STP): The STP enables unlimited travel on most rail, road and waterway, including free travel on public transport (buses and trams) in towns and cities – meaning you don't have to purchase any tickets. The STP also covers quite a number of mountain railways in the alps, such as the cable car ride up to Mt. Rigi. If the rides are not covered, they are usually offered at a discounted rate. The pass also provides free access to 490 museums in Switzerland. You can get 3, 4, 8 or 15-consecutive-day STP – take note that it's consecutive days. The STP is one of the most popular travel passes among travellers.
STP Flex: The STP Flex is similar to the STP, with the only difference being it's valid for 3, 4, 8 or 15 days within a month. This pass will be good for those who are planning long stays in different parts of Switzerland (e.g. 1 week in Zermatt, 1 week in Jungfrau).
Swiss Half-Fare Card: The Swiss Half-Fare Card is a one-month pass that entitles you 50% off most rail, road, waterway and public transport in towns and cities. This means you will have to purchase tickets, but you only need to pay 50% of the price. Ticket machines will allow you to choose the Half-Fare Card option. Museums admissions are not covered (you will have to pay full price).
(Getting lost? There's still more!)
Swiss Transfer Ticket: This ticket works like a round-trip ticket between the Swiss border and any place in Switzerland. The Swiss border can be a border train station or airport. It is valid for 2 days in a one-month span (meaning you can only travel for 2 days within one month). E.g. On Day 1, take the train from the Zurich airport to Zermatt, then on Day 20, take the train from Zermatt to Geneva airport. The train rides have to be the fastest and most direct route (no scenic detour train rides). Museum admissions are not covered. This pass is more suitable for those who are only staying at one location during the whole trip in Switzerland, e.g. ski trip.
Combo Tickets: There are 2 combo tickets: STP Flex + Swiss Half-Fare Card and Swiss Transfer Ticket + Swiss Half-Fare Card. The Swiss Half-Fare Card is the add-on and costs CHF 60.
STP Youth and STP Flex Youth: This pass is valid only for travellers under the age of 26. It works the same as the STP and STP Flex, just that it costs 15% less.
Swiss Family Card: The Swiss Family Card is an add-on card that can be requested free of charge when you purchase your STPs. With this card, all children under 16 years old can travel free of charge, as long as one parent has a Swiss Travel Pass (any type of STP will work). If all your children are under 6 years old, you don't have to request for this card as they are entitled to travel free of charge.
Depending on what your travel plan is like, you will need different types of STP. As our trip is a 9-day trip and we will most likely be travelling every day, it's either the STP or the Swiss Half-Fare Card. X did up a table listing down the original/full ticket prices of the main rides we will be taking (searched on the SBB website), and the prices we had to pay if we have the STP or the Swiss Half-Fare Cards. We summed this up with the price of the pass and compared the savings. Some rides are discounted with the STP (yellow cells) and there are attractions not covered by the Swiss Half-Fare Card (orange cells).
From the table, it's quite obvious that it it is more worthwhile to get the STP, and we haven't factor in the costs of taking tram and bus rides in towns and cities. We got the 8-day STP for our trip, which made our travel extremely convenient as we didn't have to spend time purchasing tickets (I could spend the time getting my coffee! :P)
2a) Buying the Travel Passes
Once you have decided which STP to get, buy it directly from SBB website here. We have noticed that some websites are agent websites that will impose a surcharge on the ticket prices! In addition, you can create an account with SBB, download its mobile app and you will be able to load your ticket details inside (it works offline too). You can simply show this e-ticket to the train conductor without having to print anything.
If you need to get additional train tickets, you can easily get them via the mobile app too, as long as you have internet connectivity!
---
3) Renting a Car
Even with the STP, it cost us at least CHF 662 per person (about €600) to travel in Switzerland. If you are heading to Switzerland with a group of friends, it may be more economical to rent a car and split the costs. Do note that you will need to factor in petrol costs, as well as the rides in the alps region!
---
4) Drink Water
Because it's free! But drink some beer once in a while, will you?
---
5) Self-Cater
Rent an accommodation with a kitchen and prepare your own meals. Self-cater can cut food costs by approximately 50%! I would usually make sandwiches for breakfast and lunch (together with bananas), then whip up pastas for dinner. The supermarkets at Jungfraujoch and Zermatt are stocked with small-portion ingredients, like pasta servings for 2, small bottles of salad dressings etc. They also have microwave meals though we didn't try it.
Tips:
Bring a tupperware/container to keep your sandwiches/snacks or bring your own sandwich bags so you don't have to buy new ones here.
Pack small packets/bottles of salt, black pepper or any of your favourite condiments in case your accommodation doesn't provide such condiments.
Use butter to cook instead of buying oil. You can use the same butter for sandwiches.
---
6) Go for Free Attractions
Because Switzerland is expensive, you will definitely need to find things that you can do for free, and below are some:
Hiking/Walking: There are many hiking trails in Switzerland, not just in the alps. Some can be easy strolls, while some can be a bit more challenging. We hiked/walked a lot during our trip in Switzerland, clocking at least 10 kilometres everyday.
Old Towns: Old towns can be incredibly charming and pretty. We had a nice stroll in Bern and Lucerne, which I will share more about it in upcoming posts.
Swiss Travel Pass: If you are going to purchase the STP, make full use of it by going to the museums and other attractions covered under the pass!
---
And that's it! Again, if I think of anything else I'll add on to the post. But for now, stay tuned to upcoming Switzerland travelogues!