Do you know that there are more than 1,000 islands (including islets) in Croatia? However, only 47 are inhabited (used to be 67 but as a result of population decline, 20 of these islands have no one living there anymore). Hvar is the 4th most populated island with just over 11,000 residents, and is our next destination of our 25-day Balkans trip!
I originally thought we could do a day-trip, island-hopping through the different Croatian islands but then realised that it is not practical because the islands are not located very close to each other. So if you plan to island-hop around the Croatian islands, you will need more days to visit them all!
Getting From Dubrovnik to Hvar
To get to any Croatian island, it's best to head to Split first and catch a ferry from there to your desired island. That way, you will be able to visit whichever island you want. From that island, it may be possible to get on another ferry that will bring you to another island. As we didn't want to spend time travelling from Dubrovnik to Split then change to a ferry, we opted to depart directly from Dubrovnik to the island. As a result, there were not many islands that we can choose from to visit, and we settled on Hvar in the end.
We bought our ferry tickets from Krilo Star in advance online at HRK 200 per person. Given the surge of travellers during the peak season (summer), I highly recommend booking the tickets in advance, just in case!
Krilo Star has only one ferry timing servicing the Dubrovnik-Split route, and the ferry stops at 4 other places, Mljet (Pomena), Korčula, Hvar, and Brač (Milna), before reaching Split. The ferry leaves in the late afternoon (ferry schedule here) and took about 3 hours to reach Hvar, stopping at two stops in between. It's good to buy some snacks and drinks before boarding, and bring along some card games to pass time if you don't want to sleep. Food and drinks are also sold on board the ferry, though we didn't check out the prices.
Now that we have reached Hvar, let's finally start with what to do here!
---
1) Dine at Dalmatino
We were starving when we finally reached Hvar so after we checked in, we immediately head for dinner at Dalmatino, a popular local restaurant. The restaurant was packed when we arrived, so the staff recommended the bar next door for some drinks while we were waiting. When it's time for us to be seated (about 30 minutes), the staff allowed us to bring in our unfinished drinks which was a nice gesture. We also had complimentary aperitifs while waiting for our food. The food portions were pretty huge and out of all the dishes we ordered, we really liked the truffle gnocchi.
Sveti Marak 1, 21450, Hvar
+385 91 529 3121
~HRK 700 for 4 people
(check out the menu here)
---
2) Franciscan Monastery of Our Lady of Grace
The Franciscan Monastery was built in 1461 with a bell tower built in the 16th century. It is located slightly further away from the main touristy area but still easily accessible by foot. We had a quiet walk along the waterfront, passing by many small yachts docked in the bay. The monastery served as a refuge for sailors and today it is a museum displaying artwork (though we didn't enter the museum).
Šetalište put križa
Jun – Sep 1000 – 1300, 1700 – 1900; Oct – May: 1000 – 1200
HRK 30 to enter the museum
---
3) Hvar Cathedral (St. Stephen's Cathedral) and Hvar Main Square
The Roman-Catholic cathedral, built in Baroque style in the 16th and 17th centuries, is originally built on the foundations of a Christian church from the 6th century. The cathedral is located on Hvar Main Square, one of the busiest and crowded spots in Hvar, with several coffee shops and restaurants all around. You can take a break here – but I'll recommend a small café that is a little out of the way, but offers good desserts and iced chocolate!
---
4) Stari Grad
Stari Grad, which means Old Town, is literally the oldest town in Croatia. It is located on the northern side of Hvar and can be reached by bus. We originally planned a visit there but we missed the morning bus to the town, and if we take the afternoon bus, we will miss the last bus coming back. (There were fewer bus timings during off-season.) As such, we gave up on our plan to visit the place.
---
5) Get Lost
It seems that getting lost has become one of my favourite to-do things while on holiday 😆 But seriously, wander through the small alleys in Hvar to get away from the crowd and chance upon many hidden charms!
If you don't like getting lost in alleys, take a stroll along the coast of Hvar – where you can spot many speedboats and yachts docked there. There are a few seafood restaurants along the coast, and they usually will display their catch of the day outside the restaurant for patrons to pick for their meals.
---
6) Dessert-Break at Nonica
We have read rave reviews of this small café online and it certainly did not disappoint. I insisted on getting the iced chocolate even though the weather was quite chilly that day due to the rain in the morning and early afternoon 😛 The iced chocolate was rich but not cloying and incredibly smooth on the palate, and I think it will taste even better on a hot summer day! The owner and pastry chef, Anne Marie Šurlin, was trained in Le Cordon Bleu London, hence the cakes and desserts offered include traditional and modern ones. We only managed to try two of them, and both are delicious and not too sweet, just the way I like it.
The only downside is that seating is extremely limited – the were only 2 bar tables inside the café and a bench outside when we there. Perhaps there will be more tables outside during summer and when it's not raining.
Kroz Burak 23, 21450, Hvar, Croatia
Sorry, I'm not sure about the opening times so cannot include them here!
---
7) Bring Home Some Lavenders
Also known as the Island of Lavender, one of Hvar's economic activity is the cultivation of lavenders. The aromatic sweet-scent of lavender can be detected throughout Hvar. Many lavender products can be bought home from here – dried lavender flowers, lavender-scented candles, lavender soap bars, lavender essential oils etc. When lavenders are in bloom from late May till mid-July and there are Lavender Tours being organised throughout Hvar.
If you happen to be in Hvar at the end of June and love lavender, pop by the village Velo Grablje in Hvar for the Lavender Festival.
---
8) Boat Tour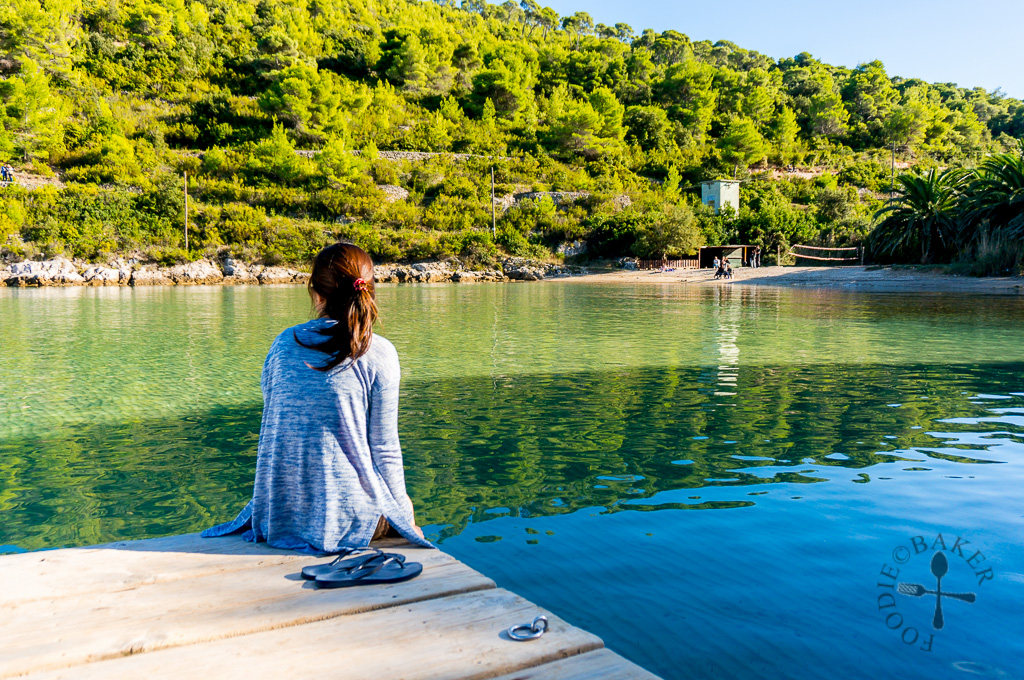 We did a Three Caves Tour with Ilirio's Hvar Tour on our second day in Hvar which lasted for about 7 hours. We were extremely lucky to be blessed with clear and sunny weather that day (the previous day and the next day was gloomy!) There were 10 of us (12 including the helmsman and the guide) on the speedboat that day. We sped through the sea to visit several caves and islands, including a pit-stop for lunch.
For €75 per person (about HRK 500-560), I personally found the boat tour a tad too expensive. In addition, due to water conditions, we didn't get to visit one of the caves, the Blue Cave (aka Blue Grotto), which was supposed to be the main highlight of the tour, so I was a little disappointed. Travelling time on the speedboat was also pretty long as the stops are quite far from one another. The views, on the other hand, were extremely beautiful, especially the sparkly clear blue-green sea which was absolutely mesmerising.
If you are planning to do a boat tour, don't forget sun protection, and a jacket or windbreaker to protect against the wind while the speedboat is moving.
Here are the photos of our experience (there's plenty I know!)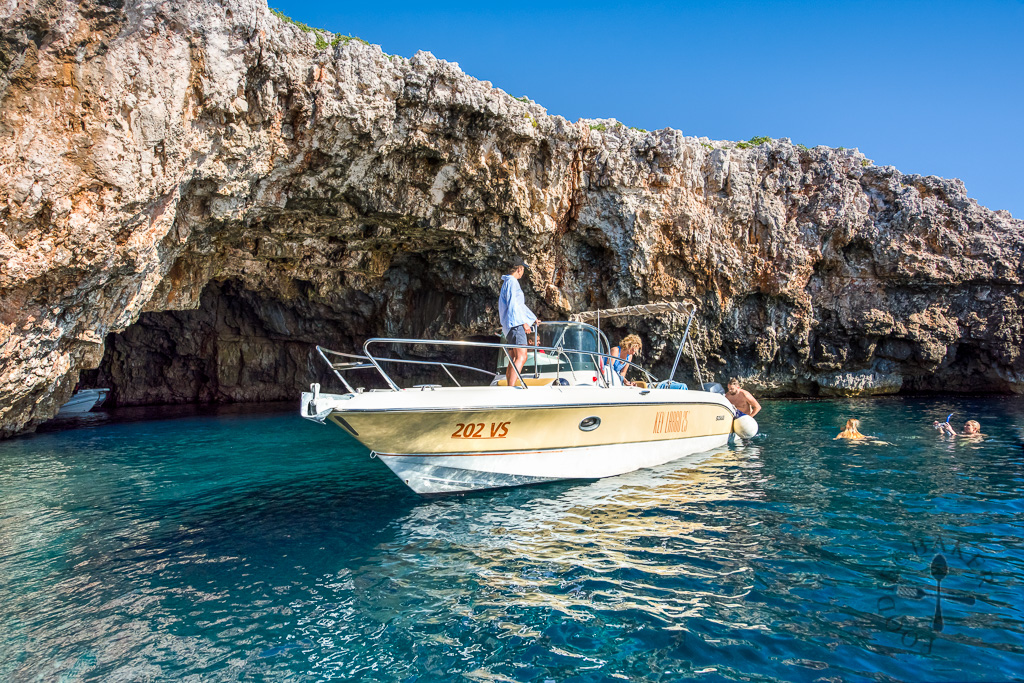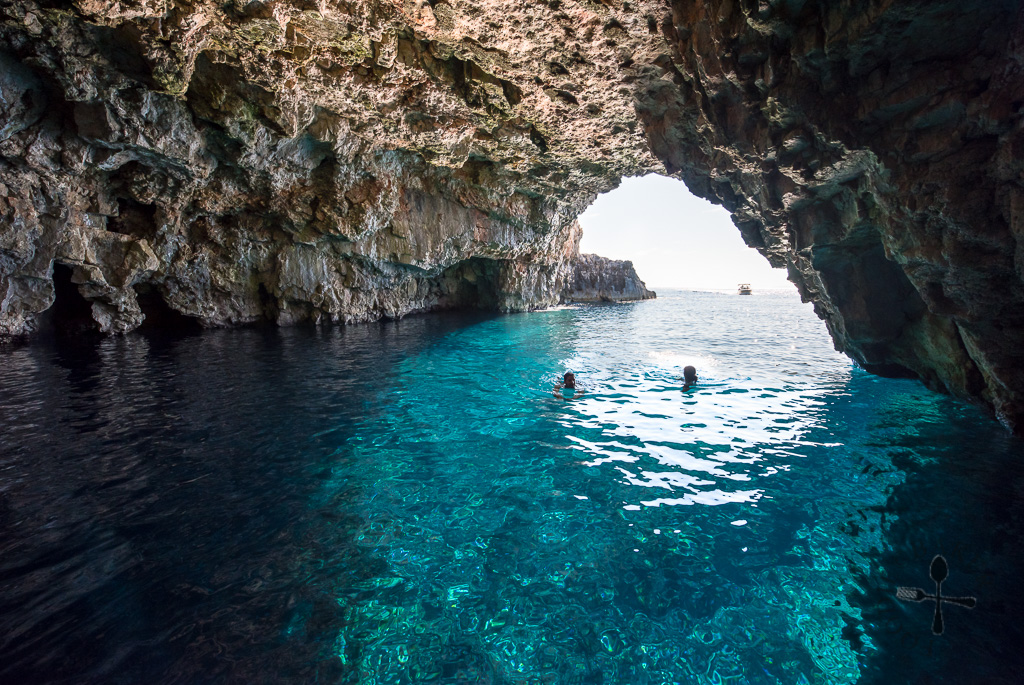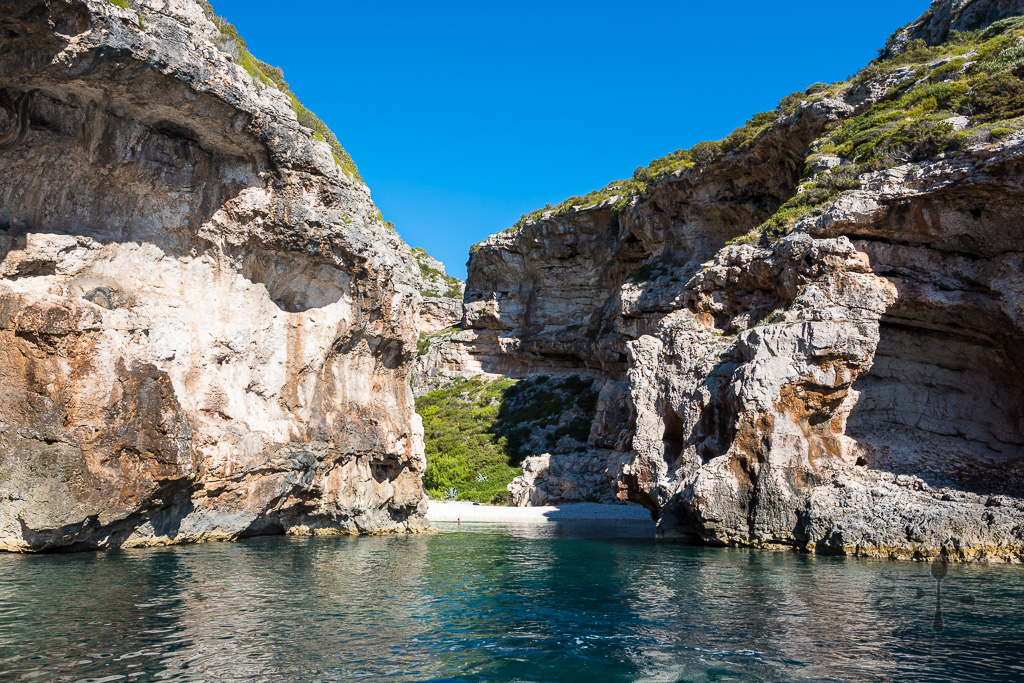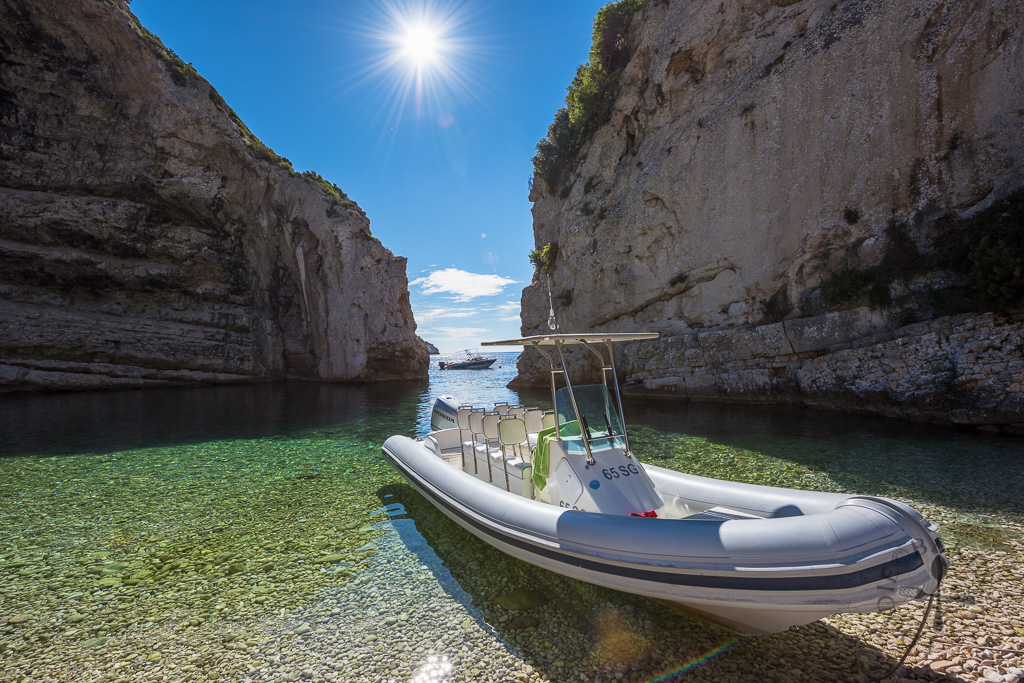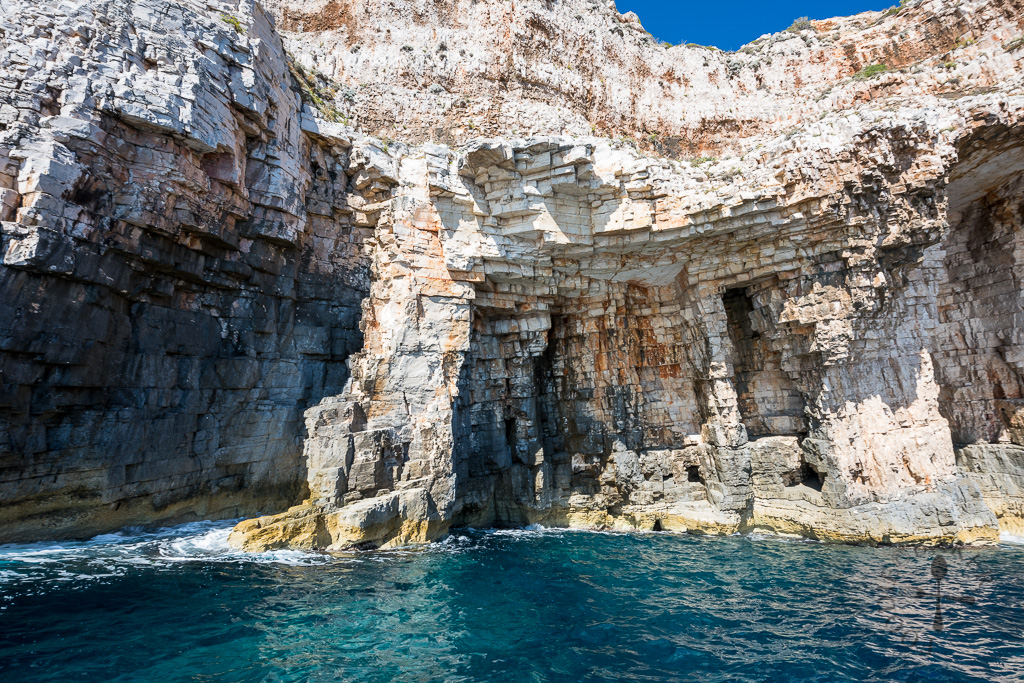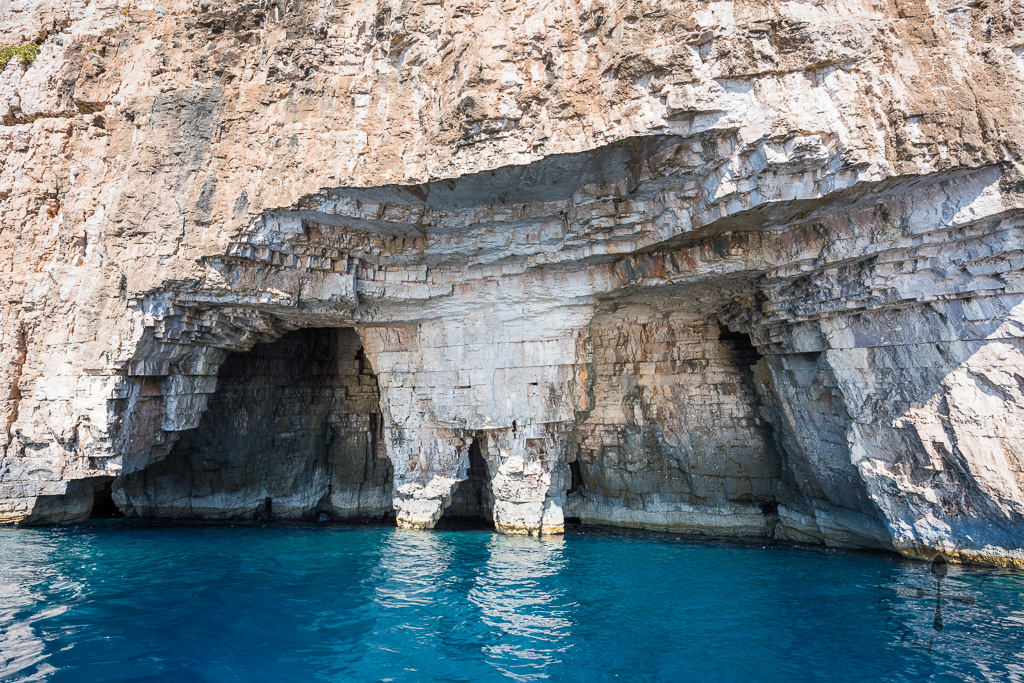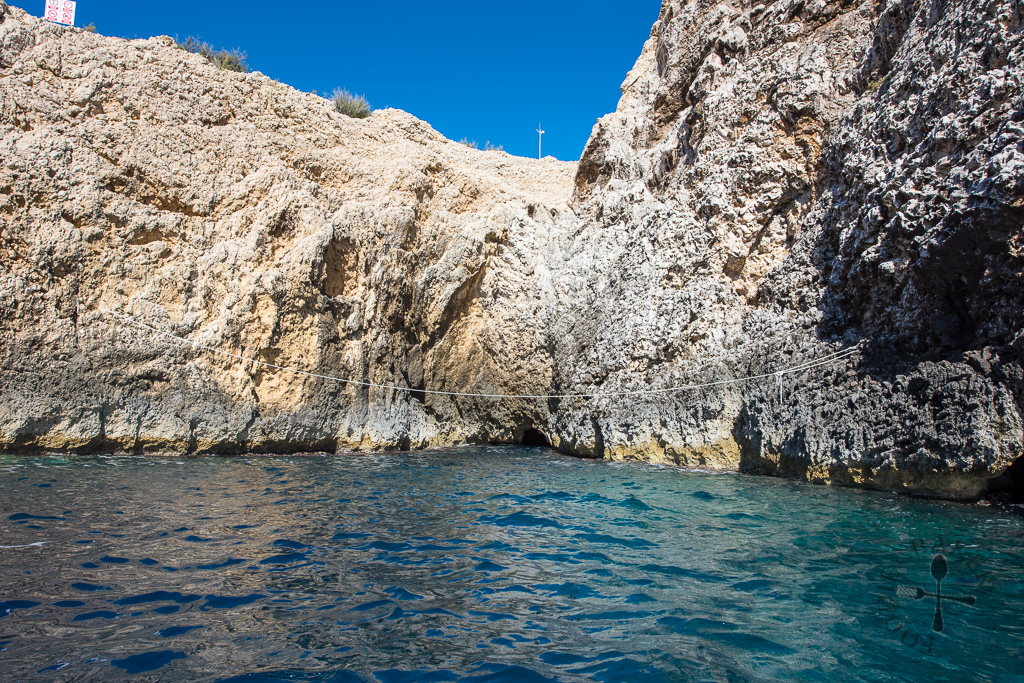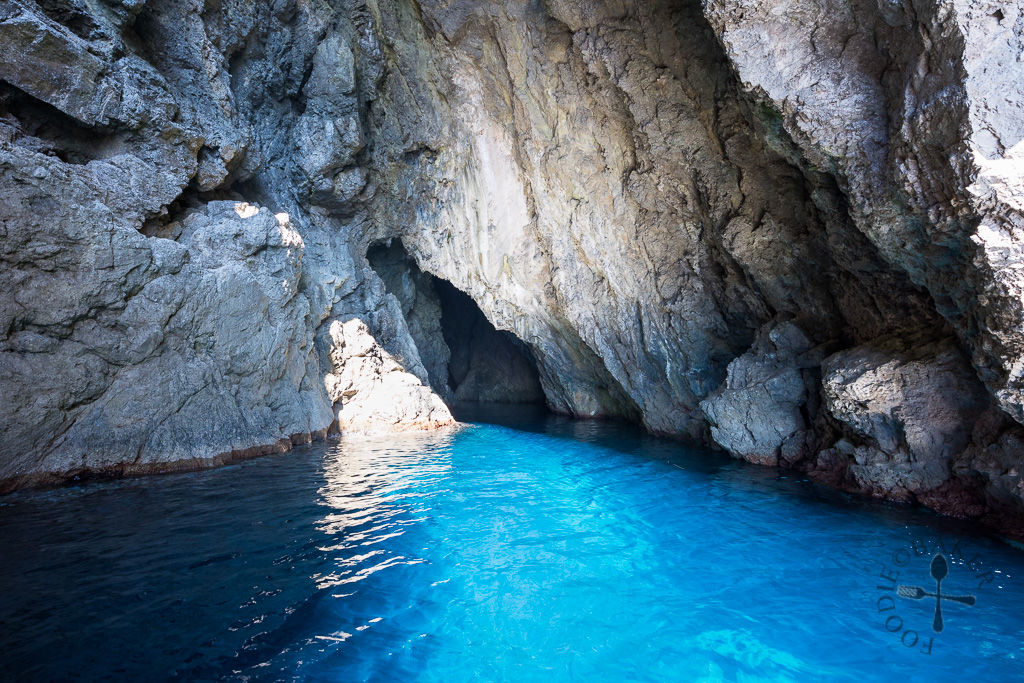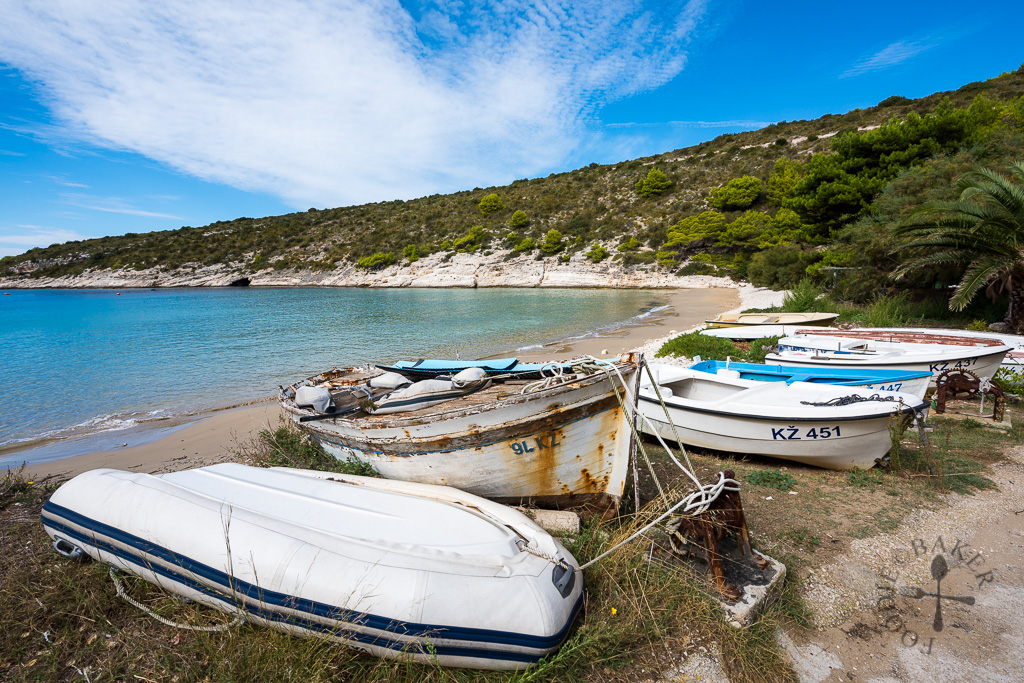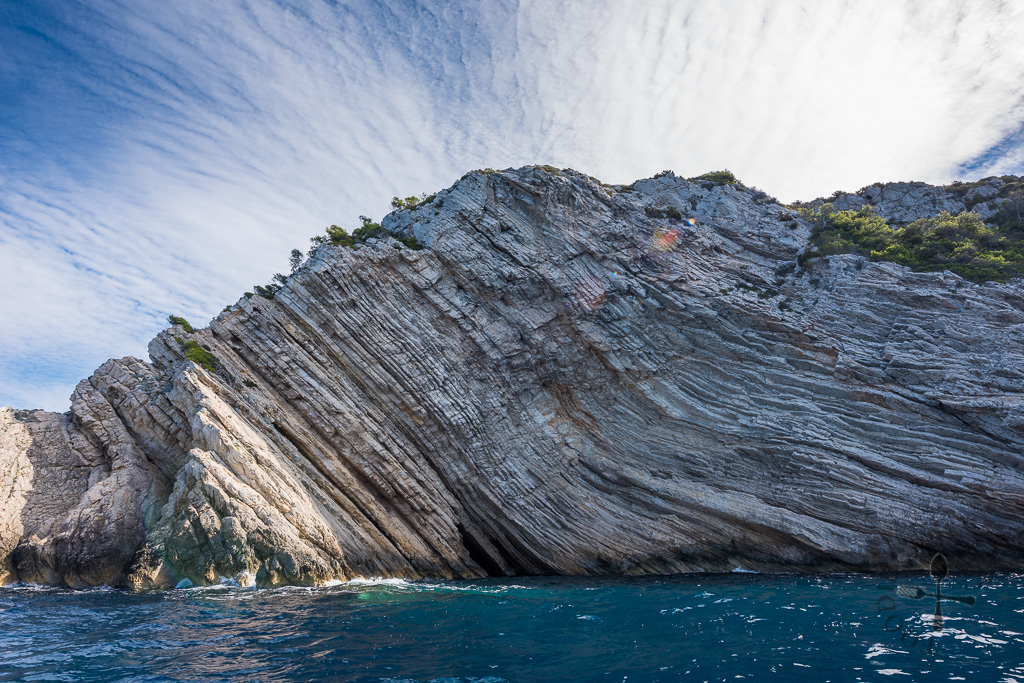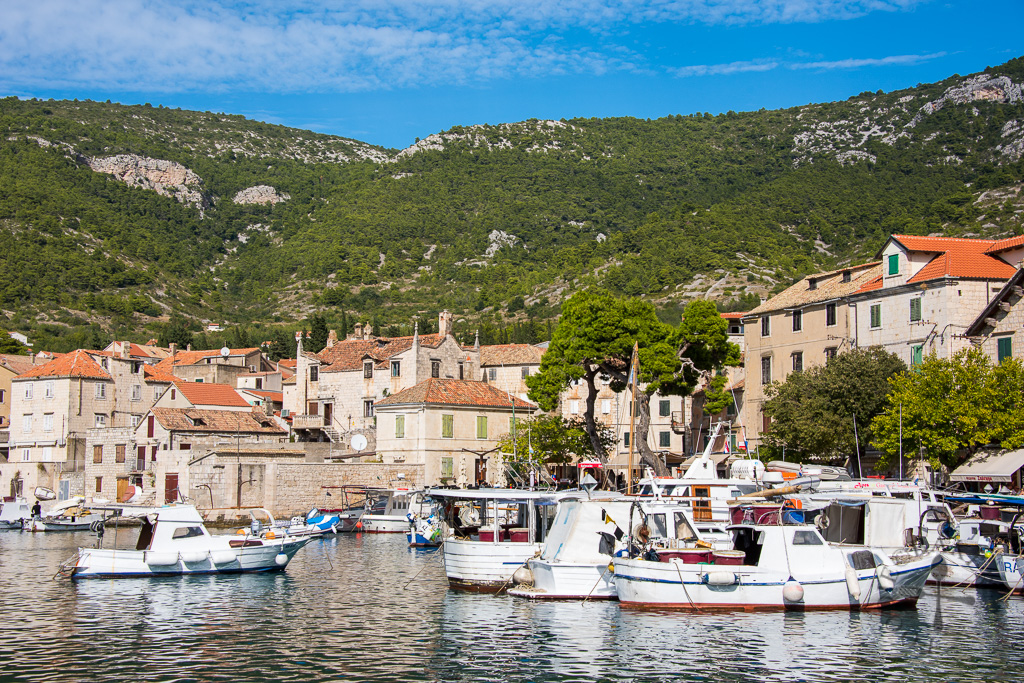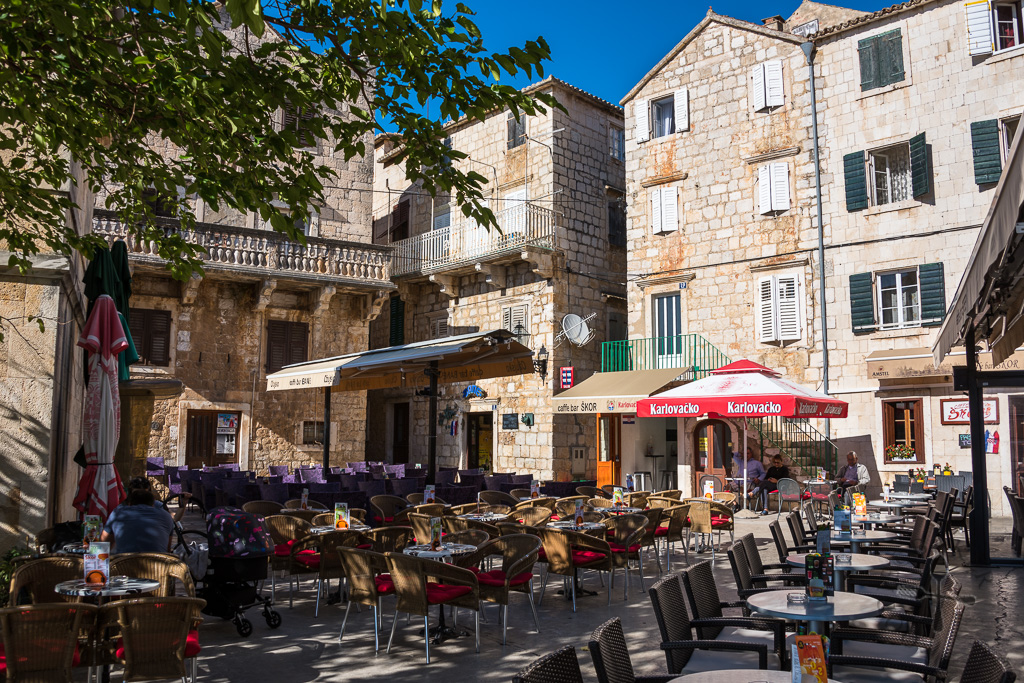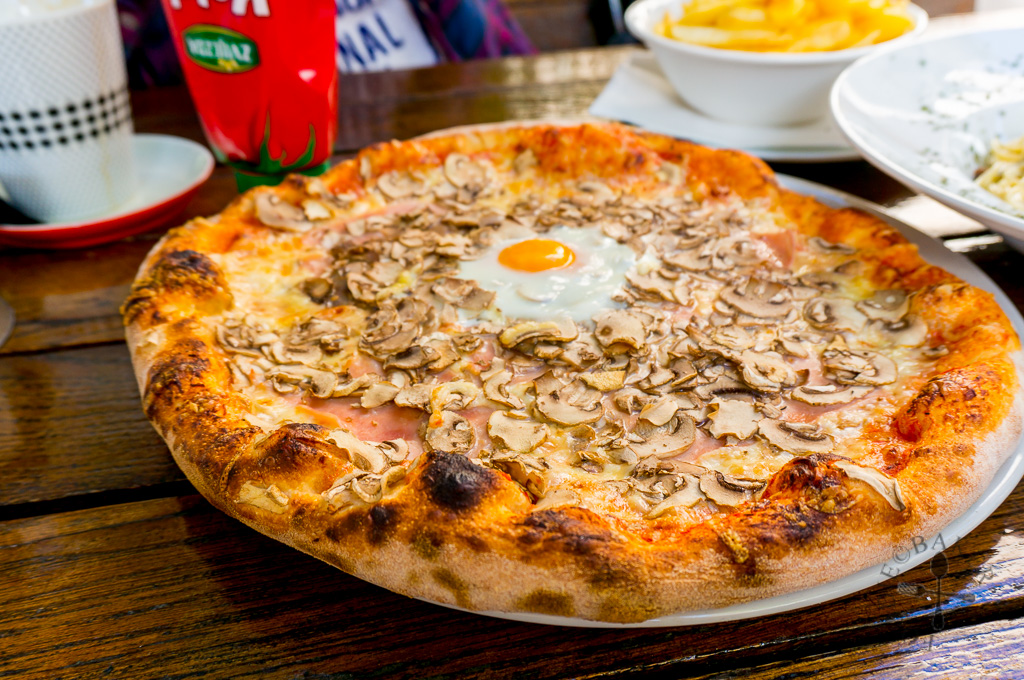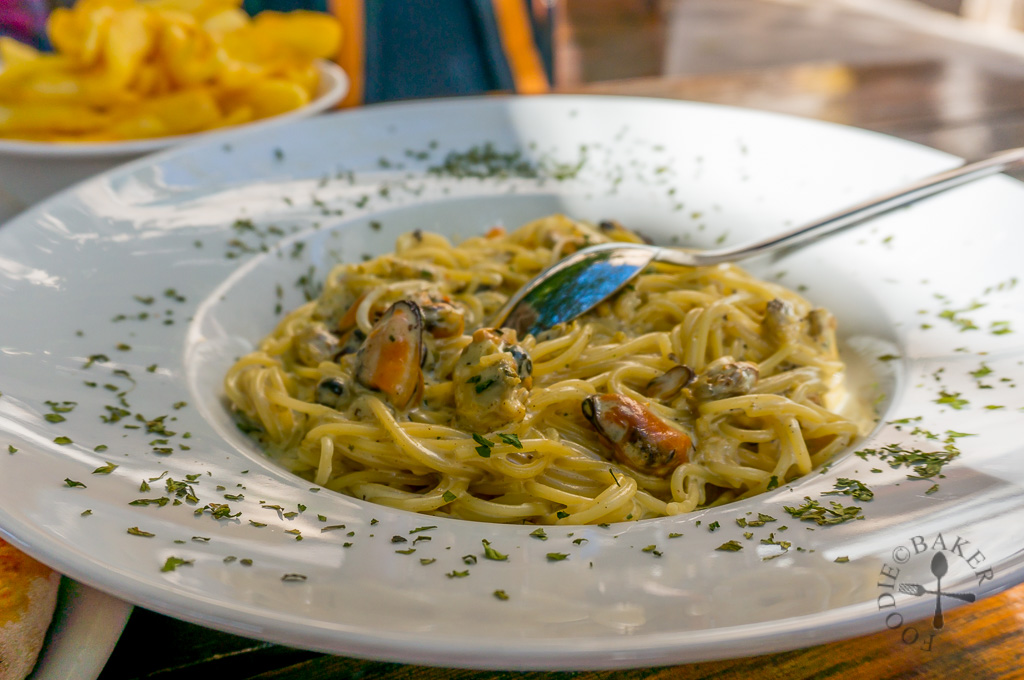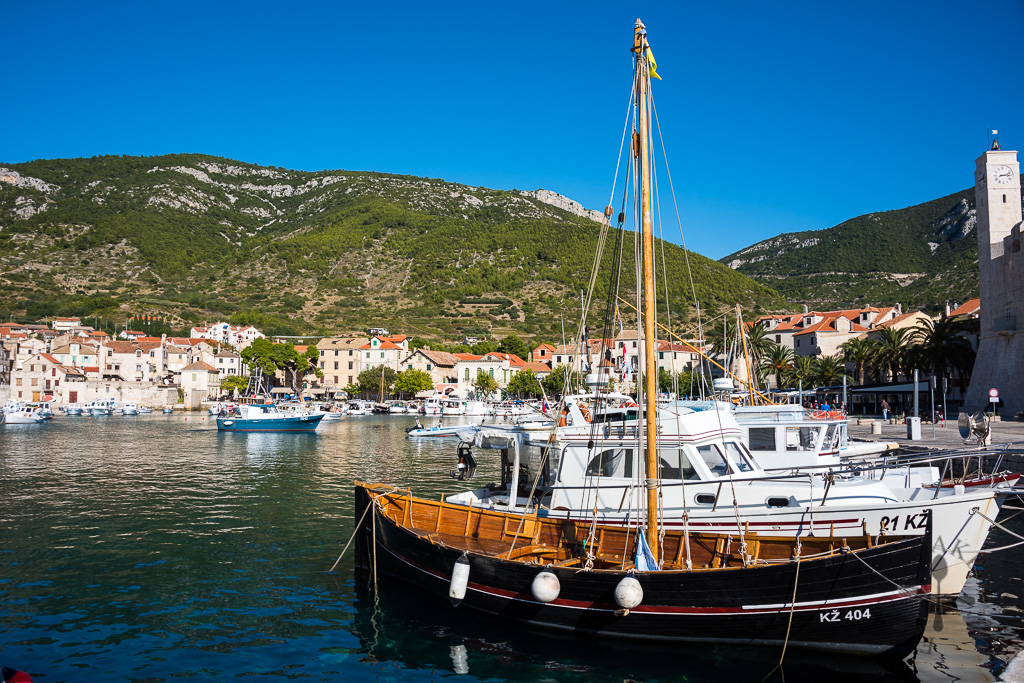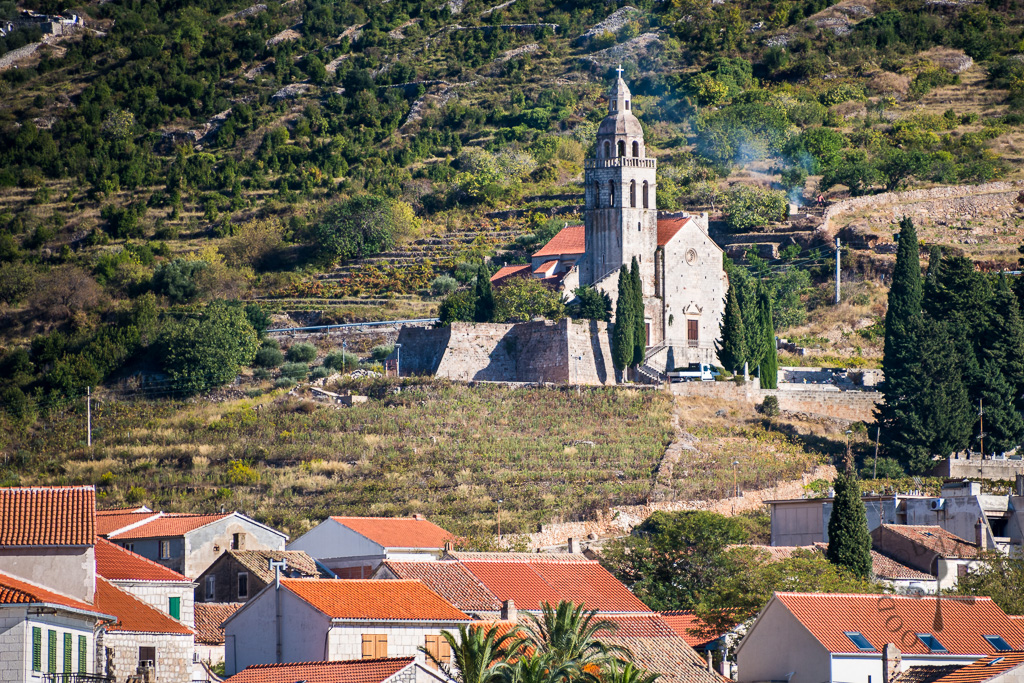 ---
9) Panoramic and Sunset Views of Hvar at Fortica Španjola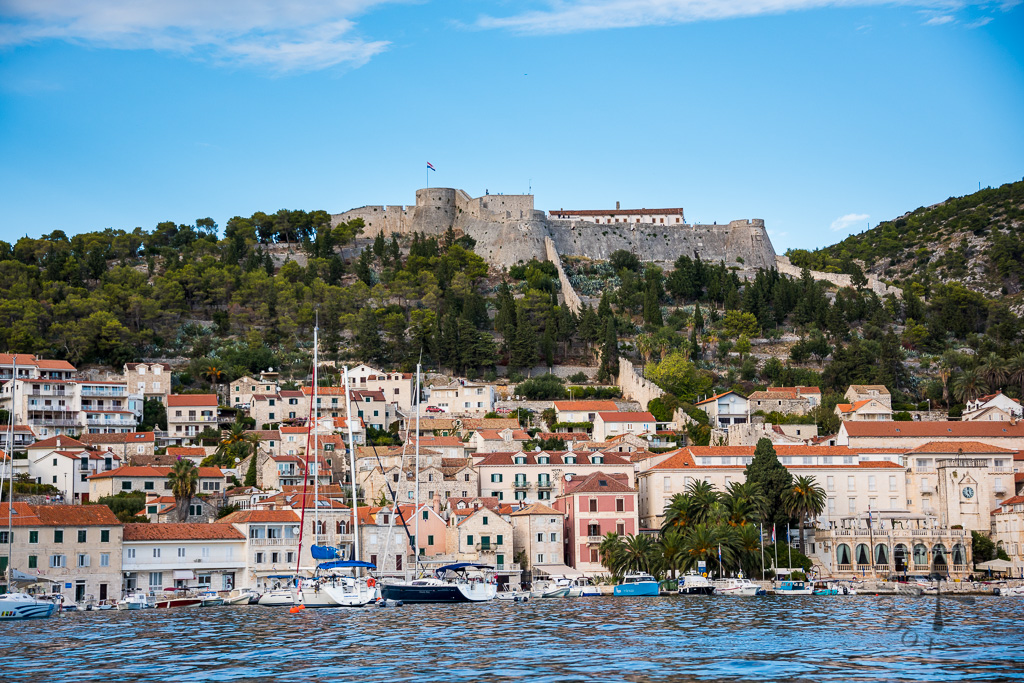 The fortress, Fortica Španjola, looms from atop a hill and to get there you've got to climb, climb and climb. But don't worry, you can climb either by foot or via a vehicle 😛
The foundations of the fortress date from before 500 BC, though the fortress was built in the 13th century during the Venetian rule. Over the centuries, additional fortifications were added onto the fortress. In 1571, the Turks invaded Hvar, and plundered and burned the city. Thankfully, most of the Hvar inhabitants were saved as they seek shelter within the fortress.
A few years later, in the middle of the night in 1579, lightning struck the building which stored gunpowder, causing a huge explosion and severe damage to the fortress. Hence the next century was a period of restoration and repair for the fortress. In the second half of the 19th century, Hvar no longer held military importance, hence the fortress was left abandoned. It was not until 1971 when the fortress was restored and renovated to include a museum and a café for travellers to visit. I shall now leave you with the sunset views over Hvar:
Biskupa Jurja Dubokovica bb
HRK 30 for adults; HRK 15 for children
I couldn't find the official opening hours of the fortress, but when we were there in October, the fortress closed at 7 p.m.
---
And that's it for our trip in Hvar! I will be taking a 1-month break from our Balkans travelogue as I will be away for holiday, but meanwhile, you can check out our previous travelogue and our Balkans itinerary (which also includes the links to other Balkans travelogue):