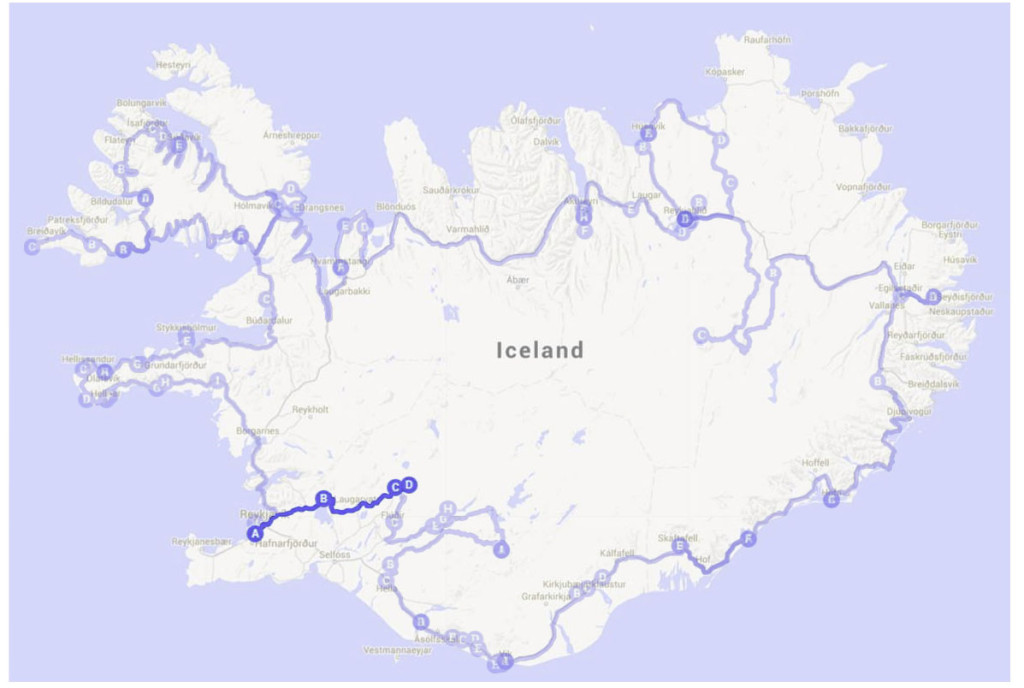 Day 2 Iceland Highlights: Kuku Campers, Þingvellir, Öxarárfoss, Geysir, Gullfoss (Golden Circle)

---
Kuku Campers
We woke up on Day 2 (see Day 1 here) to a cooling 14C and after washing up, took a 30-minute bus ride via Bus S1 from Reykjavik City to Stakkahraun bus stop, then walked about 10 minutes to reach Kuku Camper's office (Point A on the Map). Click for the link to map and timetable – do note that there are fewer bus frequencies on weekends and holidays, "Laugardaga" means Saturdays while "Sunnu- og helgidaga" means Sundays and Holidays. The bus timings are usually available at bus stops too, so you can check there if you did not download the timetable onto your phone. A single trip cost ISK 400 (SGD 4.40 / €2.80) and can be paid by cash or credit card. To pay by credit card, you will need to download an application onto your smartphone and have data network on your phone – this website covers the whole process so I will not elaborate more here.
Kuku Campers is a family-owned business run by two cousins, Lárus and Steinarr, which offers 2WD and 4WD campervans with either manual or automatic transmission that can sleep 2 to 5 people. We reached the office at around 10+ a.m. (as it was a Sunday so the first S1 bus available was at 9.30 a.m.) and the office was soon filled up with lots of travellers coming to pick up their cars. The car we rented was a Dodge Durango 4WD – a 4WD is essential for our trip as we are planning to drive up into the F-roads and there will be river-crossing involved.
We were all briefed about the things to look out for in Iceland (strong winds, weather, sheep, how to cross rivers etc.) and the additional insurance we could get for the cars (they strongly recommended getting the gravel protection insurance). After which we were given a slip of paper to record down the mileage, fuel tank level, and any damage the car had. As this is the first time we rented a car for our trip, we were really meticulous and spent quite some time checking the car. The staff at Kuku Campers are very friendly and relaxed, which made us feel very comfortable and at home. After paying the balance of the car rental and signing some documents, we were soon on our way to the start of our road trip!
Here are some questions that travellers may have in mind regarding the Kuku Campers' campervans:
1) What is included in the rental
You get the car (obviously) which is covered by a basic Collision Damage Waiver insurance, a cooler, plates, bowls, cups, forks, spoons, knives (steak and cutting), cooking utensils, chopping boards, a portable gas stove, a pot, a frying pan, sponges and cloths for cleaning, beer opener (super essential haha), can opener, a small brush and dustpan, and maybe a frisbee. If you didn't find the items while checking the car, just let the staff know and they will replace them. Additional gas canisters can be purchased from Kuku Campers as well – we bought a few and was refunded when we returned the extra gas canisters.
2) Insurance
We originally did not get any other insurance as the rental came with the basic Collision Damage Waiver insurance. We were considering getting the Gravel Protection insurance as we heard that it's really common for stones to be kicked up by cars in front or coming from the opposite direction and caused cracks in the windshield (this actually happened to us a few times during our trip but luckily did not cause any cracks). However, when we were checking the car, we noticed that there were already some cracks in the windshield and after notifying Lárus, he simply told us that we won't need to get the Gravel Protection insurance (since it's already cracked), how lucky of us!
3) Additional drivers
Additional drivers can be added to the car without additional charge, as Kuku Campers believes it's safer to share the driving, which I think makes more sense too!
4) Additional items for rent
a) Sleeping bags – We brought our own sleeping bags as we were afraid of the cold but if you are travelling during summer and want to pack light, you can consider renting a sleeping bag instead of bringing your own.
b) CDs or FM transmitter – most of the campers are remodeled old cars so may not have USB ports for playing music. If you don't want to be listening to Icelandic songs for your whole trip, bring some CDs or an FM transmitter to play songs from your phone. We brought our own but this can be easily rented from Kuku Campers.
c) Chairs / tables – we rented 2 chairs but hardly use them as the weather at night is a tad to cold for us to sit outside comfortably. But if you can stand the cold well and will want to sit outside and enjoy a bottle of beer, a chair will be essential!
All these additional items can be rented at pickup, so you don't have to decide until you pickup the car! In addition to the rental items, there is a small counter inside the Kuku Campers office where you can find all sorts of salt, pepper, coffee, tea, sugar, cereal, pasta etc left behind by previous travellers – you can take whatever you want FOC! You won't find any alcohol though, those have been kept by the Kuku Campers staff (;
5) Power ports
Our car have 3 12V cigarette ports, two in front and one at the back. We brought our own 12V USB car charger and a power inverter (12V to 240V) to charge our phones and cameras. We rented a power inverter from Kuku Campers as a backup and also used it to charge our stuff.
6) Batteries
Our Dodge Durango has a separate battery to power the heater, so we didn't have to worry about not having the battery power to start up the car.
---
Þingvellir
After a quick lunch, we drove back to pick up our luggage and then stopped by Bónus to stock up some groceries. I Heart Reykjavik has a map of most of the supermarkets in Iceland which we downloaded and embed on our own map so we know where to stock up. Our first stop is Þingvellir, a UNESCO World Heritage Site in the South-West of Iceland.
Þingvellir (Point B on the Map, and pronounced as "thing-vellir") is a combination of two words – "Þing" which means "parliament" and "vellir" which means "plains". This "Parliament Plains", which became a national park since 1928, was where the Alþing general assembly, one of the oldest parliamentary institutions in the world, was established around 930. It is also one of the most popular attractions in Iceland and lies along the popular Golden Circle.
The Alþing general assembly met yearly where the Law Speaker would recite the laws out loud on the Lögberg, the Law Rock. Speeches were given, important news were reported, the calendar was confirmed and disputes were also settled during the Alþing.
Þingvellir is known for its unusual tectonic and volcanic environment in a rift valley (a rift valley is a linear-shaped lowland between several mountain ranges or highlands created by the action of a geologic rift or fault). There is a visitor center next to the rift valley where travellers can learn more about the formation of Þingvellir – there's a video about 40 minutes long available in Danish, English, German, French and Icelandic, it's very informative but also pretty technical so I got a little confused halfway through the video and didn't finished it. Had to read up more about it online when I'm typing this blog post heh.
We took a short 30-minute hiking trail to see Öxarárfoss, and on the way we passed by Drekkingarhylur, also known as the Drowning Pool, where women accused of infanticide, adultery or other crimes were drowned. Men were not drowned for their offenses, but burned or hanged.
"Foss" means "waterfall" in Icelandic, so if you see "foss" at the back of an Icelandic word it most likely means a waterfall. Öxarárfoss, about 20 metres tall, flows from the river Öxará over the Almannagjá and is apparently artificially created centuries ago to divert the water from river Öxará here to provide better access to drinking water for the Alþing – and this diversion apparently created the Drekkingarhylur. (Source)
The hiking path is one-way, so after some photos, we head back to the car and head for our next destination on the Golden Circle, Geysir.
Note: Parking and admission to Þingvellir National Park (including access to the visitor centre, Drekkingarhylur, Öxarárfoss etc) is free. There is no free public toilets available. The paid public toilet is ISK 200 per entry, and can be paid by either cash or credit card.
---
Geysir
Geysir (Point C on the Map) is about 50-minute drive away from Þingvellir, with a free parking area opposite Hotel Geysir (there's a campsite as well if you are planning to stay overnight there). Though the place is commonly known as Geysir (the name of a once active geyser), it is actually a geothermal area with a group of active and dormant geysers and hot springs.
Geysir, sometimes known as the Great Geysir, is a well-known dormant geyser (note the confusing spelling – Geysir is the Icelandic name for the geyser) which used to gush water up to 80 metres in the air.
Luckily, we did not miss any water action – just next to the Geysir is the Strokkur, making travellers go "oooh" and "aahh" and "woooow" whenever it gushes water up to 35 metres every 5 to 10 minutes.
Strokkur geyser
Watching the Strokkur gushes is always an amazing sight (it's natural and no soap has been administered to stimulate the gushing), and here's a video:
Blesi means "blaze" in Icelandic and apparently used to sprout 1 metre, but it's no longer active now. The hot spring is separated by tiny strip of land – the Southern spring (on the right) is very deep and filled with boiling and colourless water. The water flows from this Southern spring to the Northern spring (on the left), which is only about 1 metre deep. As the Northern spring does not have its own water source, the water is a lot cooler at 40 degrees Celsius. The difference in colour is due to the dissolved silica, which caused the water in the Northern spring to turn a beautiful azure blue.
Konungshver acquired its name in 1874 when King Christian IX visited the Great Geysir. This dormant geyser's shaft is full of boulders, which was why it has not sprouted before.
On our way out I took a photo of Litli-Geysir, a small, dormant geysir bubbling away. As the activity of geysers are strongly related to earthquake activity, there is still a chance that these dormant geysers will one day decide to wake from their resting period.
We then crossed opposite to the souvenir shop opposite the group of geysers and check out what they have to offer – and I saw the above. I have absolutely no idea who will buy this!
Note: There is no admission fee to visit the geysers. However, there is a donation box at the entrance if you'd like to help to maintain the place. If you need W.C., you'll need to head opposite to the souvenir shop for one. There is a café next to the souvenir shop if you'd like some food and drinks. If you need a place to rest for the day, Hotel Geysir (with campsite) is just next door.
---
Gullfoss
Gullfoss is only a 10-minute drive away from Geysir and we grabbed our windbreaker as we alighted from the car as the wind is really strong (it's kind of a 100% guarantee you will get wet if you go near Gullfoss).
Gullfoss is actually two waterfalls – the upper waterfall has a drop 11 metres and the lower one of 20 metres. The Gullfoss gorge was formed by flash flood waters that forced their way through cracks in the basalt lava layers, which happened during or soon after Ice Age. Approximately 2.5 kilometres in length and up to 70 metres in depth, it's hard to describe accurately the power that flows into the gorge per second (it's a pity I didn't take a video of the power of Gullfoss, I only started taking videos of waterfalls on Day 3 onwards). Apparently many people are eager to harness this power for electricity and plans have been proposed – and if one of those plans are accepted, the beauty of this waterfall will forever be masked by man-made structures.
Near Gullfoss is a restaurant/café, which is extremely popular for their Kjötsúpa, also known as the Icelandic meat soup. To be honest, both X and I weren't fans of lamb meat because of the gamey and unpleasant lamb taste/smell, but there is absolutely none of those unpleasant taste/smell in the soup, and in all the lamb we have eaten in Iceland. Kjötsúpa is made by simmering lamb shoulder with plenty of chunky root vegetables and seasoned with a special blend of herbs. It is hearty, extremely delicious, absolutely comforting and the best way to warm up in Iceland's chilly weather – we chow down 3 bowls of this! And best of all, there is free refill – you can refill the soup as many times as you can stomach for free (and with free-flow bread as well), making this is one of the best ways to save some bucks!
Note: As usual, parking and admission to Gullfoss is free. You can take photos of Gullfoss from the top or climb down a flight of steps for a closer look – but you will most likely get wet, so do gear up with at least a waterproof jacket! A restaurant/café near Gullfoss sells food, drinks, a little bit of souvenirs. There are also toilets in the restaurant/café.
After eating our fill of this delicious soup, we returned to our car to wash up and rest for the night – falling asleep with Gullfoss roaring behind us.
---
This trip is made possible with our partnership with Kuku Campers, who had kindly given us a media discount for the rental of our campervan. Thank you so much Kuku Campers! All opinion and experiences blogged are still our own!
And that's all for Day 2 in Iceland! Stay tuned to Day 3 of our travelogue!