It's only one more week to Christmas! How is everyone's Christmas baking/cooking going? This year I've been steering away from the usual log cakes (healthier version one here and the more sinful one here) - baking cookies and assembling a different type of cake altogether. I saw a recipe on stained glass cookies while browsing my cookie cookbook and thought that they will make another great addition to my list of Christmas bakes.
Jump to: Recipe
---
This is actually a scheduled post - I'm currently back in Singapore for a week, and will be extremely busy nomming away on all the hawker food (I miss my hokkien mee, char kway teow, laksa, pig organ soup etc. etc. so much!) I've scheduled a few more posts while I'm away, so stay tuned! Please also pardon me if I do not reply to your questions promptly or am lagging behind in visiting your blogs!
---
Instead of using the recipe in the cookbook, I decided to use the one by Nigella (which was also the one used to make the Christmas Tree Cookies). I also made a little modification to the cookie dough by making a spiced version, which was inspired by Heather's (@Sweet Precision) Molasses Sugar Cookies.
Making stained glass cookies is actually a lot easier than expected - the cookie dough is first par-baked, then the cavities are filled with crushed hard candies and finally they are baked again until the cookies are done. The key is not to bake the cookies (with the candies) for too long other wise the candies will burn, turning your stained glass into bitter sunglasses - a 5- to 6-minute bake is all the candies need to melt and fill the cavities.
I could only find one brand of hard candies and though they look quite brilliantly coloured, their colours turned out to be quite pale and faint after baking. So you may have to experiment with a few brands of candies in order to get the colour you want.
I started out making gingerbread man cookies, but got lazy and used the remaining dough to make round ones... but overall a batch of cookie dough should yield about 20 to 25 cookies, though this will vary according to the size of your cookie cutter.
Overall I really like the slightly spiced taste (though I will make the taste stronger the next time) in the cookies and adore the stained glass effects - the stained glass made the cookies look absolutely adorable and so perfect as presents. However, I'm not a super fan of the candy part of the cookie as I don't have a candy-tooth and the candy part ended up being quite sticky (will stick to the teeth) but it may be due to the candy I used. So it's highly likely that there will only be spiced sans stained glass cookies next time! d: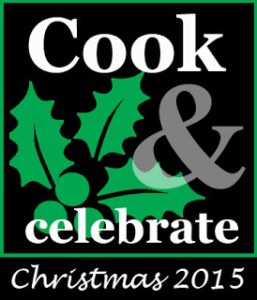 This post is also linked at Cook and Celebrate: Christmas 2015 hosted by Yen from GoodyFoodies, Diana fromThe Domestic Goddess Wannabe and Zoe from Bake for Happy Kids.
Spiced Stained Glass Cookies
Ingredients
90 grams unsalted butter, at room temperature (⅓ cup + 1 tablespoon)
50 grams brown sugar (¼ cup)
55 grams caster sugar (¼ cup)
1 egg, at room temperature
½ teaspoon vanilla
175 grams plain flour (1⅓ cup + 1 tablespoon)
25 grams ground almond (¼ cup)
1 teaspoon ground cinnamon
½ teaspoon ground ginger
½ teaspoon baking powder
½ teaspoon salt
Assorted hard candies, broken into 3 to 4 small pieces
Method
Place butter and sugars in a large mixing bowl. Beat with an electric mixer on medium to medium-high speed until mixture is creamy, scrapping down the sides of the bowl with a rubber spatula occasionally, about 5 to 7 minutes.
Add in egg and vanilla and beat on medium speed for 1 minute until combined.
Add in flour, ground almond, baking powder and salt and beat on low speed until just combined. Alternatively, use a rubber spatula and stir until the cookie dough comes together.
Scoop out the dough onto a large piece of clingfilm and pat it out into a disc of about 1-inch thick. Wrap up the dough with the clingfilm and chill in the refrigerator for at least 1 hour.
Preheat the oven to 180C / 355F. Line a baking sheet with baking parchment.
Unwrap the dough and place it on a large piece of clingfilm. Place the clingfilm used to wrap the dough on top of the dough to prevent sticking. Use a rolling pin or a wine glass bottle and roll out the dough until it's 5-mm (¼-inch) thick. If the dough feels too soft, chill it in the refrigerator for another 15 minutes before cutting the shapes out.
Dip a cookie cutter into flour and cut out a cookie shape, then transfer it onto the baking sheet. Use a smaller cookie cutter and cut out a hole in the middle. Repeat, combining and rolling out the scraps, until all the cookie dough has been used up. If the dough is becoming too sticky, chill it again before using.
Bake the cookies for 5 to 6 minutes. Remove the baking sheet from the oven and working quickly, fill the holes with the broken hard candies. Return the baking sheet to the oven and bake for another 5 to 6 minutes until lightly golden around the edges. Cool the cookies completely on the baking sheet before storing in an airtight container.
Naggy Notes
- After filling the holes with the candies, do not bake the cookies for more than 6 minutes as the sugars in the candies will burn, resulting in a dark-coloured stained glass effect.
- Adapted from
Christmas Tree Cookies