Highlights: Guðrúnarlaug Natural Pool, Stykkishólmur, Helgafell Mountain, Kirkjufell & Kirkjufellsfoss, Northern Lights Performance
If you have forgotten where we we left off on the previous travelogue – we were locked out of our car on Day 18 and got the spare key on the evening of Day 19. We were truly blessed to have met Kristján and Sigríður from Hvítanes farm who hosted us during these 2 days while we waited for the spare key to arrive. We bid Kristján and Sigríður goodbye after having breakfast and continued on to our Iceland trip!
---
Guðrúnarlaug Natural Pool
Our first stop, Guðrúnarlaug Natural Pool, was located about 2 hours away from Hvítanes farm. It was a bit tricky to reach the pool because I don't remember seeing signs indicating where it is. If you are heading there, turn into Route 589 from Route 60 and park near Hotel Edda. From Hotel Edda, hike up a small hill to see a mythical hot tub with an amazing view.
The main protagonist in Laxdæla Saga, Guðrún Ósvífursdóttir, apparently spent a lot of time at this site. There is a sign near the pool where you can read more about Guðrún. The original pool was destroyed by a landslide, which rendered it closed for 140 years. It was reconstructed and opened in October 2009, with a small changing room at the back.
---
Stykkishólmur
We didn't dare to stay long at the Guðrúnarlaug Natural Pool as we were behind schedule, so we headed off to Snæfellsnes peninsula after taking some photos there. Snæfellsnes peninsula has been known to many as Iceland in Miniature, because many popular sights can be found in the area. We reached our first stop after a 2-hour drive – Stykkishólmur, the largest town in Snæfellsnes peninsula.
Stykkishólmur is a charming fishing town – one side you get the sea and the other side you get the pretty coloured wooden buildings, some dated back to the late 19th century. Car and passenger ferry sails from Stykkishólmur to Brjánslækur in Westfjords (and vice-versa) twice a day during summer and once a day during other months. During summer, the ferry will stop by Flatey island (cars are not allowed on the island), allowing passengers a half-day tour on the small island famed for its birdlife and historic charms. You can check out more information on the ferry here.
We climbed up to the lighthouse to capture a picturesque 360 degrees view. The wind was particularly strong that day, as I reached the top, I had this irrational fear that I would be blown off the cliff! So I was holding on tightly to the railings at the lighthouse while X decided to try to see how far he could lean back with the support of the wind.
After reaching back down from the lighthouse, we drove off to Library of Water, a museum which collects – you guessed it – water! However, it's no ordinary water, they are actually water collected from ice from the major glaciers around Iceland. Unfortunately the museum was closed that day so we only had a sneak peak through its windows.
Note: There's a Bónus supermarket and petrol station in Stykkishólmur if you need to top up groceries or petrol!
---
Hiking at Helgafell Mountain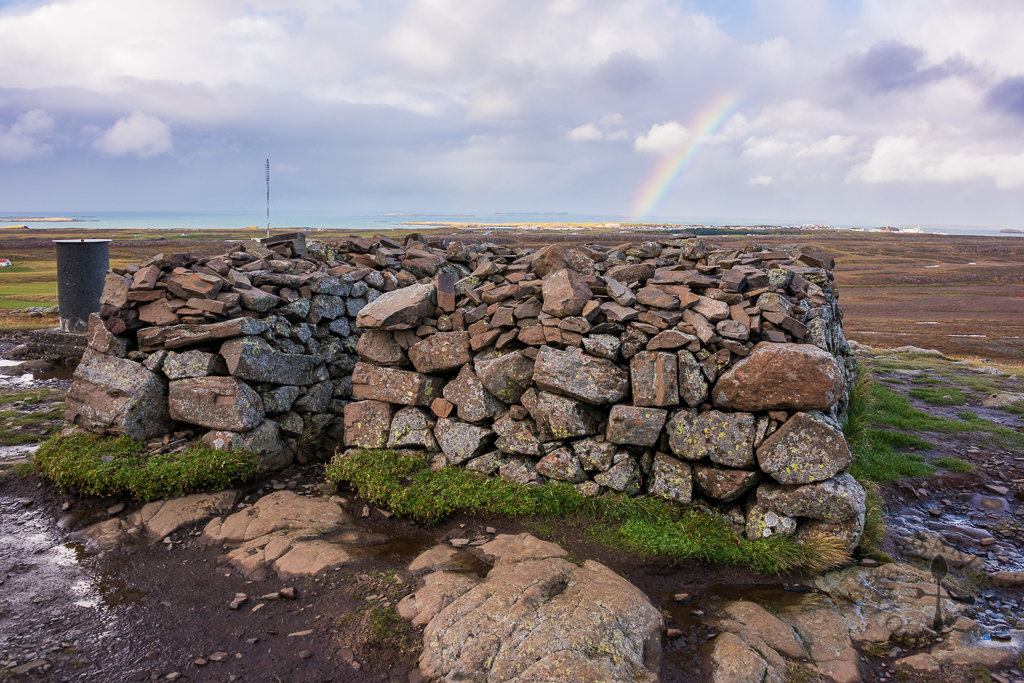 If you have some wishes, you can try doing a short hike up to Helgafell to get them granted! Helgafell is a 73-metre small mountain located just 10 minutes drive away from Stykkishólmur. Helgafell means "holy mountain" in Icelandic, hence it was considered a highly sacred mountain since heathen times and people believed that they would enter the mountain upon their death.
To get your wish granted, hike up the relative steep path without looking back or speaking along the way (took us about 15 minutes one-way). When you reach the top, head towards the ruins (photo above), then face east and you can make up to 3 wishes of good intent. Do not tell anyone what you wished for!
We left after making our wishes and it took us about half an hour drive to reach our next destination, a small town called Grundarfjörður. We thought that it would be good to take a shower then as there's no guarantee that we would be able to find an open campsite by the end of the day. So this day became the first time we shower in an Iceland swimming pool! It costs ISK 300 per person for a shower (ISK 600 to swim) and we entered the changing room – men and women have separate changing and shower rooms,so don't worry! However there's no cubicle or shower enclosure, just a huge public area with a few shower heads providing nice, hot water. Luckily there weren't much people entering the changing room when I was showering, so it wasn't that awkward!
---
Kirkjufell & Kirkjufellsfoss
We drove off to Kirkjufellsfoss after refreshing ourselves with a good hot shower at Grundarfjörður. When we reached reached the parking space for Kirkjufellsfoss, we experienced one of the weirdest weathers ever in Iceland. The rain clouds seemed to have a odd liking for Kirkjufellsfoss but not elsewhere – when we looked to the left and right of Kirkjufellsfoss, it was sunny! We waited for a good 1 hour before the rain became a light drizzle so we could finally take some photos.
Kirkjufellsfoss is one of the most popular spots in the Snæfellsnes peninsula, as seen from the several tour buses that stopped by when we were there. Though it is only a 5-metre tall waterfall and may not seem impressive, add Kirkjufell, a 463-metre steep mountain in the background, we get an extremely beautiful and stunning scene. Kirkjufell, also known as Church Mountain, has its name derived from its special shape, which is that of a church. It is also possible to hike up the mountain, and many had found that hiking down is harder because of the mountain's steepness.
After taking a few shots, it started raining again so we decided to leave and look for a place to stay for the night.
---
For the Night
It was our last night of camping, which also meant our last chance to catch the Northern Lights. We dropped by Ólafsvík campsite and was surprised to find that it was open. The facilities looked extremely new when we were there with a small service house that is equipped with a kitchen, tables and chairs, and new toilets and showers. The place is small but there were no other travellers staying at the campsite that day so we had the whole place to ourselves!
We checked the Northern Light forecast and noted that it would be stronger in the middle of the night, so we cooked and ate our dinner and kept ourselves warm in the service house. At around 9p.m., we walked out to the car to get our pajamas, and we were so surprised when we saw strong Northern Lights right in front of us!
Surprise quickly turned into excitement and X quickly got his camera to take some photos. We watched the lights danced gracefully in the sky, weaving in and out like curtains. After about 20 minutes, the clouds came and sadly drew the curtain on this spectacular performance.
We managed to catch another streak of Northern Lights 4 hours later and X managed to take one shot above before they were covered by the clouds. We took naps in the service house, waking up intermittently to check the night sky but unfortunately the cloud cover was too heavy and the Northern Lights activity rating dropped to low. We decided to finally call it a night at 3 in the morning and crawled back into our car for a good night sleep.
Next up I'll be combining the last 2 days of our Iceland travelogue together – it's been almost a year since we embarked on this trip, can't believe I'm only finishing blogging about it now, oops! :p Stay tuned!
---
This trip is made possible with our partnership with Kuku Campers, who had kindly given us a media discount for the rental of our campervan.
Thank you so much Kuku Campers! All opinion and experiences blogged are still our own!