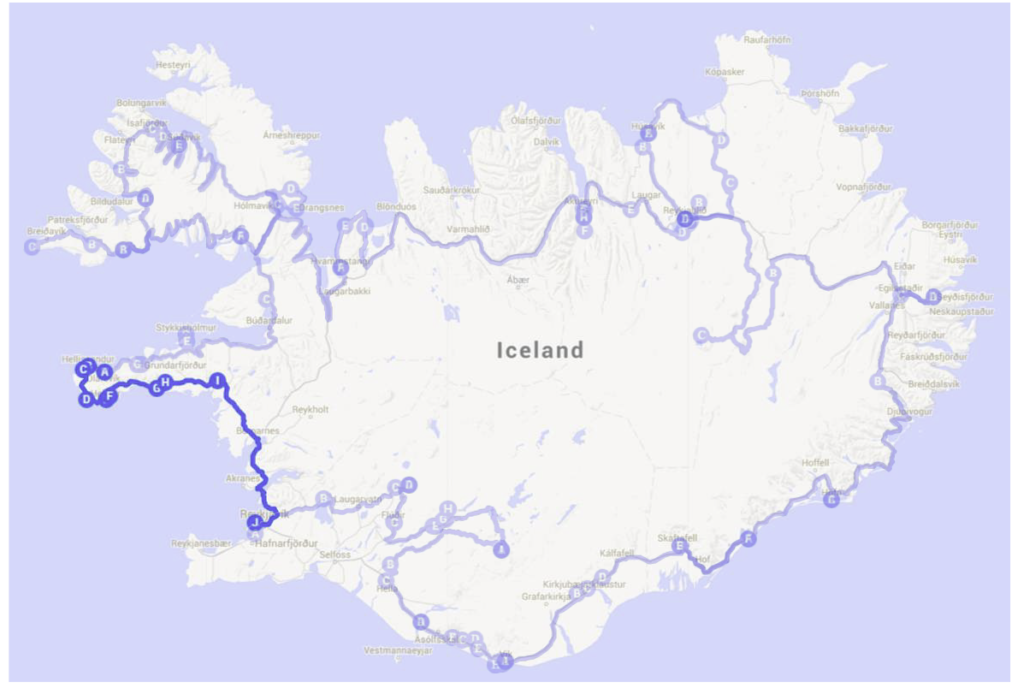 Highlights:
Snæfellsnes Peninsula (Hellissandur, Írskrabrunnur, Saxhóll, Djúpalónssandur, Hellnar, Arnarstapi & Gatklettur Arch, Bjarnarfoss, Ytri Tunga, Ölkelda Mineral Spring, Gerðuberg Cliffs)
Reykjavik (Icelandic Fish & Chips, Sun Voyager, Bæjarins Beztu Pylsur, Sjávargrillið)
Our very last Iceland travelogue! It's been a really long journey and I have to thank all of you for sticking with me for so long. I've decided to include coordinates of the places I've been and remove the embed maps as I realised they weren't that useful (I've updated previous posts on the coordinates too!) The last 2 days are combined together in one post as there's not much to blog about on Day 22. Without further ado, let's start!
---
Day 21 - Snæfellsnes Peninsula
Hellissandur
As we slept late at 3 in the morning the previous night, we woke up slightly later on Day 21 morning. After having breakfast, we set off to Hellissandur, a small village in northwestern tip of Snæfellsnes peninsula.
Hvalreki means "beached whale" as well as "jackpot" in Icelandic. Whales were heavily hunted in the past in Iceland (sadly they still are now), hence a whale stranded on the shore was considered a "godsend" by the Icelanders. Some whale bones can be spotted in Hellissandur.
Iceland is a country with harsh climate and few natural resources, hence Icelanders had to be creative to survive. Since the late 9th century, mineral-based turf has been in use as a building material in Iceland. Most traditional Icelandic farmhouses had wooden frames with turf walls and sod roofs built all around, which provided insulation against the cold weather. Very few people stay in turf houses these days due to advancement of technology, so most turf houses now serve as museums and tourist attractions.
I especially love these turf houses as they look so pretty! To recap some of the turf houses we have seen throughout Iceland: Hrunalaug Hot Spring, Þjóðveldisbærinn (one of my favourites!), Möðrudalur, Sorcerer's Cottage, and Litlibær.
---
Írskrabrunnur
Írskrabrunnur is located about 4-minute drive away from Hellissandur - watch out for the Írskrabrunnur sign to turn right when you are coming from Hellissandur and followed the rest of the signs to reach the end of the road and Írskrabrunnur will just be right ahead. Írskrabrunnur, which means "Well of the Irishmen" in Icelandic, is a dried-up well from the time of the settlement, surmounted with a whale bone on top.
---
Saxhóll
Saxhóll is a small crater in the Snæfellsnes peninsula in which travellers can take about 15 minutes to climb to the top for a view of the surroundings. We gave the climb a miss as we were a tad rushing for time, so we snapped a shot of the crater and drove on.
---
Djúpalónssandur
The attractions in Snæfellsnes peninsula are all located relatively close to each other - we stopped again after about 10 minutes of driving from Saxhóll crater at Djúpalónssandur.
Djúpalónssandur is a beautiful black pebble beach that was once home to sixty fishing boats and one of the most prolific fishing villages on the Snæfellsnes peninsula. Today, the bay is now uninhabited, visited only by occasional travellers like us. We walked down to Djúpalónssandur easily via the Nautastígur walking path, and were soon greeted with four stones. The four stones - Amlodi (weakling, 23kg), Halfdraettingur (half-carrier 54kg), Halfsterkur (half-strong 100kg) and Fullsterkur (154kg) - were used to test if one is eligible to be an oarsman. I could only lift the Amlodi, so I guess I'm not cut out to be an oarsman!
We also spotted rusted iron remains on Djúpalónssandur, which belonged to a British trawler, the Epine GY 7. The trawler was wrecked on the night of 13 March 1948 and 5 out of 19 crew were saved. The ship's remains were washed up ashore after the shipwreck, and were subject to wear and tear by Mother Nature.
As we were walking back to the car, we spotted a gigantic caravan - I couldn't resist not taking a photo with it!
---
Hellnar
Hellnar is an ancient fishing village which used to be a major port of call for fishing vessels. Many visitors visit there for the sea, the rocky pebble beach and some spectacular rock formations.
We reached Hellnar after a 15-minute drive from Djúpalónssandur. We walked down the hill to see an interesting Valasnös - unfortunately I can't find more information about the rock formation.
If you need a break, take one at Fjöruhúsið café, which offers a panoramic view of the area. The café serves soups, cakes and coffee/tea, so it's nice to sip a cuppa while enjoying the views. The weather didn't permit us to sit out that day, but I think on a good day, it would have been perfect!
From Hellnar, you can hike along the cliff to Arnarstapi (about 1-hour hike), another small town located just 10-minute drive away. As we were driving, we chose to drive to Arnarstapi instead.
---
Arnarstapi & Gatklettur Arch
Snæfellsjökull is a 700,000-year-old, 1,446-metre tall active stratovolcano with a glacier covering its summit. If you look back at the previous photos, you would have actually seen it peeking out in the background from most of the photos!
When we reached Arnarstapi, we parked our car near an imposing stone structure of Bárður Snæfellsás, the Deity of Mt. Snæfell, made in 1983. According to folklores, Bárður was descended from giants and men. He was the son of a king from Northern Hellaland in Scandinavia and he staked claim to the land of Laugabrekka by the Glacier at the end of the 9th century. As his giant-nature became more apparent later in his life, Bárður disappeared in Snæfell Glacier but did not die. Instead, he became a guardian spirit, worshipped by the local folk who would call upon him in times of difficulty.
From Bárður Snæfellsás statue, we turned right and hiked on the hiking path, trying to find Gatklettur Arch (more on that in just a bit). We hiked for about 30 minutes but couldn't find it at all, though we were rewarded with splendid views. After we turned back, we found out that we should have turned left from Bárður Snæfellsás statue to reach a platform to see Gatklettur Arch.
It's always amazing to see Mother Nature at work and Gatklettur Arch is one of her many masterpieces. The impressive formation was made of rock and lava originating from Snæfellsjökull, then over the centuries, the waves and winds shaped and sculpted formation, creating the arch in the middle. Seeing this just reminds me of another similar formation at Dyrhólaey!
---
Bjarnarfoss
As we were driving towards Reykjavik, we passed by Bjarnarfoss along Route 54. According to legend, the waterfall got its name from the farmer Bjarni, a wealthy farmer. On one winter day, there was a blizzard and a vagrant appeared at Bjarni's farm to seek shelter. However, Bjarni refused and the vagrant swore that Bjarni would regret behaving like this. Bjarni then met with many other misfortunes, including the death of all his livestock. This eventually drove him mad and resulting in him throwing all his money into the waterfall, hence giving the waterfall its name.
---
Ytri Tunga
We made a pit-stop at Ytri Tunga, a small beach near the farm Ytri Tunga to see some seals. The best time to see the seals were apparently June and July so were a tad too late when we were there, but I think I still spotted a seal, did you see it too? 😉
---
Ölkelda Mineral Spring
If you fancy some healthy water, try some at Ölkelda Mineral Spring at the Ölkelda farm. The naturally carbonated mineral water contains a high amount of minerals such as calcium, potassium, iron and flouride. The water was analysed and was reputedly beneficial for people who suffer from heart and kidney diseases, and diabetes. We filled and tried some but to be honest it's not for us as we couldn't get over the slight metallic taste in the water. Do pop by for a drink if you are there!
---
Gerðuberg Cliffs
Our last stop in the Snæfellsnes peninsula is the Gerðuberg Cliffs, a majestic wall of basalt columns. The Gerðuberg Cliffs stretch out to 500 meters long, with each basalt column 12 to 14 metres tall.
Coloured with patches of red and orange, each basalt column has a unique pattern, which leave me in awe with Mother Nature's prowess in creating such breathtaking beauty. With the right gear, one can actually climbed up of Gerðuberg Cliffs!
As we were driving out from Gerðuberg Cliffs, we snapped a shot of the cows with Eldborg Crater in the background. Eldborg Crater is a hikeable crater rising 60 metres tall - we had to give it a miss due to a lack of time.
---
Back to Reykjavik!
Leaving Snæfellsnes peninsula behind, we drove back to Reykjavik and reached back around 6 in the evening. It was honestly quite upsetting when we reached back Reykjavik because it meant that our holiday was ending! 🙁
---
Dinner at Icelandic Fish & Chips
We parked our car, packed our stuff and moved them to our lodging before heading out for dinner. Icelandic Fish & Chips was quite highly raved, so we decided to have our dinner there. The menu is simple - choose your fish (it varies, depending on what they have for the day), your chips and your dip. There are also other dishes to choose from like roasted langoustines and seafood soup.
We ordered soup of the day (seafood soup), redfish and cod. The seafood soup tasted more like a minestrone with a little bit of seafood in it. The fish fillets, deep-fried in spelt batter (spelt flour is a type of whole grain, non-wheat flour), were alright but failed to impress. On hindsight, it's really expensive fish & chips!
---
Day 22 - Reykjavik
Sun Voyager
After a night's rest, we woke up early to head to one more place before we returned the car - the Sun Voyager.
The Sun Voyager takes the shape of a boat, an ode to the sun. It symbolises the promise of undiscovered territory, a dream of hope, progress and freedom. While the sculpture did not resonate with me, I loved the reddish morning backdrop it was set against.
---
Saying Goodbye to Our KukuCamper Home
Before we return our KukuCamper car, we stopped by a petrol station to sweep the interior of the car. When we returned the car, the staff simply checked the mileage and briefly inspect the car (more like just taking a quick glance) and said everything was fine and we could go. The return process took less than 10 minutes, so fast that we forgot to take a photo with our home for the past 20 days! After returning the car, we took a bus back to Reykjavik for breakfast.
---
Bæjarins Beztu Pylsur (Town's Best Sausages)
Bæjarins Beztu Pylsur, which means "Town's Best Sausages", is a hot dog stand popular with both locals and tourists. The above photo was taken on the very first day of our Iceland trip - just look at the queue! It was still early when we arrived at the hot dog stand, so we got our hot dogs within minutes.
Soft buns, warm sausages, crispy and fresh onions, and generous amounts of remoulade, ketchup and sweet mustard - what's not to love about them? The sausages are lamb-based mixed with beef and pork but there's no hint of lamb at all, yum!
---
Last Meal at Sjávargrillið
There's not much to do in Reykjavik, so we simply walk around and into random souvenir shops, and ended up purchasing some wool gloves and socks. Soon it's time for lunch and I chose Sjávargrillið Restaurant as they offer grilled lamb - I wanted to have a bit more of this special Icelandic lamb meat before we leave.
X ordered the Catch of the Day, which was grilled sea perch served with barley, vegetables and a cream sauce. It looked pretty and tasted pretty good, but couldn't beat my lamb!
My order of lamb was so, so good! The lamb shoulder was prepared pulled-pork style, its texture contrasted against the extremely tender leg of lamb. There was no gamey smell at all - just looking at the photo makes me crave for some right now!
---
Goodbye!
We head back to our lodging after our lunch, packed our stuff and waited outside a hotel for the shuttle to pick us up (our host helped us make a booking the previous night). We reached the pick-up point early but the shuttle came late, so for a moment we were a little worried that we had miss the shuttle. The shuttle was a minivan and it ferried us to the terminal, in which we changed to the big bus above to transport us to the airport. And then it was a long flight home!
Travel makes one modest. You see what a tiny place you occupy in the world. – Gustave Flaubert
Iceland had been nothing but amazing - it's a place that offers so much alluring, magnificent and spectacular nature: mountains, glaciers, craters, volcanoes, lava fields, waterfalls, rainbows and Northern Lights. It's also a place that we experienced a lot of first: horse riding, whale-watching, chasing after sheep, walking on a glacier, and not to mention getting locked out of our own car. 😛 If I have a chance, I'll absolutely and definitely go back there again! Once again, I'd like to extend our massive thanks to Kuku Campers, who had kindly given us a media discount for the rental of our campervan. Renting a campervan makes our travel plan extremely flexible - we made changes to our travel plans at the last minute to go for a réttir, which made our Iceland experience truly unique and memorable. If you are heading over to Iceland, do also check out my post on 14 Things to Know Before Going to Iceland (link below!), which should help answer some of your burning questions! 😉
Till the next travelogue!
---