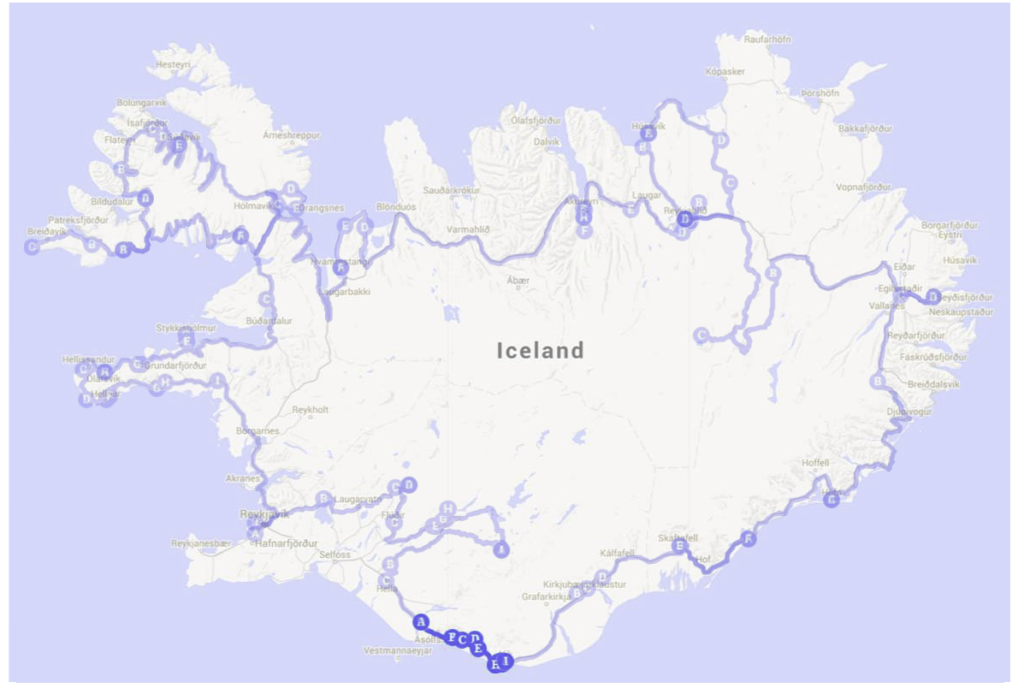 Highlights: Seljavallalaug Pool, Rútshellir, Skógafoss, Sólheimajökull, Plane DC 3 Sólheimasandur, Dyrhólaey, Vik, Reynisfjara
---
Seljavallalaug Pool
Back with another super overdue travelogue in Iceland (so sorry for the delay!) We visited a lot of places on Day 6 and our first stop after our breakfast is Seljavallalaug Pool, one of the oldest pools in Iceland that most travellers will miss. The drive is not difficult – just turn into Route 242 from Route 1 and drive all the way past the cabins on the left side until you see a place that look somewhat like a parking lot (or park where other vehicles park). There's no proper signage or directions indicating where is the pool, but just walk all the way in towards the end of valley for about 15 minutes and you will see the hidden gem.
Unfortunately when we were there, the pool was closed for cleaning so we weren't able to go for a dip. And we found out through a quick Google online later on that the pool is cleaned once a year – if only we were that lucky when it comes to winning the lottery!
Note: There are toilets for changing (no shower facilities) available in the white building. As the pool is maintained solely by volunteers, there is no charge to visit the pool.
---
Rútshellir
As we continued on to our next destination Skogafoss, we chanced upon a few Icelandic horses and sheep grazing away on the field against an odd-looking house in a cave – of course we got to stop and check out what it's all about!
The cave, known as Rútshellir, is actually man-made and was used to store hay. Apparently there are more than 200 man-made caves on 90 farms in South Iceland, of which 41 of them are declared as protected sites. There are several spooky legends regarding this cave and these are two that I found:
Story 1: A man, Rútur, lived in this man-made cave, some say he was an evil troll, others say he was a looter and still other people say he was an evil chieftain. The people in this region attacked him and killed him by making a hole in the cave underneath his bed and ran him through with spears, while he was in bed. Others say that they made a hole in the cave from outside and ran him through that hole with spears and killed him. They were too afraid of him to meet him outside in the field. After killing him they were still afraid of him even though he was dead and one of his killers, Björn, ran away up to the mountain, Bjarnarfell, which bears his name ever since, and yet another fled into the wilderness of Iceland.
Story 2: The slaves of a man, Rút, wanted to kill him. They proceeded to carve a hole under the ledge where Rút slept, so they could later on kill him with spears while he was sleeping. One night after arriving home, as he prepared to sleep he discovered their plot to kill him. He chased the slaves into the mountains and killed them all. The last slave, Guðni was killed on the glacier and this place is called today Guðnasteinn or Guðni's stone.
(Both stories taken from Guide to Iceland)
---
Skógafoss
We continued on and reach Skógafoss in no time – Skógafoss is another popular waterfall that many will visit to check off their "Been-There-Done-That" list. With a width of 25 metres and a drop of 60 metres, Skógafoss creates such a heavy water mist that under the right sunlight conditions, double rainbows are easily spotted – and we were lucky to be there at the right time!
It's very rare to be able to get so close to the base of a waterfall, so of course I couldn't miss the chance to do a silly and get-wet shot – just to show you how incredible this waterfall is!
On the right side of the waterfall there is a flight of staircase of 500+ steps which we hiked up to see another group of waterfalls. The stairs is also the start of a famous 26-km hiking trail in Iceland called Fimmvörðuháls (which means Five-Milestone-Ridge), which will take one between the glaciers Eyjafallajökull and Mýrdalsjökull. I read a signboard which states that the hike is not for the faint-hearted as not only does the hike reaches a height of 1,100 metres, it can get confusing as well. Coupled with Iceland's unpredictable weather, only experienced hikers should attempt this hike! We didn't venture further as hiking the trail wasn't part of our plan, so after viewing the above group of waterfalls, we headed back down for the next location.
Note: There is a campsite at Skógafoss, so there are toilets available there for public use (ISK 100 per person).
---
Sólheimajökull
We continued onto Route 1 after leaving Skógafoss, then turned into Route 221 for a bumpy, gravel ride before reaching the parking lot for Sólheimajökull glacier. Perhaps due to the retreat of glacier, we had to walk quite far in before we reached the actual glacier. I was expecting a white and pristine glacier that was often marketed in brochures and travel agencies' websites, but I was quite taken aback when I saw how "dirty-looking" Sólheimajökull glacier is. We found out later on that the "dirt" was actually volcanic ashes that settled onto and into the glacier. We didn't opt to do glacier hiking here as we will be doing it at Skaftafell.
---
Plane DC 3 Sólheimasandur
The wreckage of an old airplane crash on Sólheimasandur black sand beach, also known as the "DC-3 Crash Site", is one of Iceland's most iconic and popular photo location. The road to turn into can be easily missed as there is no obvious signage. Look out for cars parked beyond an unassuming gate on the South-side – and you should be able to find it.
According to the sign, only 4WDs can drive further in towards the crash site, but we had seen 2WDs which managed to drive to the crash site as well – just beware that the ride will be bumpy due to the many potholes on the road. There are road markers installed on the sides of the road so it's quite easy to navigate to the crash site – please be a considerate traveller and don't try off-road! If you choose to walk, it will be a 4-km walk (and a 4-km walk back later on) to the crash site.
In 1973, a US Navy airplane (a Douglas Super DC-3) was forced to crash land on Iceland's beach. Fortunately, everyone survived the impact, but the cargo plane was left abandoned for the past 4 decades. The plane body was surprisingly still pretty well-preserved.
While the site has a tad spooky feel to it, I personally don't find it that special. But for airplane fans, I guess it's a sight not to be missed!
---
Dyrhólaey
After X showed me Googled photos of puffins before the trip, Dyrhólaey became one of my most look-forward-to places in Iceland as I was really hoping to catch a glimpse of puffins there. I mean, how can one resist these cute-looking birds with such a colourful and clown-like beaks?
Atlantic puffins spend most of their lives at sea, only returning to land during spring and summer for breeding. From early April till early September, puffins can be spotted in Iceland. There are different places to spot puffins in Iceland, but Dyrhólaey was the most convenient for us in terms of timing.
The drive up to Dyrhólaey was bumpy, winding and cliff-hugging via a dirt road (Route 218), which was a little scary – luckily we had a 4WD and I'm not the driver! As we were there in mid-September, we knew the chances of spotting puffins would be slim, and indeed we were too late – the puffins had already left Dyrhólaey, leaving only seagulls and a dunlin in sight.
Despite the disappointment of not being able to spot any puffins, the breathtaking view up on Dyrhólaey made up for it. Dyrhólaey means "the hill island with the door hole" in Icelandic, and the above photo is what gave this small peninsula its name – the 120-metre high perpendicular cliff has an arch-shape opening through it, and apparently small planes and boats can pass through it!
The stack of spiky rocks out in the sea on the above photo are actually basalt sea stacks known as Reynisdrangar. According to legend, two trolls tried to drag a ship to shore but were unfortunately (or fortunately?) caught by the sunlight at dawn and turned into stone (apparently that's what happened to trolls if they stayed out after dark).
We read online that Dyrhólaey was supposed to be extremely windy, but surprisingly it was calm on the day we visited. We overheard a local telling someone that sometimes the wind can be so strong that one may feel like flying off. Our friends who visited Dyrhólaey two weeks after us had a terrible and costly experience as the moment one of them opened the car door, the strong wind ripped the door so violently that the hinge broke! Their car rental company later told them that another car actually got the whole door ripped off (gone with the wind i think) – imagine how strong the wind must be!
Note: Beware of the strong winds here. The puffin season is from early April to early September, but the peak period is between July and August, when there are abundant puffins nesting there. It was also suggested to head there either in the early morning or in the evening for higher chances of spotting puffins as the puffins may be out hunting during the day.
---
Vik
Vik is the southernmost village in Iceland and despite its small size (only about 450 inhabitants there), it is a popular village as many travellers pit-stop there for the night before continuing on their journey (including us!)
We drove for about 30 minutes from Dyrhólaey to reach Vik, and since there's nothing much to do… time for dinner!
We decided to eat out that day at Halldórskaffi, recommended by TripAdvisor. Small and cosy, the restaurant/café offers a wide variety of food with free soup of the day for every main dish ordered.
X ordered trout which was pan-fried and came with some potatoes and a small serving of salad. The fish tasted fresh but there was nothing special about it.
I've never been a fan of lamb chops because of the gamey smell, but I decided to take a risk that day (after our positive experience with the Icelandic lamb soup) and ordered the grilled Icelandic lamb fillet. And I'm so glad I took the plunge because it was beyond delicious. There is no gamey smell at all and the meat was so tender!
We paid ISK 8,650 (SGD 93 / €61) for the meal (no drinks or desserts) and for the price, it may not be as worth it as the portions are pretty small. But I guess there's not much choice as there are not many restaurants in Vik.
Note: I couldn't find the operating hours for Halldórskaffi but apparently they are opened everyday.
---
Reynisfjara
Reynisfjara shore is a beautiful black sand/pebble beach in Iceland, but what makes it more special to me is the amazing cliff of basalt columns at the end, named Gardar.
We actually wanted to visit Reynisfjara the next day but after chatting with the Halldórskaffi restaurant staff that there still might be puffins around the area, we decided to head there after dinner (as it was still pretty early), in hope that we can spot at least one of them.
Well, we did spotted some birds at Reynisfjara but none of them was a puffin… until suddenly, I spotted something small with black wings very high up in the sky and asked X to take a photo of it.
We zoomed into the photo and… ta-dah! It was indeed a puffin! Though it was only a small dot in the sky, at least we manage to spot one puffin, better than nothing I guess!
Note: The waves at Reynisfjara is really strong and can be deadly – just last month, a tourist died as he was caught by a wave. So be careful when you are there!
---
Dyrhólaey… again!
I got really excited after spotting the puffin in the photo and I thought there might be a possibility that some puffins had decided to leave Iceland late and would be back "home" after their hunt for food. So we drove back to Dyrhólaey, praying hard that we will spot some puffins up close.
Sadly, we did not spot any puffin other than the one we spotted at Reynisfjara. Well, at least we had a beautiful sunset for photo-taking!
---
For the night
After the sunset, we head to Vik campsite (63.419259, -18.995570) to rest for the night. The facilities are basic (check the full list here) but because it is a popular rest stop for travellers, you might have to wait to use some of the facilities (like washing machine and dryer). There's a building with electric stoves, tables and chairs, charging points and Wi-Fi, so we cooked and ate our dinner inside, charged all our electronics and watched some show while waiting for our laundry to be done.
And that's all for Day 6 – we covered a lot of places on this day as all of them are relatively in close proximity to each other. Day 7 will be a bit slower we will be doing some hiking, with one to see one of the most special waterfalls in Iceland – stay tuned!
---
This trip is made possible with our partnership with Kuku Campers, who had kindly given us a media discount for the rental of our campervan.
Thank you so much Kuku Campers! All opinion and experiences blogged are still our own!