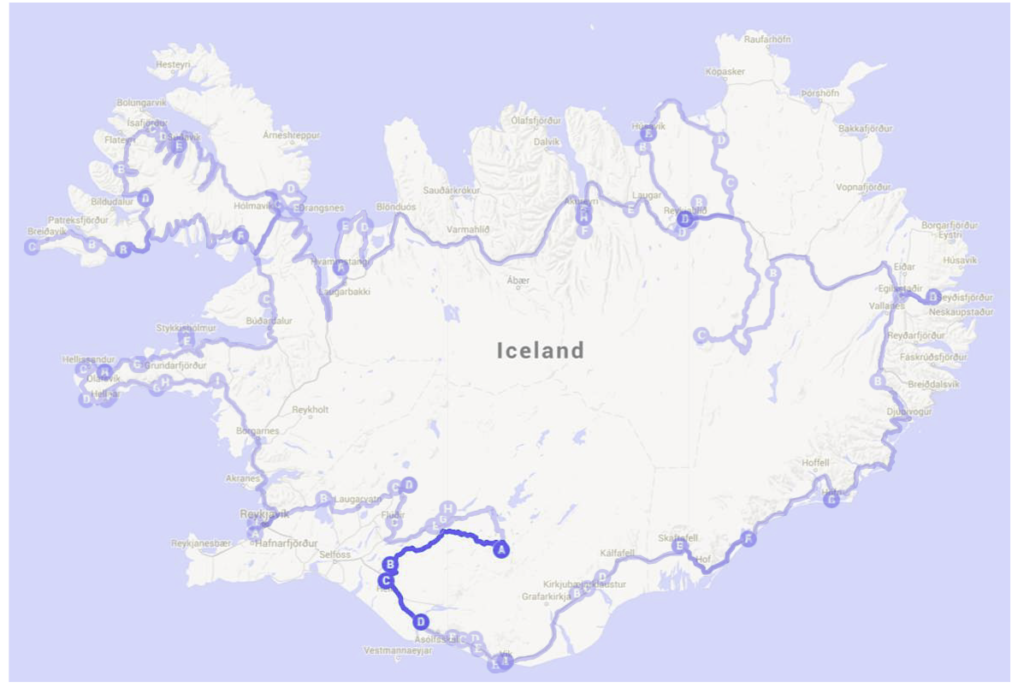 Day 5 Highlights: Icelandic Horseworld (Skeidvellir), Seljalandsfoss
---
With the strong wind blowing and a chilling 4 degrees Celsius outside, it took a tremendous amount of effort not to snuck back into the sleeping bag and go back to sleep. Leaving our warm sleeping bags behind, we crawled out of our car to wash up and made ourselves some hot coffee, before driving out of Landmannalaugar.

We drove out of Landmannalaugar via another route, heading onto Route F224, turned left onto Route F208, then turned left onto F225 after passing by Lake Frostastaðavatn (do stop to take some photos there, the lake's incredibly beautiful), and finally turned left again on to Route 26, heading towards Hella. There were a few rivers to cross but they were quite small and the lack of rain for the past few days (thankfully) meant that the water level of these rivers were pretty low, making our crossing a breeze.
---
Icelandic Horseworld (Skeidvellir)
One of the activities I really wanted to do in Iceland is horseriding. I've never rode a horse before (those pony rides when I was a kid don't count) and it would be a check off my bucket list. It's definitely not a very budget-friendly activity to do in Iceland but we decided to do it anyway. There are plenty of places in Iceland offering horseriding tours but we chose Icelandic HorseWorld as it was along our driving route out of Landmannalaugar.
Icelandic horse is a unique breed of horse developed in Iceland. They are smaller than other horses, sometimes pony-sized (which makes them incredibly adorable), but they are long-lived, hardy and have few diseases (in Iceland), as Icelandic law prevents horses from being imported into Iceland and exported horses are not allowed to return to Iceland. We heard from our guide, Sky, later that this was why horse owners are very reluctant to send their best horses overseas for competition - they will never be able to bring them back to Iceland and will have to sell them away.
Icelandic HorseWorld has about 140 horses in total and while they keep 38 of them in the stable, the rest are free to roam around the fields, even during winter (hay will be left for them to eat during winter). They start training the stallions (aka young horses) when they are 4 to 5 years old during the non-peak seasons (autumn, winter and spring) and depending on their temperament, it takes about 1 to 2 years for the stallions to be fully trained. Horses are trained for sale, for competition or for tourist tours like ours.
We opted for the 1-hour ride which cost us ISK 7,500 per person (SGD 82 / €53). Sky briefed us a little bit then we waited for her and the other staff to brush and saddle the horses while we donned our helmets. We had a quick training inside the stable and then we were soon breathing crisp and cool fresh air in the fields with our horses. We were extremely blessed to have sunny weather throughout our ride, so the view of green fields and blue skies with the mountains as backdrop was simply spectacular.
Icelandic horses are well-known for tölt, a type of ambling gait (somewhat like a trot) faster than a walk but slower than a gallop - it is a surge of acceleration and speed but still enables the horse ride to remain smooth and comfortable. We had a few tries at tölt, but because I've never ridden a horse before, I couldn't tell if it's really that comfortable (I was just trying not to fall off the horse so I guess I was a bit tense during the whole ride).
Overall we enjoyed our ride with Icelandic HorseWorld - the horses are beautiful and the staff is really friendly and patiently answered all the queries I had. One thing I truly regret is not bringing my camera along (was worried that I will drop it during the ride, so only brought our phones along for photos).
As we drove out of Icelandic HorseWorld, we were greeted with many horses. And as what we read online, Icelandic horses are extremely curious and friendly, and many of them started coming towards us when we approached them, enabling us to pat them and take many photos of them and with them.
Address:
Skeiðvellir, 851 Hella, Iceland
Opening hours:
1 Jun - 31 Sep: Daily 0900 - 1700
Admission:
Visitor center: ISK 1,200 per person
For horseriding prices, see here.
---
Lunch at Hella
By the time we finished our horseriding tour, it's past lunch time and we were famished as we didn't eat much breakfast. We asked the staff at Icelandic HorseWorld for recommendations and they said there's a restaurant in Hella but warned that they served "farmer's food", hence they recommended a bistro in Stracto Hotel (just opposite the restaurant) instead. When we reached the bistro, we found the prices a tad too expensive hence we went to the "farmer's food" restaurant, Kanslarinn, instead - and I'm so glad we did!
The menu was varied and we ordered an Icelandic meat soup, fish and chips, and a fried fish with creamy shrimp sauce. It's not fancy, but the portions were huge and all were so delicious! I highly recommend one to drop by this simple restaurant for a meal.
Address:

Dynskálar 10c, Hella, Iceland
(Couldn't find the opening hours!)
---
Seljalandsfoss
After our filling lunch, we continued onto Route 1 towards East to Seljalandsfoss. Seljalandsfoss is one of the most popular waterfall in Iceland as it's easily accessible - we spot it easily from afar while driving on Route 1. And the fact that it's possible to walk behind the waterfall adds on to its fame despite being only 60-metres tall and does not have as strong powerful drop as other waterfalls I've seen in Iceland.
The path up the waterfall is not difficult, but wet, slippery and slightly muddy, so wear a good pair of boots and bring along a waterproof jacket so that you won't fall or get wet.
The best time to come and visit this waterfall is during sunset, so after visiting the waterfall, we drove to the nearby Hamragardar campsite (only a few minutes drive away), to camped for the night. Hamgaradar campsite is nice and clean with ample facilities - I particularly like the service house as it has a complete kitchen with electric stoves so we can cook indoors without enduring the strong wind outside. X then returned later to Seljalandsfoss in the evening for the shots below while I prepare dinner at the campsite (and enjoy the sunset at the same time!)
And that's all for Day 5! We didn't cover a lot of places on this day as the drive out from Landmannalaugar is pretty long and we wanted to stay longer at Seljalandsfoss for the evening view. We are really lucky to have such a long trip in Iceland so that we can spend more time at places we want to and be flexible with our travel plans. Stay tuned for Day 6 - more waterfalls and views to come!
---
This trip is made possible with our partnership with Kuku Campers, who had kindly given us a media discount for the rental of our campervan.
Thank you so much Kuku Campers! All opinion and experiences blogged are still our own!