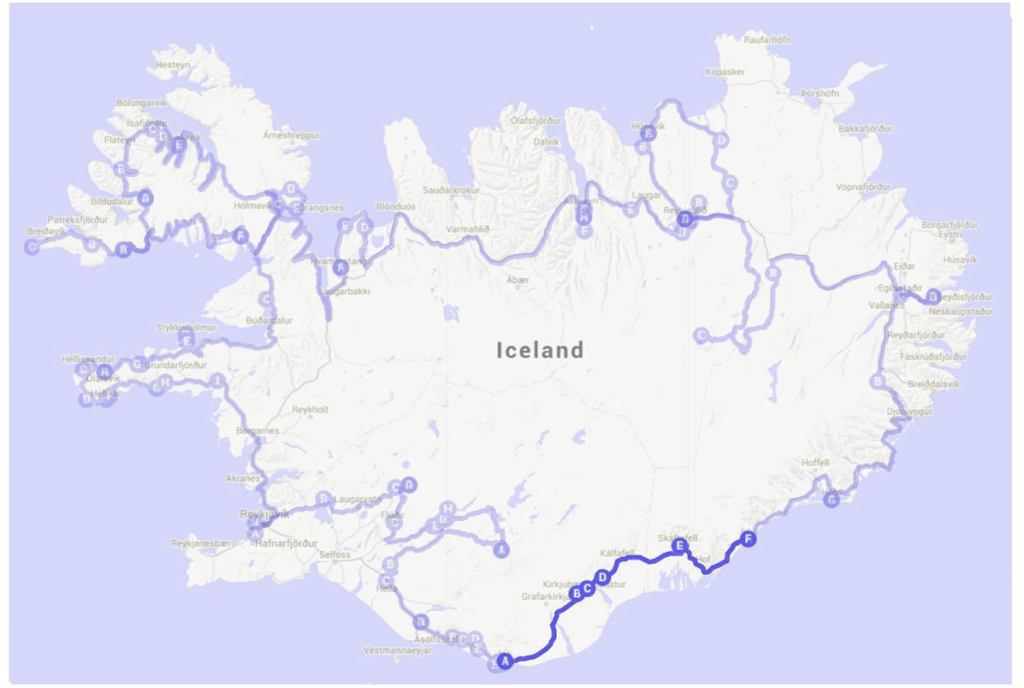 Highlights: Fjaðrárgljúfur, Kirkjugólf, Foss á Síðu, Skeiðará Bridge Monument, Skaftafell Visitor Centre, Svartifoss, Jökulsárlón Beach
We slept in a little bit more on Day 7 as we were up late the previous night waiting for our laundry to be done. We had breakfast at Vik campsite and after packing our lunch and refilling our bottles with water, it's time to hit the roads again!
---
Fjaðrárgljúfur
Our first stop for Day 7 is Fjaðrárgljúfur (seriously I've given up trying to pronounce the names of most places, it's too complicated!), about 1 hour drive away from Vik - just turn in when you see the sign to turn to Holt (Route 206) and Laki (Route F206) and continue onto the road until you reach the parking space for Fjaðrárgljúfur.
This massive canyon, about 100 meters deep and about 2 kilometres long, is estimated to form at the end of the last Ice Age, about 9,000 years ago. We first walked along the walking path above the canyon (which is along the canyon's edge) to take in the stunning views. The weather was amazing - sunny but cooling - and it's as if this whole place is ours because there are very few travellers who make this canyon a pit stop, despite it being so near along Ring Road (Route 1).
There's a signboard which describes how the canyon was formed, but long story short - at the end of the last Ice Age when the glacier retreated, the glacial rivers eroded and dug itself through rocks and palagonite, creating this majestic canyon.
Instead of walking on the hiking path above the canyon, hikers can choose to walk inside the canyon as the Fjaðrá (river which flows through the canyon) is often low in water, though wading is still needed through some parts of the hike. We didn't want to get wet so we didn't walk in much, just stopping for a while for some photos!
---
Kirkjugólf
Known as "The Church Floor", Kirkjugólfið is an approximately 80 square metres wide of columnar basalt that had been eroded and shaped by glaciers and waves. What makes this place interesting is instead of seeing vertical rows of basalt column, we got to see how the top of basalt columns look like. One may infer, from its name, that there may be a church in this area but no records of a church or any other structures have been found.
There was a sign near Kirkjugólfið which states that most basalt columns are hexagonal and apparently there are decagonal ones (10 sides), but we only managed to find, at maximum, octagonal (8 sides) basalt columns.
---
Foss á Síðu
Literally meant "Waterfall at Siðu", this is perhaps not the most magnificent waterfall we have seen in Iceland, but I love it because... can you imagine living there and have a waterfall right in your backyard? I can totally imagine myself "showing off" to everyone and anyone if I ever live there or somewhere with a waterfall in my backyard!
---
Skeiðará Bridge Monument
In November 1996, a subglacial eruption on the Vatnajökull ice sheet resulted in floodwater to rise rapidly with a flow rate of 50,000 cubic metres per second, and reaching its highest level in mere 15 hours (experts originally estimated that the maximum flow rate would only be 20,000 cubic metres per second). The floodwater swept gigantic icebergs, weighing up to 2,000 tons, out into the sea, causing great damage to the road. The 376-metre Gigjukvisl Bridge on the Ring Road (Route 1) was struck by the icebergs and completely washed away while the Skeiðará Bridge was badly damaged, demonstrating the sheer power of Mother Nature.
The Ring Road is perhaps the most-travelled road in Iceland as it runs around the island and connects most of the inhabited parts of the country. Even with just one section damaged will result in major inconvenience for both locals and travellers. It took close to 2 years before the new bridge was completed.
---
Skaftafell Visitor Centre
We reached Skaftafell Visitor Centre in hope to book a half-day (about 4 hours) glacial hike but after enquiring with both Glacier Guides and Icelandic Mountain Guides, we found out that all of these hikes were fully booked. Left with no choice, we booked a shorter glacial hike (about 2 hours) with Icelandic Mountain Guides for the next day, which was also running out of slots by the time we book it. So if you want to do a hike, especially during the peak season, it's best to call and book a few days in advance to avoid disappointment! The prices offered by both companies are quite comparable, so I guess just go with the one you like more? Will do a review of our tour in the next blog post!
Oddly, I didn't take any photos of the Skaftafell Visitor Centre but I remembered there's nothing much inside. There's a campsite here at ISK 1,600 per night per adult (SGD 17 / €11), and additional ISK 500 (SGD 5.50 / €3.50) for hot shower. There are also other facilities like washing machine and dryer at the campsite too. I don't remember seeing any service house so I guess cooking will have to take place outdoors (pray for good weather if you are camping there!) What I find interesting about this campsite is that instead of using coins to operate the hot shower and washing machines, you get a card (I guess you can get the card from the visitor centre) and top it up with money using your credit card. The top-up machine can be found outside the Skaftafell Visitor Centre (64.016610, -16.966705).
---
Svartifoss
Skaftafell has several hiking trails to offer and the one we went on is to Svartifoss. The start of the trail is easy to spot and along the way there are numerous signs to point you to the right direction to the waterfall. The hike to Svartifoss is about 1.8 kilometres long and will take about 45 minutes to reach the waterfall (one-way), with quite a bit of ascend (the good thing about this is that it will be a downslope walk on the way back!)
Translated as "Black Fall", the name of this waterfall perhaps come from the black-ish basalt columns surrounding this narrow 20-metre waterfall. This unique basalt column design has inspired architect Guthjon Samuelsson when designing the exterior of Hallgrimskirkja Church and the National Theater in Rekjavik.
---
Jökulsárlón Beach
With quite a bit of time left on hand after our hike to Svartifoss, we drove to Jökulsárlón Beach, a black sand beach located just opposite the popular Jökulsárlón Glacial Lagoon. Our original plan was to visit the beach and the lagoon the next day, but as our glacial hike was scheduled on next day's afternoon (all morning hikes were already fully booked) and since the weather forecast showed that the probability of rain would be high in the afternoon, we decided to head to the beach first while the weather was still good.
On the beach we saw plenty of crystal clear icebergs that were washed up from the sea, and coupled with the endless roaring waves from the sea, it's a majestic view that photographers will love. While I was huddling in the cold, imagine my surprise and excitement when I spotted a seal swimming far away!
---
For the Night
We camped in the wild that night at Jökulsárlón Glacial Lagoon, so dinner was kept really simple with cup noodles. While camping there, there were a few cars which pulled up at the lagoon and travellers coming out to take photos... in their swimming costumes (the guys were topless and in shorts while the ladies were in bikinis), which was quite amusing actually. After they left, the night was quiet and we fell asleep easily, with a surprise visit from someone the next morning - stay tuned to find out more!
---
This trip is made possible with our partnership with Kuku Campers, who had kindly given us a media discount for the rental of our campervan.
Thank you so much Kuku Campers! All opinion and experiences blogged are still our own!