Highlights: Jökulsárlón Glacial Lagoon, Glacial Hiking, Höfn
---
Jökulsárlón Glacial Lagoon
In case you lost track of our previous travelogue, we spent the night at Jökulsárlón Glacial Lagoon as we wanted to take some photos here before it starts to rain (weather forecast predicted that it would rain in the afternoon). We woke up to a gloomy Day 8 at around 6.30 in the morning. The sky was threatening to rain any moment and we were praying hard that it would not rain while we do our glacial hiking later. There were only a handful of travellers who camped at the lagoon overnight – we were perhaps the first to wake up and thought that we would have the glacial lagoon all to ourselves, but apparently we were not the first!

A huge flock of lesser black-backed gulls (if I didn't identify them wrongly) was spotted hovering over the glacial lagoon. Despite the fact that it's only 6.30 in the morning, the gulls were already very rowdy!
And then we spotted not just one, but several seals! We spotted a seal the day before at Jökulsárlón Beach, so we were pleasantly surprised to see more of them this morning. The seals were bobbing in and out of the water and they look absolutely adorable! Apparently seals are extremely curious mammals, and I guess it's true because they kept staring at us (well we were busy staring at them too heh) as they swam leisurely in the lagoon.
We spent about 2 hours there, happily snapping away at the seals and having a bit of breakfast. By then, travellers have started to drop by the lagoon, some waiting for the boat tours to start I think. After breakfast, we drove back towards the Skaftafell Visitor Center, stopping multiple times along the way to hike up to see different parts of the lagoon.
Until 1932, Jökulsárlón glacial lagoon was covered in thick glacial ice. Over the years, the glacier started to retreat from the edge of the Atlantic Ocean, developing into a lake. Chunks of ice are constantly breaking away from the retreating glacier to reshape the lagoon and fill it with icebergs of various shapes, sizes and colours. The size of the lagoon has increased fourfold since the 1970s, and now measures about 20 square kilometres. As the lagoon is open to the sea, it contains a mixture of salt and freshwater, giving it a unique blue-green colour. And with the icebergs decorating the lagoon and the mountain as a backdrop – it is a magnificent sight viewed from every angle.
Left: Thinking which one to bring back home; Right: Trying out my new ice bed!
Many icebergs also got washed up ashore so you can do silly shots like me. Do be careful when you climb the icebergs though as they are really slippery!
---
Glacial Hiking
After taking as much time as we want to explore the Jökulsárlón glacial lagoon, we finally reached back Skaftafell Visitor Center at around lunch time. I made sandwiches for lunch but we decided to get something extra because I was craving for something meaty and deep-fried. The lamb kebabs cost ISK 3,200 (SGD 35 / €23), and though delicious, the portion is quite small.
Our original plan was to book a 4-hour glacial hike but they were all fully booked for both morning and afternoon slots. Left with no choice, we booked a shorter, 2-hour glacial hike with Icelandic Mountain Guides which was in the afternoon as all the morning slots were fully booked as well. Around 30 minutes before the stipulated timing, we gathered at the cabin where the staff gave out the crampons. Crampons are metal "shoes" with spikes on the bottom that can be fixed on top of your own hiking boots to facilitate walking on ice.
After everyone received their crampons, we were ushered into a mini-van and our guide, Anna, drove off to Svinafellsjokull (about 10 minutes drive away from Skaftafell), one of the few accessible glaciers at Skaftafell (do note that one cannot enter Svinafellsjokull without a guide). Anna then handed all of us an ice pick each – but told us that they will be used more as photo props than for actual climbing. We had to walk in for another 10 minutes before we reached the tip of the glacier and after spending some time learning how to put on the crampons, it's finally time to walk on the ice!
It was really a blessing in disguise when we had to book the afternoon hike because instead of experiencing gloomy weather and rain during our hike, there was actually sun and clear skies!
Even though the name of the hike is Blue Ice Experience, there's not much blue ice to be seen. When snow fell, they turned into ice and got compact together. As the ice is pushed down the mountain by gravity, it erodes the soil, rocks and volcanic ash, creating streaks of black within the ice. At first I thought this black will actually caused the glacier to melt faster (because black conducts heat better), but apparently, as long as the black layer exceeds a certain thickness, it will actually insulate the ice instead. (If you are curious and want to learn more, you can read about the research paper here.)
So where is the blue ice? Let's first learn how blue ice is formed! When glacial ice first freezes, it is filled with air bubbles. As the ice gets compressed and compacted together by new glacial ice on top, the air bubbles will become smaller and get squeezed out. The absence of air bubbles allowed light to penetrate the ice more deeply, resulting in the absorption of red, orange, yellow and green wavelengths of light, so the remaining light composed of the shorter wavelengths of blue and violet. These shorter wavelengths are reflected back to our human eye, enabling us to see the gorgeous blue colour on the ice. So the only way to see blue ice while on glacial hike is to go deep, as the surface are all newer ice full of air bubbles. (I think it's easier to spot blue ice at the Jökulsárlón glacial lagoon!)
TIP: If you are planning on doing a glacier hike, do wear proper hiking boots, waterproof pants (ski pants), waterproof jacket and gloves. Other warm clothing like hats and scarves depends on your personal comfort level. I recommend bringing sunglasses as well as sometimes the ice can be quite blinding when the sun shines on it.
---
Höfn
After our hike, we drove off towards Höfn, a fishing town in the south-eastern part of Iceland, where we will be spending the night. The weather became gloomy and started to drizzle, so we didn't try to stop much throughout the drive – I just sat back and enjoy the view!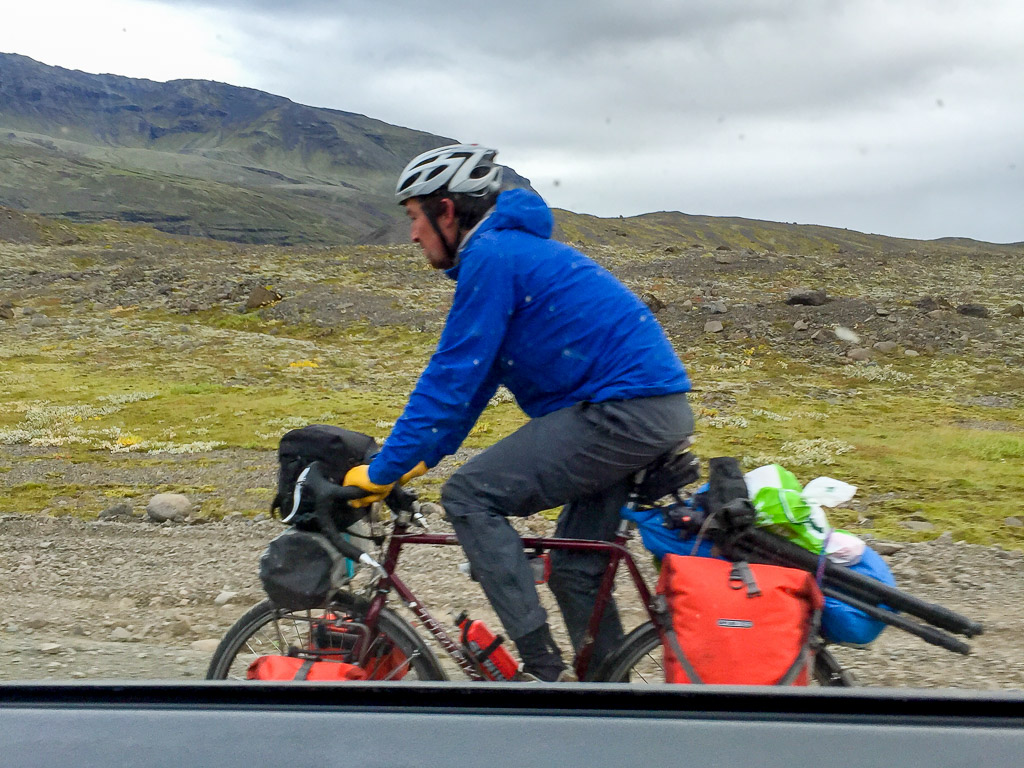 When we reached Höfn at around 7 p.m., the first thing we did was to settle our rumbling tummies. Since Höfn is a fishing town, I guess it's a must to eat some seafood here! We ended up at Humarhöfnin for some langoustines as it was highly recommended on TripAdvisor. I took photos of the menu which you can see them here, here, and here.
This 9-inch langoustine pizza is topped with tomatoes, olives, onions, feta cheese, argula and a pretty generous amount of langoustines. The crust is slightly thick but still crisp, though it still can't beat the pizzas we had eaten in Italy.
The other dish that we ordered to savour the langoustines fully is are the Langoustine Tails. 300 grams worth of langoustine tails were grilled with butter, parsley and garlic, served with a side salad and two types of sauces. The langoustines were juicy and fresh and dipping them in the Black Magic Sauce which is sour, salty, and herby with a hint of sweetness made them even more exceptional.
---
For the night
We camped at Höfn campsite (64.258330, -15.203071) – open from 15 May to 15 September each year – for the night at ISK 1,500 per person per night (SGD 16 / €11). There's a main building and a smaller one (both equipped with facilities) but the smaller building was closed (not sure why), so we had to use the facilities in the main building. There are only two shower cubicles in the main building (one for male and one for female) and we need to pay ISK 500 (SGD 5.40 / €3.50) for 2 minutes of hot shower.
The verandah outside the main building is equipped with tables, benches and hot plates to prepare food and sinks to do your dishes. Inside the main building, there are a handful of tables and chairs as well but they can fill up quite quickly, especially when it's raining outside and everyone wants to stay away from the cold. I quite like the fact that they have a toaster (toasted sandwich for breakfast yay!) and a kettle there so it's really easy to have breakfast there.
And that's it for Day 8! I'll probably side-track a little bit for the next travel post, see you there!
---
This trip is made possible with our partnership with Kuku Campers, who had kindly given us a media discount for the rental of our campervan.
Thank you so much Kuku Campers! All opinion and experiences blogged are still our own!