Hello! After a short break from Denmark, I'm back with a new travelogue - Iceland! X and I travelled to Iceland in mid-September and stayed there for 22 days. We rented a car for most of the days and drove around Iceland, which I think is really the best way to experience Iceland. Iceland has so much scenery to offer - waterfalls, mountains, glaciers, volcanoes, rainbows, wildlife... it's such an amazing, beautiful and scenic trip that while at the start I thought 22 days may be a bit too long, by the end of the trip I really wish I can stay there longer (but part of me wants to leave to because it's getting too cold for comfort!)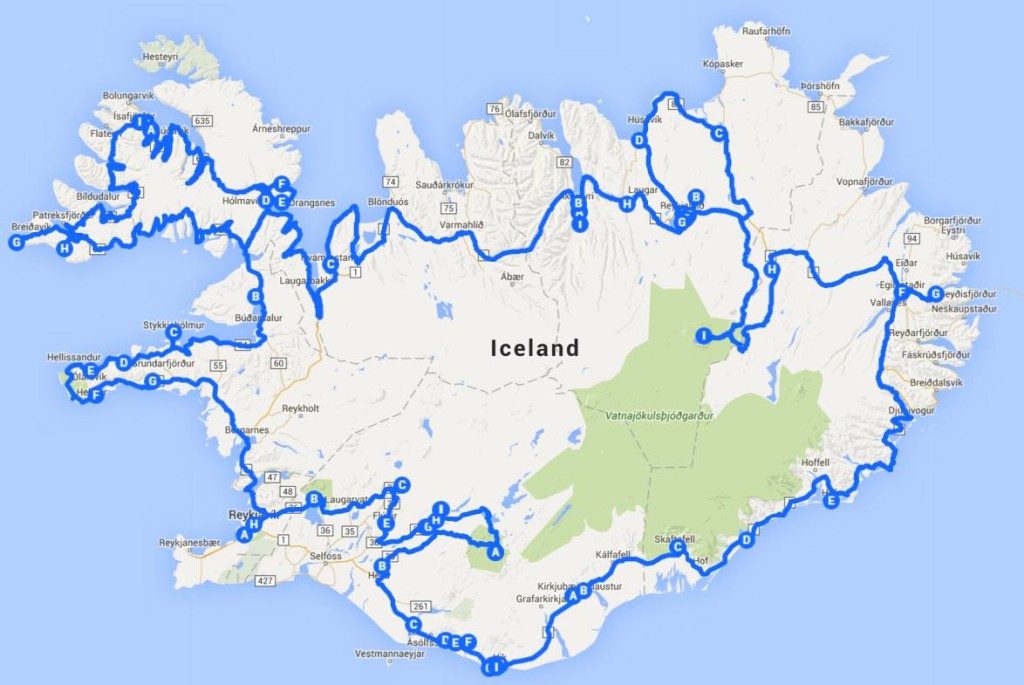 Before I start on the trip proper and bombard you guys with all the travel photos, I'm going to start off with a post that covers some of the questions that many travellers may have when planning for a trip to Iceland. Hopefully these will help in the planning of your Iceland trip!
---
1) When is the Best Time to Go Iceland?
There is no right or wrong answer to this question as it really depends on what you want to see / do on the trip. I've only been to Iceland from mid-September to early October, so I cannot testify for other months, but here's what we've researched:
Summer (June to August) is the peak season in Iceland - plenty of tourists will be piling onto the island everyday. The temperature is just right - not too cold or not too hot, the days are long so travellers can cover as many sights as possible in a day, and there's the midnight sun. The campsites and roads to highlands are opened so travellers can drive to the inner part of Iceland and visit Landmannalaugar for a few days of hiking. Tours are also abundant - from whale-watching, puffin-watching, glacier-hiking to horse-riding (they usually have additional time slots during summer), there are plenty of things to keep travellers occupied during a trip to Iceland during summer. The only downside is that things are going to be expensive (such as accommodation and car rental), you will need to book accommodation, tours, car rental in advance in case they are fully booked and the chances of catching Northern Lights are slimmer (but not impossible).
Autumn is the season we visited - when we visited Iceland in mid-September, we missed catching a glimpse of the puffins as they have already left Iceland (July and August are the best months to catch them). Those extremely popular / touristy sites were still a bit crowded with tourists and we almost couldn't book our glacier hiking tour as it was full (we had to choose another type of hike in the end). It is also the season for rettir, where the sheep in Iceland are chased from the mountains and back home to prep for winter. As we reached towards the end of September, the number of tourists dwindle and summer gave way to autumn and the green and lush scenery turned red and yellow, which was really beautiful. We also managed to catch a few days of Northern Lights! Do note that many campsites are starting to close for the rest of the year so camping may not be very suitable.
Winter is perhaps the best season to visit Iceland if you want to catch the Northern Lights as the nights are long and the weather is cold. There are also ice cave tours which can only be done during winter. Whale-watching tours will be few but the duration will be longer, I guess you need more time to look for the whales. Driving in winter may be a bit more scary (with the snow and all) and you won't be able to go into the highlands as most (or all) F-Roads will be closed. Some campsites may be open during winter but you'll need proper winter camping gear.
Spring, I guess, is a bit like autumn. Fewer tourists and slightly longer days than winter. Most campsites don't open until mid-May or June, so you may still need to find alternative accommodation. But you should be able to strike a balance between Northern Lights viewing and sightseeing.
---
2) How Many Days Should I Spend in Iceland?



In order to know anything about a country you must walk through it.
You must sleep on its soil, pluck its foliage with your fingers.
You must light your fires by its fiords and streams,
and watch the dawn break beyond strange mountains.
-- Winston Churchill, November 1939
We spent 22 days in Iceland, covering popular tourist attractions as well as those many travellers will miss - some may say it's too long but I certainly don't think so. The trip is of a relaxed pace and there are times when I could just sat down and spend some time staring and admiring at waterfalls and glaciers instead of rushing around and just snap-and-go, which sadly, is what many travellers do these days. But if you are first-time traveller to Iceland, here's a rough plan (I will link up the places I mentioned here as I blog about them!):
5 days:

Golden Circle and South Coast

The Golden Circle is a popular tourist route which covers about 300 kilometres looping from Reykjavik into central Iceland and back. The three primary stops that you can visit on this route are Þingvellir National Park (pronounced as Thing-vellir), Gullfoss waterfall and the geysers Geysir and Strokkur.

The South Coast is lined with plenty of waterfalls, including Seljalandsfoss (first photo in the post) and Skógafoss. Along the route to Vik you can stop by Sólheimajökull and see the crashed DC-3 plane. At Vik, you can see some puffins (if it's puffin season) at Dyrhólaey and look at the massive basalt columns at the Black Sand Beach. Head further down on Route 1 to Jokulsarlon Glacial Lagoon (above photo) - to see huge chunks of ice floating on the lake as well as some adorable seals peeking at you.

10 days:

Ring Road around Iceland

The Ring Road is actually Route 1, a road that runs around Iceland and connects most of the inhabited parts of the country. The road, completed in 1974, covers a total length of 1,332 kilometres and will pass by many of the popular attractions in Iceland (including those on Golden Circle and South Coast), such as Selfoss waterfall, Godafoss waterfall, Myvatn lake, and other cities and towns like Akureyri and Höfn.

15 days:

Ring Road and Highlands

The highlands cover mostly the interior of Iceland and are mostly accessible during summer as the highland roads are closed during other seasons. The highland roads will also require 4WD because the roads are extremely bumpy and there will be times when you will need to cross ford rivers (I videoed some of our river crossing, will share them when I blogged about them!) The highlands that we covered during the trip includes Landmannalaugar and Askja volcanic area.

20 days:

Ring Road, Highlands, West Fjords and Snæfellsnes peninsula

The West Fjords is a large peninsula in North-Western Iceland. It offers an extremely different view as it is very mountainous, with the coastline heavily indented by dozes on fjords surrounded by steep hills. Because of the terrain, the drive will be long and winding. We visited Látrabjarg, Europe's most westerly point and one of the world's greatest bird cliffs and had one of our best meals in Ísafjörður.

The 90-kilometre long Snæfellsnes peninsula contains many national sights, such as Snæfellsjökull volcano and Djúpalónssandur, a beautiful beach that was once home to sixty fishing boats. It's also on this peninsula that we caught the best Northern Lights of our trip!
---
3) Weather and Clothes
Weather
As per what many websites will say - Iceland weather is always changing and unpredictable. We experienced sun, rain, hail and a bit of snow during the trip. There was once when we were in the car and the weather was sunny on the left but the it was raining on the right, which was really amusing and frustrating as the waterfall we wanted to visit was on the right.
Clothes
It really depends on your tolerance level for cold, so you should build upon it by layers - so that you can add on when it's cold and remove when it's warm. I tried to be a bit fashionable by bringing some pretty jackets and a nice coat but towards the end of the trip I'm relying mostly on my North Face 3-in-1 jacket - I'd rather stay warm than look pretty in photos! I would say windbreaker and waterproof clothing (at least a jacket) are a must - Iceland rains very often and the wind can get really strong, so these will help to keep you dry and warm. Other stuff that are good to bring along are long johns (thermal underwear), thin and thick jackets, insulated and/or waterproof pants (really useful when doing glacier hiking), waterproof hiking boots, scarves, gloves and beanies.
---
4) Should I Get Any Duty-Free Items Upon Arrival?
We have read that it's cheaper to purchase alcoholic beverages at duty-free instead from their Vinbudin (Iceland liquor shop) but we have never compared the prices. But well, I guess it may be true as we see some people (I assume locals) buying 2 dozens of beer at one go. So the answer is yes, stock-up on some alcohol and chocolates for your trip!
---
5) How Do I Get From the Airport to Reykjavik? (And Vice-Versa)
If you are planning to drive throughout Iceland, you can arrange with the car rental company to pick up your rental car at the airport - some car rental companies offer the service for free while some will charge a fee of about €50 (SGD 75). We chose to pick up our car from the car rental company so we need to find an alternative way to get to Reykjavik, and the easiest way is via a shuttle bus service.
There are 2 companies that offer shuttle bus services from the airport to Reykjavik city - Gray Line and FlyBus (aka Reykjavik Excursions).
There are two types of tickets - a) from the airport to their respective bus terminal or b) from the airport to hotels/bus stops in Reykjavik and both are available as single-trip tickets or round-trip tickets.
Tickets can be purchased either online beforehand or at the ticket office at the airport. When we arrived at the airport at midnight, only Gray Line counter was opened and there was a long queue at the ticket office - so I'm not sure if you can purchase FlyBus tickets if you arrived at night. As we were travelling with IcelandAir, we purchased the FlyBus tickets on the flight (which was discounted).
For both companies, huge coach buses will pick up passengers at the airport and transport the passengers to their bus terminals. If you purchased (b) tickets, you will change to one of the smaller mini buses (do pick up your own luggage) which will transport you to the hotel / bus-stop nearest to your accommodation. I don't think they will make special arrangement to stop at non-designated places as we saw a lady tried but failed - so do check out the list of places they stop, pick one that is nearest to your accommodation and tell the bus driver where you want to alight.
To catch the bus back to the airport, if you purchased (a) tickets, simply head to the bus terminal to board the bus. For (b) tickets, you will need to call the company to make a booking and they will pick you up at the designated hotel. Do ensure you have sufficient time to get to the airport - the bus rides take about 45 minutes from the bus terminal to the airport.
Here's a price summary according to the website:
| | | |
| --- | --- | --- |
| | Gray Line (website) | FlyBus (website)* |
| Price to bus terminal : | One-way: €13 (SGD 20) | One-way: ISK 2,200 (SGD 24 / €16); Return: ISK 4,000 (SGD 43 / €29) |
| Price to hotel: | One-way: €16 (SGD 24) | One-way: ISK 2,800 (SGD 30 / €20), Return: ISK 5,000 (SGD 54 / €36) |
*We got our FlyBus tickets on our flight here from IcelandAir, which were discounted. Each return ticket cost only ISK 4,300 (SGD 46 / €31), which ended up cheaper than Gray Line tickets.
---
6) Which Data / Sim Card Should I Get?
There are 3 telco companies in Iceland - Siminn, Vodafone and Nova. We have no idea what are the rates offered at the airport as all the telco offices were closed when we arrived (we arrived at around midnight). We actually went to Kringlan Mall, a shopping mall located about 5 kilometres away from central Reykjavik (we walked there but you could also take a bus or drive your rental car there) to get our SIM card. Here are the rates:
| | |
| --- | --- |
| Siminn: | ISK 2,790 (SGD 32 / €21) - 5 GB of data with ISK 500 worth of call credit (for approximately 30 minutes of call). The SIM card is free of charge.* |
| Vodafone: | ISK 4,490 (SGD 48 / €32)- The SIM card first cost ISK 2,000 with ISK 1,000 worth of call credit and 300 MB. Then an additional ISK 2,490 is needed to top to 5 GB of data.* |
| Nova: | Nova offered the cheapest and most value-for-money data bundle but due to its limited coverage, we decided not to get it (sorry I forgot to record down the prices).* |
*Information accurate as of September 2015.
These deals may not be available at the airport, so you may want to check out what you can get at the airport and if it's not as value-for-money, you can head to Kringlan Mall to get your SIM card. Make sure your phone is unlocked (shouldn't be a problem for Singaporeans). We only got 1 SIM card to share between the two of us and we used it as a GPS, checked our WhatsApp messages, shared photos on Instagram, surf the internet and Facebook and it's sufficient to last us throughout the 22 days (we only tethered when necessary).
TIP: If you are using your phone as a GPS, do download the offline map from Google Maps onto your smartphone before your trip so that you won't need data to load the maps. In addition, there will be times where there will not be any coverage (especially in West Fjords), so with offline maps, the map will still load (GPS signal will still work even if you do not have network coverage).
---
7) Should I Pay by Credit Card or Cash?
We paid mostly by credit card - car rental, campsite accommodation fees, groceries, dining, attractions, petrol, bus tickets etc. For some paid toilets, you can even use your credit card to pay for the entrance fees! So I'd suggest getting a good credit card (a mileage card or rewards card for overseas usage) and use it to pay for the stuff in Iceland. If you are planning to drive around Iceland, having a credit card would be good as many petrol stations in Iceland are unmanned - so you will need a credit card or their fuel card to pay for petrol. Also, do ask your credit card company for the PIN number as you will need it when paying for petrol.
We noted there is a fixed withdrawal fee of about ISK 150 per withdrawal. So if you want to withdraw cash, withdraw enough to last the whole trip. We used cash to operate the washing machine and hot water at campsite (for some campsites, you'll need to pay like ISK 200 to 500 for 2 to 5 minutes of hot water, otherwise the water is cold).
---
8) Car and Petrol
2-Wheel Drive (2WD) vs 4-Wheel Drive (4WD)
Is it a must to get a 4WD for the trip? Of course not. A 4WD is going to be more expensive - the rental fee will be more expensive and more often than not, it consumes more fuel, so this will drive up the cost as well. However, you will need a 4WD to drive into F-Roads (the highland roads) and cross rivers; and it's also more comfortable to be in a 4WD when driving through gravel roads. Our friends rented a 2WD and they experienced great difficulty when driving through gravel roads, they had to slow down to 20 - 30 km/h though the speed limit is 50 km/h.
If you are planning to go Iceland during the winter months where the F-Roads are closed or just going to stick along the Ring Road, a 2WD may suffice. But if you are planning to visit Landmannalaugar, Askja volcanic area or any other sites that can only be accessed via F-Roads, it will be best to get a 4WD.
Car vs Campervan
Campervans are vehicles that provide both transport and sleeping accommodation. They are usually vans or 7-seaters that have been fitted out so that the back of the van/car can be used for sleeping or they have a pop-up roof that can be raised for sleeping. They are not the same as caravans as they usually don't have built-in toilets or showers.
With only a car, you will need to book accommodation and during the peak season, accommodation may need to be booked ahead of time otherwise cheap ones will be fully booked - so this will greatly reduce the flexibility to change your travel plans. If you choose to stay at campsites, you will need to rent a tent but you will not need to book accommodation in advance. However, it may not be that fun when you want to pitch or unpitch your tent when it's raining!
With a campervan, it's a lot more flexible as you don't have to worry about accommodation as you can stay almost anywhere (there were a few nights we camped in the wild). We are really blessed to partner with Kuku Campers for this trip - the Dodge Durango 4WD which we rented was way more comfortable than I had expected and we did not book a single accommodation throughout the trip. This gave us the flexibility to change our travel plans as and when we need it - we changed our route when we were in West Fjords and stayed a couple of additional nights in West Fjords, firstly because of a rettir we participated in and secondly when we locked ourselves out of the car (which was really silly of us but I'll talk about it in when we reach that travelogue).
Petrol Stations
There are a few petrol companies in Iceland, with N1 being the most common around Iceland. There should be at least one petrol station in every town. Grab a map from the Information Center whenever you reach a city or town and more often than not the petrol stations will be indicated on the map. Plan your route so that you refuel as you go. Many of the petrol stations are also automated and self-service. Click on the links below to see the location of the petrol stations:
Update 3 Aug 2016: TripCreator has provided us with a map of all the gas stations in Iceland - here is the map!
Map of Gas Stations in Iceland
by
TripCreator
Refuelling the Car
The prices of the fuel is pretty similar among the petrol companies - it ranged from ISK 199.70 to ISK 202.70 per litre (SGD 2.13 - 2.16 / €1.42 - 1.44) while we are there. The most expensive petrol we had paid for is at Möðrudalur (Modrudalur) at ISK 250 per litre (SGD 2.67 / €1.78) (it's really expensive but we saw a cute arctic fox there!)
There are 3 ways to pay for petrol - by cash, by credit card or by prepaid fuel card. Cash can only be paid at petrol stations where there are, well, staff there, usually in major cities. More often than not, especially if you are travelling further away from major cities, the petrol stations unmanned and you can only pay with a credit/debit card or prepaid fuel card.
Credit/debit card: To pay by credit/debit card, first you will need to know the PIN of your credit/debit card. Yes, there is a PIN to credit card as well, so do request for it from the bank! After you have inserted your credit card into the automated machines and keyed in your PIN number, it will ask you to enter the maximum dollar value of petrol you want to pump - it will charge you only on the amount you pumped, not the amount you entered into the machine. (E.g. If you enter ISK 10,000 and pumped only ISK 6,000 worth of petrol, it will only charge you ISK 6,000 and not ISK 10,000.) After you have entered the maximum dollar value, it will prompt you to select the pump number and then the machine will return you your card and you can proceed with refueling your car. After you have finishing refueling the car, put in your card again to generate the receipt (if you want one). The only minor problem we experienced during the trip was with Orkan petrol pumps as the system only let us key in a 4-digit PIN codes (our credit card has 6-digit PIN codes).
Prepaid fuel card: It's works just like a prepaid SIM card - top up money inside and you can use it to refuel the car. The prepaid card can be purchased from most petrol stations, I'd suggest getting one from N1 as they are the most common around Iceland. We only got one when we wanted to pump petrol at Orkan petrol station. I guess you will need one if you are not able to get a PIN code for your credit card.
---
9) Where to Find Northern Lights / Aurora?
I cannot tell you where to find because really, it depends on whether Northern Lights want to find you and sometimes, you just need that bit of luck to see it. You can help yourself by checking the aurora forecast - the website provides information such as the strength of the aurora for the night, from when to when is the sky dark, whether the moon will be up tonight and the cloud cover throughout the day. Clear skies and high aurora forecast (at least 3 and higher) will give you a better chance to catching the Northern Lights. The forecast is constantly updated - so do check a few times throughout the day.
---
10) Is Tap Water Safe for Drinking?
Yes, tap water is absolutely safe for drinking. We have drank lots of bottles of tap water and we are still alive haha. We only fill our bottles with cold tap water because our bottles are the cheap plastic kinds. Whenever we need hot water, we simply boil a pot in the car.
Regarding the sulphur smell question that we see very often on forums, from what we've experienced, there is a slight hint of sulphur smell only in hot water, especially in places where they have hot springs nearby. We have also noted that hot shower water for campsites near hot springs are usually free (like Myvatn, Flúðir etc.) while for some like Landmannalaugar, a small fee need to be paid for hot shower water.
---
11) Are Sheep Dangerous?
Of course not, they are herbivores and are so cute and fluffy and adorable! But then again, they somehow love to jump in front of your car which is not funny because you will need to pay the farmer for the dead sheep and you will need to pay the car rental company for the damage the sheep did to your car. So always slow down when you see sheep hanging around on the side of the road, because you never know if they decide to jump out.
If you happen to be in Iceland from end of August to early October, please try to go for a réttir, an annual sheep round-up that will make your Iceland adventure even more memorable!
---
12) Is Iceland Expensive?
Yes, Iceland is expensive, here are some of the costs we had researched / spent for the trip:
Car:
- 4WD car - about €60 - 80 per day (SGD 90 - 120)
- Campervan - about €80 - 150 per day (SGD 80 - 100)
- 4WD campervan - about €140 to €250 per day (SGD 210 - 380)
Meals (per person):
Restaurant meal (without wine) - €20 - 35 (SGD 30 - 52)
Activities (per person):
- 1-hour horse riding - about €53 (SGD 80)
- 4-hour glacier hiking - about €80 (SGD 120)
- 3-hour whale watching - about €65 (SGD 98)
On the other hand, all the best and most beautiful attractions are free - there are no admission fees to the waterfalls, the hiking trails, the glacier lake (glacier lagoon), the craters, the parks etc. So it may not be that expensive after all.
How to Keep Costs Low
Off-peak season: Head to Iceland during off-peak season (i.e. from September to May) as car rental prices and activities will be a lot cheaper.
Food: Prepping your own meals is perhaps the easiest way to save on food costs. Bónus, Krónan and Nettó are budget supermarkets (check out my post on Bónus supermarket here!), so do stock up whenever you see anyone of them in town. A local told us that a loaf of bread in other supermarkets is equivalent to 3 loaves from Bónus! I Heart Reykjavik has a map of almost all the supermarkets in Iceland, so you can export it and add on to your Google map and see where you can stock up groceries in Iceland. Also, bring your own bag so that you don't have to pay for plastic bags. Keep the meals simple - I usually made sandwiches (ham and cheese or salad spreads) for breakfast / lunch and threw in vegetables and sausages into canned soups for dinner. But don't torture yourself for the whole trip - slot in a few restaurant meals once in a while! The food in Iceland (especially the Icelandic lamb) is too good to be missed!
Lodging: Campsites are perhaps the cheapest accommodation you can find - only about €10 per person per night (SGD 15).
Sightseeing: Choose a cheaper alternative - instead of going to Blue Lagoon Geothermal Spa and spending at least €35 (SGD 53) per person, we went to Myvatn Nature Baths which cost only ISK 3,200 (SGD 34 / €23) per person. You could also skip all those paid activities such as horse riding, glacier hiking, whale watching etc and simply go for the free attractions I mentioned earlier. But to be honest, I will think it's quite a waste if you don't do some of these activities while you are here because... when are you going to come back to Iceland again after this?
---
13) So How Much Did You Spend?
In total, we would have spent about SGD 10,000 (excluding air tickets) for the both of us for the whole trip, 60% (SGD 6,000) on the campervan, 15% (SGD 1,500) on petrol, 11% (SGD 1,100) on meals (restaurant, bakeries etc), 7% (SGD 680) on activities (including museums), 4% (SGD 430) on lodging (for Reykjavik and campsites), 2% (SGD 240) on groceries. This averaged out to about SGD 227 (with car) / SGD 56 (without car and petrol) per day.
Full disclosure: As we partnered with Kuku Campers for this trip, we enjoyed a discount on the rental for our campervan, above price is the full price of the campervan without discount.
---
14) Useful Websites
And lastly, here are a few websites that we use very often throughout the trip:
En.vedur.is - we checked this website everyday for the weather forecast as well as aurora forecast.
Road.is - this is another website we checked everyday for the road conditions. It will tell you whether the road is closed or not, which will be helpful in planning your drive for the day.
Straeto - Strætó is a public transport company which operates city buses in Reykjavik and surrounding towns and suburbs. You can download the phone application and pay for bus tickets using a credit card.
Tjalda.is - Tjalda shows the complete list of campsites in Iceland. It provides details on the location, what facilities are available and the rates. You can also filter the list by the area, or find those that are open all year round. Very useful!
---
+1) Can I Camp Anywhere in Iceland?
Update 20/9/2016: This is one question that I get very often via emails from fellow travellers who are planning a trip to Iceland. So I thought it'd be good to answer this here.
This is what I found from The Environment Agency of Iceland's website:
Camping with no more than three tents is allowed on uncultivated ground for a single night, unless the landowner has posted a notice to the contrary. However, campers should always use designated campsites where they do exist. Do not camp close to farms without permission. If a group of more than three tents is involved, these campers must seek permission from the landowner before setting up camp outside marked campsite areas.
So... technically, yes you can camp anywhere in Iceland, unless otherwise stated or landowners say no BUT I implore you, fellow travellers, please try to stay at campsites as much as possible. Campsites provide all the necessities at an extremely reasonable price - shower and toilet facilities, cooking facilities, waste disposal. We humans generate waste wherever we go, so we should always try our very best to dispose them via the proper means so that we do not pollute the nature. It's terribly upsetting to see that landowners have to put up signs to ask people not to defecate on their lands - I mean, isn't it normal to find a proper toilet for such business?! We tried our very best to stay at campsites for most nights, with some nights hosted by the locals (see this and this).
Iceland has an exceptionally fragile nature because there is only a small window for vegetation to grow. It takes only seconds to destroy, but years to recover - and you won't want your kids and future generation to not be able to see such beautiful nature in the future, do you?
In summary, while technically you can camp anywhere you like, please do not abuse the system. If we do not learn how to be considerate and respect the nature and the people living there, it's only a matter of time before the law will change and forbid travellers to camp in the wild.
---
And that's all! If you have anymore questions on Iceland, feel free to leave it in the comments, I'll try my very best to answer them (if I know the answer that is!) We will be starting proper on our Iceland trip for the next travelogue, stay tuned!