Our last instalment for our Vietnam trip of course have to end with food! These are the local street food that we have eaten during our trip, some are hits some are misses, but still, get ready to get hungry!
Vietnamese Pancake
No matter how much I Googled, I couldn't find the name of this snack. I'm guessing it's a variation of banh xeo and banh khot, two very popular snacks in Vietnam. Banh xeo is a shirmp-stuffed crispy rice-coconut crepe that is rolled up in a leaf of lettuce and dipped in a lime-scented sauce. Banh khot is a smaller version of banh xeo, have a thicker batter but the base is still crispy.
This version that we ate is stuffed with bean sprouts, shrimp and squid, and dipped in a lime-chilli sauce before eating. It's a little plain in taste but maybe we just chose the wrong stall to eat from.
Gỏi cuốn (Vietnamese Spring Roll)
Most of the goi cuon that we saw in Ho Chi Minh contains shrimp, plenty of vegetables like cilantro, mint, bean sprouts, cucumbers and vermicelli rice noodles and served with a dipping sauce. The goi cuon that we had in Mui Ne is different – the fillings consist of a chili paste, basil, cucumber, hard-boiled egg and dried shrimps and there is no dipping sauce. It's also a lot larger than the goi cuon we are familiar with. To be honest, I still prefer the goi cuon we had in Ho Chi Minh.
Wrapping the goi cuon
Barbeque
Who can resist all these glorious meat barbecuing away?
Noodles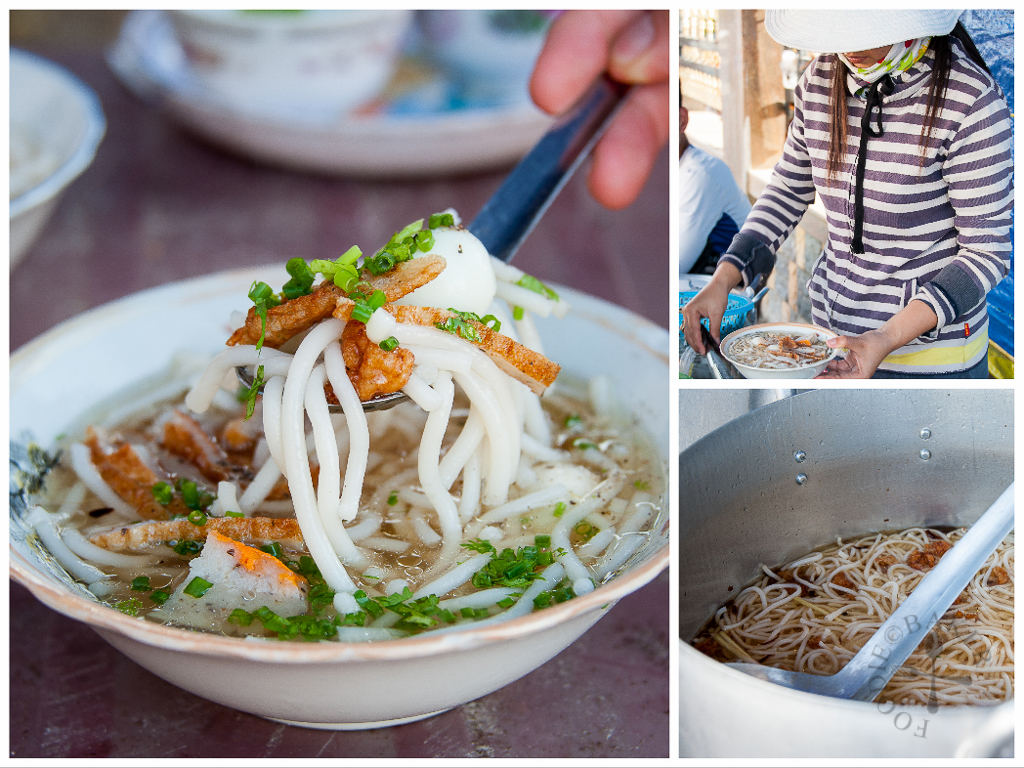 Noodles and rice make up a huge part of Vietnamese's diet. There are many different types of noodles in Vietnam and they can be served dried or in soup, with meat, fish, vegetables… in fact, almost anything! The above is bún – a type of rice vermicelli noodles. It is served in a light broth with slices of fish cake, fish balls and a generous sprinkling of spring onion.
Mì is a type of noodles made from wheat flour. We had it in a soup version again with dumplings.
Deep-Fried Snacks
I love deep-fried food, and these deep-fried banana and tapioca strips are amazing! Coated lightly with batter and deep-fried into perfection, these are extremely delicious!
Cháo (Vietnamese Congee)
Cháo (don't confuse it with ciao the Italian word!), is the name for Vietnamese rice congee. The lady had 5 different types of chao (look at her huge pots!) to offer and if you are eating straight away, it will be served in a plastic cup. If not, she will pack it in a plastic bag and seal it so that you can bring it home. We tried a few but the above is one of the best – it had both salted egg and century eggs!
Chả Giò (Fried Spring Rolls)
Last but definitely not the least, my favourite food in Mui Ne has got to be cha gio! Literally, cha gio means "minced pork sausage", but it's actually a deep-fried Vietnamese spring roll. Wrapped with minced meat and vegetables, these tiny spring rolls are extremely addictive (did I mention that I love deep-fried food?) And you can request for a wrap in a wrap – deep-fried cha gio wrapped in a goi cuon, with hard-boiled egg, cucumber, basil and lettuce. However, I prefer to have the cha gio on its own!
Where to find all these food?
I don't have the addresses to those food above as all these stalls are set up along the street, but they are located in Mui Ne town. Just head to the town and wander along the main streets to look for them, or just eat whatever you see other people are eating!
How do I get to these food?
I have to say renting a motorbike is probably the best way to get to all these food as you can stop whenever you want or whenever you see someone selling food. Besides, renting a motorbike is relatively cheap, so it will not add much to your expenses. If not, have a taxi drop you off at the Mui Ne town, then grab a taxi back after feasting or take a long walk back to digest the food.
Anything else?
Actually yes there is! We actually had dinner at 2 places that were recommended to us by the resort staff which were really delicious but because I told X not to bring his camera out, we didn't manage to take photos of the food ):
The first one is BiBo Quán, a seafood restaurant. We had fried rice, deep-fried spring rolls, soup, clam soup, steamed scallops and grilled squid for 5 of us. Except for the soup which tasted bland, the seafood is fresh and the food delicious! And it's really cheap – only VND 385,000 for everything (that's about S$25 / US$18)!
The second one is Quán AH – a little hard to find and the setting is not really like a restaurant. We were recommended to get Cá Lóc (Cá means fish and Lóc is the name of a fresh water fish in Vietnamese), a grilled fish dish. The fish was extremely fresh and seasoned lightly. We picked out the meat, wrap it in a rice paper with vegetables and dip it into the spicy and salty sauce before sending it into our mouths. If you are a fish lover, you will love this dish! A kilogram of the fish cost VND 175,000 (about S$11 / US$8) and we had a 1.3-kg fish to share among 5 of us.
Here are the addresses:
BiBo Quan

191, Nguyễn Đình Chiểu P. Hàm Tién

Quan AH

17 Nguyễn Đình Chiểu, tp. Phan Thiết
---
And that's all for our Vietnam travelogue! Check out our previous Vietnam travelogue: