See Day 1 here if you haven't!
We woke up early on Day 2 and after washing up, we packed our bags and headed for the train station which was a short walk away from our BnB – the Porta Nolana station. Our next destination was Sorrento, but before heading there, we were going to stop by Pompeii – the ancient Roman town-city.
Getting to Pompeii
As we were in Naples, the most economical way to go to Pompeii is via train. When the sleepy-looking ticket officer told us that she had no change for our big note, I panicked a little as the train was departing in less than 15 minutes! Thankfully, there was a coffee shop just next door so after purchasing a pastry and a coffee there, we used the small change to purchase our train tickets.
The singe-trip train tickets cost €2.60 each. As we boarded the train at Porta Nolana, which was the first stop, we managed to grab two seats to ourselves. The next stop, Piazza Garibaldi, is a pretty crowded station so it may be harder to get seats if you board from there. There is a train leaving every 30 minutes (you can search for the train timings on the official website here or you can access the train timetable here) but certain trains will skip stops while the rest won't. I'd suggest taking the train leaving at 0811 hours as it takes only 25 minutes to reach Pompeii while other trains in the morning will take about 80 minutes to reach there.
There are toilets (aka WC) at the train station. Luggage can also be deposited at the train station at €3 per bag but don't if you are heading to Pompeii Archaeological Site – there is a luggage deposit area within the area and it's free. As it's not a very far walk from the train station to Pompeii, I highly recommend holding on to your luggage and head to Pompeii to deposit your luggage.
Tickets to Pompeii Archaeological Site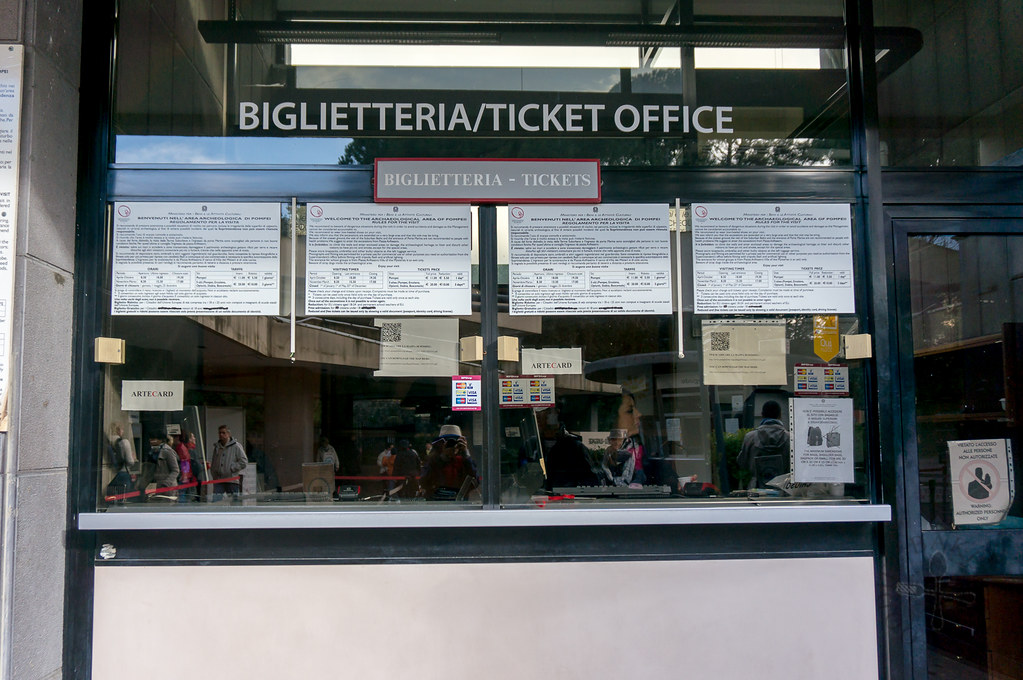 The entrance fee to the site is priced at €11 per person. We were pleasantly surprised to find out that it was free on the day we visited as it was Easter Sunday. However this happiness was destroyed by what is to come after leaving the site (will talk about it at the end).
Guide
There are English-speaking guides on site who could bring us around for 2 hours for €100. Usually, the guides will gather around 10 people so that each person would only have to pay €10, but as we were there early, there were only the two of us so waiting around idly for more people or forking out €100 is not an option to us, so we decided to get the audio guide instead.
Do bring your own headphones / earpiece as you can plug them into the audio guide, freeing your hands to take photos / munch some food while you listen to the commentary. It's a bit droning and I did skip some of them towards the end, but it contains a wealth of information about the site.
Luggage Deposit
If you've brought along your luggage, right next to the ticket entrance (further down from the ticket office) where you scanned your tickets for the site is a luggage deposit office. Just make sure you are back before 1930 hours to collect your luggage!
Here we go!
Now that we have reached Pompeii, here's the map of the place (see how huge it is!) And here's a massive photo tour!
When Mt Vesuvius erupted in 79 AD, it destroyed and preserved Pompeii all at the same time. The deadly gases and molten rocks spewed by the volcano destroyed Pompeii, but as the ashes rain over Pompeii, it covered the city, preserving what's underneath it.
The ash hardened and form a porous shell over the victims, and when the victims' bodies decayed away, the ash did not disintegrate, resulting in a hollow shell.
In 1864, Giuseppe Fiorelli, discovered a technique to allow the body shapes to be preserved – the hollow pockets were first filled with plaster and left to harden. The outer layers of hardened ash was then chipped away to reveal the final postures of the victims at their moment of death.
In Pompeii, 25 different brothels have been found, with lupanare most famous because of the clear erotic paintings on the wall and names of at least 80 prostitutes and clients were found here.
What was so ingenious about the place was how they heated up the bath house – just right outside the bath is a raised wood-burning furnace which heated the air underneath. The warm air was sent under the raised floor into the bath house, heating up the room.
Just a few random shots – the weather was gloomy enough for some emo shots.
In many Roman houses, the atrium were open to the sky to allow light in and the circulation of fresh air (note that there are no other windows except the main door and the door leading to other rooms). In the middle there would usually be a small pool to collect rainwater.
Things to Bring
Snacks and water – I suggest one to spend at least 4 hours there as the site is huge and there are just so many things to see, listen and photographed, and everything have to be done on foot – so I'm quite sure that you will get hungry and thirsty at some point in time. So bring some sandwiches or fruits and water to keep you going! There is a canteen within Pompeii but I've read that choices are limited (don't remember stopping by). There are restaurants (some with WiFi) outside the archaeological site but the food are at tourist prices (you know what I mean) so I'd rather have a proper meal at another place.
Sunscreen and hat – There is not much shelter at the site – unless you are hiding in one of the houses / baths / temples – so a sunscreen and hat will be essential, especially during summer!
Good trekking shoes / sandals – You've probably seen from the photos – the cobbled paths are not the most comfortable kind of road to walk on, so treat your feet well and wear a good pair of shoes or sandals.
Umbrella / poncho – Just in case it rains!
Headphones / earpiece – As mentioned earlier, you can plug in your headphones or earpiece into the audio guide, which is a much better way to listen to the explanation and it leaves your hands free to take photos or have a snack.
Getting to Our Next Destination
This was definitely unplanned – but when we exited the site and wanted to take the train to Sorrento – we realised there's no more train! Apparently the trains ran for only half a day as it was Easter Sunday. We had confirmed with the website that there would be trains running the whole day but it turned out it wasn't the case.
There were some people who bought return train tickets and the ticket officer did not even tell them that the trains were going to run for only half a day. There were only taxis and a coach bus – but they seemed to be in cahoots and were charging €20 per person, be it to Naples or to Sorrento. So despite the fact that we were granted free entrance to Pompeii, we ended up spending more that day.
Lesson learnt: Even official websites are not accurate! If you are travelling on special holidays, do remember to check with different people (BnB host, ticket officer, train conductor etc) to see if you are able to get on the public transport to your destination, else be prepared to burn a hole in the pocket!