I am never a cereal-for-breakfast person. When I was a kid, my breakfast was usually 2 slices of bread filled with spreads like jam or peanut butter, prepared by my mom. During the holidays when we visited our maternal grandparents, I would start the day with 2 soft-boiled eggs laid by my grandparents' hens, with a big cup of Milo (a chocolate and malt beverage). Then a few hours later, when my grandfather returned with proper breakfast, we would dig in into nasi lemak, fried bee hoon, steamed buns etc… yum!
Jump to: Step-by-Step Photos · Recipe
As I grew older, I tried eating cereal/granola (trying to act healthy haha), but since I dislike the taste of milk, I tried to have it with soy milk, but not only it's time consuming, it also feels weird to have cold food for breakfast. I wasn't a fan of granola bars as well as they are dry and too sweet.
Now that I have plenty of free time on hand ever since moving here, I want to try incorporate more health food into my diet. I bought a huge bag of oats recently to bake some oatmeal cookies, and it just seems entirely natural that I make some granola too.
The recipe was roughly adapted from Nigella Lawson, with me cutting down the recipe by 4 (as I only eat a small handful each time) and substituting some ingredients that I don't have on hand. I made a mistake by adding the raisins into the mix before baking it, thus the raisins dried out even further, making it tough, chewy and extremely sticky (sticks to the teeth). As I used dark brown sugar and baked the granola a tad too long, it's pretty dark in colour but luckily it's not burnt.
I have to say I am in love with this granola as I'm a huge fan of nuts and this recipe is extremely versatile – I can play around with the type of nuts I add into the mix (and a great way to use up the piling nuts at home!) I would have had this granola with soy milk but as soy milk is incredibly expensive here, I had it with some Greek yogurt and fruits instead. It's wholesome, delicious, nutritious (I think) and a small bowl of this kept me full for a pretty long time and I din't have to snack much in between meals. It may be a sweet to eat on its own so I might reduce the amount of sugar / honey next time but mixing it with the sour-ish yogurt makes the sweetness just right… so I may not reduce it… (what to do?!)
While I decide whether to reduce the sugar / honey, here's my very first take on granola, I hope you like it too!
| Step-by-step Photos | |
| --- | --- |
| | |
| 1) Measure all the ingredients in a large mixing bowl. | 2) Mix everything together well. |
| | |
| 3) Bake for about 30 minutes until everything is toasted and smells delicious. | 4) Let cool completely before storing in an airtight container. |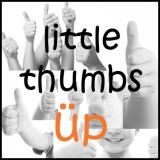 This post is linked to the event, Little Thumbs Up (August 2015: Brown Sugar) organised by Bake for Happy Kids and My Little Favourite DIY, and hosted by Jess from Bakericious!
Nutty Granola
INSTRUCTIONS
Preheat oven to 150C / 300F.

Measure all the ingredients, except the raisins, in a large mixing bowl. Use a spatula and mix everything together well.

Spread the granola onto a baking sheet, flattening it so that it's 1/2-inch thick.

Bake the granola for about 25 to 30 minutes, stirring the granola occasionally, until browned and fragrant. It will be easy to stir the granola while it's hot, but it will harden as it cools.

Place the baking sheet on a wire rack and let cool completely. Break up the granola and stir in the raisins. Store the granola in an airtight container.
NOTES
- After adding the oil, use the same measuring cup to measure the honey - the honey will fall into the mixing bowl without any scrapping!
- I used a non-stick baking sheet to bake my granola. If you don't have one and are worried about it sticking onto the baking sheet, line the baking sheet with baking parchment.
- Adapted from Nigella Lawson
Edit on 4/9/2015: I remade this granola again and below are some the changes that made this granola equally delicious:
I increased the amount of nuts from 1/2 cup to 2 cups, consisting a mix of peanuts, hazelnuts, walnuts, pecans, macadamia, almonds, cashew and sunflower seeds (total 8 different types!)
For the oil, I mix 1/2 extra virgin olive oil with 1/2 canola oil to make 1/4 cup of oil.
The amount of honey used is the same at 1/4 cup.