The theme for Little Thumbs Up event this month is yoghurt and I see so many yoghurt ice cream submissions that I was itching to make some! Weather here is getting really hot (can get up to 40C!) so a scoop of ice cream, especially a healthy one, can never hurt.
I think everyone's recipe is pretty similar - yoghurt, sweetener and fruits with some using ice cream machine and some don't. I made a small portion as I was afraid X won't like the tangy ice cream and used a high fruits to yoghurt ratio. For the sweetener, I used honey to eliminate any presence of crunchy sugar crystals. As my ice cream machine had broken down (super upset over it), I decided to skip the manual churning process and simply throw it into the freezer.
And the resulting ice cream is soooo good! It's tangy, sweet and so refreshing in this about-to-become-summer heat. The texture may not be as good as churned ice cream but I didn't taste any huge ice crystals in the ice cream so I guess it's a blessing. I served it with a piece of flaky puff pastry and oh, too delicious to not have one more scoop! My only disappointment is that I couldn't capture the ice cream better, they are melting too fast and begging to be eaten, so... oops!
Step-by-Step Photos
1) Place yoghurt, honey and strawberries in a mixing bowl.
2) Blend with an immersion blender, scrapping the sides and the bottom of the bowl frequently with a rubber spatula. Alternatively, you can use a food processor to blend everything together.
3) Transfer to a container and freeze!
4) Hurry, eat them now!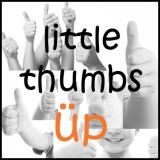 This post is linked to the event Little Thumbs Up May 2015: (YOGURT) organised by Zoe of Bake for Happy Kids and Doreen of My Little Favourite DIY, and hosted by Cheryl of Baking Taitai.
No-Churn Strawberry Yoghurt Ice Cream with Puff Pastry
The strawberries can be replaced with different kinds of frozen fruits - try other berries, mangoes, bananas, peaches etc, the sky's the limit!
INGREDIENTS
½

cup

plain Greek yoghurt

2 to 3

tablespoons

honey

About 2 cups frozen strawberries

Caster sugar
INSTRUCTIONS
Using an immersion blender, blend all the ingredients together, stopping and stirring frequently with a spatula so that everything is blended together. Alternatively, use a food processor to process all the ingredients together. Transfer the ice cream to a container and freeze for at least 4 hours.

Preheat oven to 200C / 400F. Sprinkle caster sugar on a baking sheet, lay the puff pastry on top and sprinkle with more caster sugar. Bake for 15 to 20 minutes until puffed and crispy. Let cool before serving with ice cream.
NOTES
- Adapted from Community Table