Disclaimer: The information provided are based on my personal experience and hence the prices and details are true at that time I experienced them. Therefore I cannot guarantee that they are 100% complete, comprehensive, accurate or updated. Also, everyone have differing views and opinions so what I like may not be what you fancy, be adventurous and give everything a try, and share with me whether you like/dislike them as much as I do! (:
---
I have finally gotten down into sorting the photos, choosing the photos and making photo collages for my Phuket trip. I went there from 18th July to 23rdJuly, a 6-day-5-night trip. It was a good trip and X and I managed to do a lot of things, except parasailing, jet-skiing and some other water sports. The period that we went (July) is the non-peak period, so the activities, lodging and transport are cheaper than usual. The peak period is from November to April. It was already pretty crowded at the Patong Beach area during non-peak period… can you imagine if it's the peak period?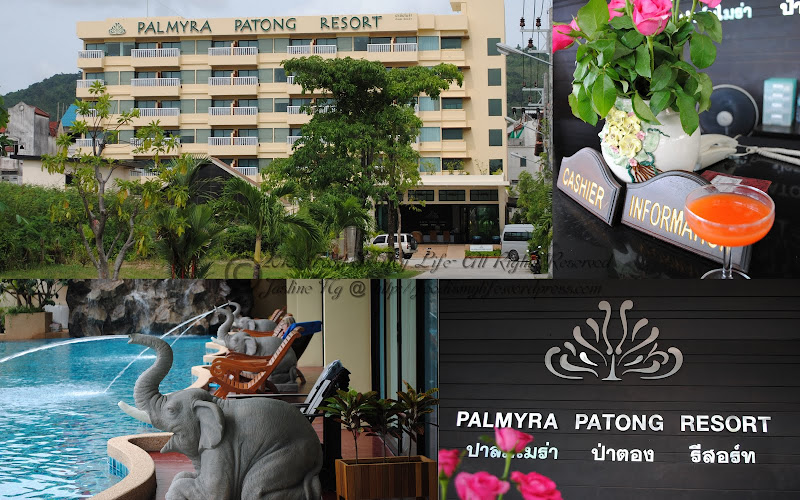 The hotel that we stayed in is called Palmyra Patong Resort. It is located on the second road of Patong Beach, not as near to the Patong beach but not extremely far either. A 10 to 15 minutes walk is all one need to reach the Patong beach. The shopping centre (the only one), Jungceylon Shopping Centre, is also located 10 to 15 minutes walk away. It is further away from the crowd, hence it's quieter. The resort is pretty small (not a lot of rooms) but our room was pretty spacious. One thing that I didn't like is that the bedroom floor was not carpeted. It was made of marble and they do not provide bedroom slippers. I hate the feeling of my feet touching the cold, cold marble floor whenever I wake up. =/ We booked our hotel at Hotel Thailand.com, and we got the hotel at a rate of THB7,598, around S$326; which equals to S$65 per night, breakfast included. Not a bad deal huh?
Patong Beach is the most populated beach among all the other beaches in Phuket. Various sea sports are being offered here: parasailing, jet-skiing, banana boat ride etc. The locals will eagerly and earnestly approach you to ask whether you want to do any water sport. However, do remember to bargain with them the price! We didn't do the sports, so I'm not sure how much you can bargain to.
At night, you can see people selling fireworks (from what I remembered from my friend, they are selling at THB500 for 16 shots, S$21.50). There will also be people selling Sky Lantern, also known as Kongming Deng in Chinese, and khom loi (floating lantern) or khom fai (fire lantern) in Thai. They are airborne paper lanterns made from oiled rice paper on a bamboo frame, and have a small candle which will be lit so that it will cause the lantern to rise in the air (Physics laws, can go Wiki it out). The locals are selling them at THB100 each (S$4.30).
On the first day we arrived, we went to the weekend market in Phuket, known as Chao Fah Variety Market (click for map). Located opposite of Wat Nakha (Nakha Temple) in Phuket City, the night market is similar to the Bangkok's Chatuchak Weekend Market, just smaller in size and lesser variety. It opens only in the evening, so we went there at around 6plus. You can either shop to your heart's content or eat till you're bloated… or both!
Chao Fah Variety Market is mainly split into two sides: one features the clothes, shoes, accessories etc, the other features food. And the food variety is simply… OMG. I'll just let the pictures describe themselves.
Top: pancakes and waffles - too common so we didn't try; Middle: from sausages to meatballs to who-knows-what, the variety is endless; Below: braised chicken parts
Top: fried tapioca balls (THB10 for each paper bag, S$0.43), very light and tasty; Bottom-left: fried chicken wing/drumsticks etc, sinfully yummy; Bottom-right: Prawn crackers (THB20 per bag, S$0.86), also known as keropok, what more can I say about this everyone's favourite? (:
This dish is something like kuay chap, except instead of flat rice sheets, the rice sheets are rolled up. Dark soy sauce soup base, pig offal and egg - very tasty, a must-try when you're there. There is also one ingredient in this dish that we cannot find in Singapore any more - pig's blood (the black-brown cuboid in the picture on the left). There's only one stall selling this and it is very popular among the locals. If I didn't remember wrongly, it's THB35 (S$1.50) for the small one and THB45 (S$1.95) for the big one.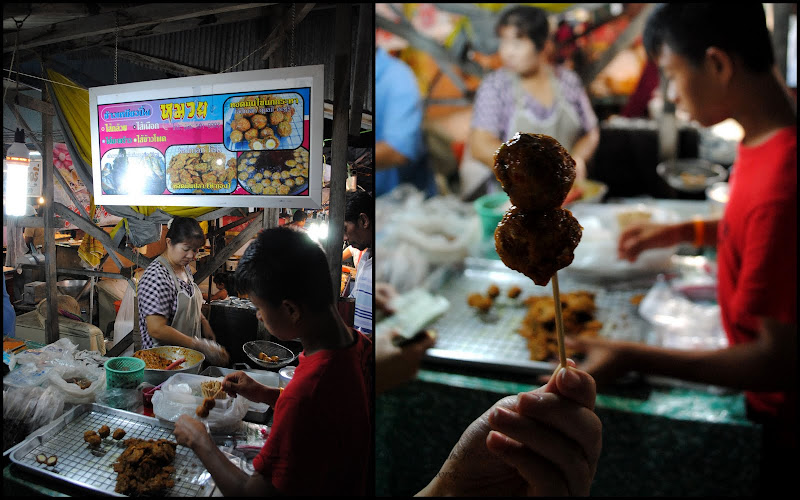 A very interesting snack to try - hard-boiled quail egg wrapped with fish paste and then fried.
Left: Salak, also known as snake-skin fruit; Middle: fried quail eggs; Top-right: finally found out that this is Petai, also known as smelly bean; Bottom-right: prawns dipped in a special type of batter and fried, didn't manage to try this.
---
Will stop here for now, update more on the island trips and sightseeing in the next post! (: