Finally! This is going to be the last post about my 2010 Phuket Trip. Oooops. Sorry I took so long...
---
Disclaimer: The information provided are based on my personal experience an hence the prices and details are true at that time I experienced them. Therefore I cannot guarantee that they are 100% complete, comprehensive, accurate or updated. Also, everyone have differing views and opinions so what I like may not be what you fancy, be adventurous and give everything a try, and share with me whether you like/dislike them as much as I do! (:
Read about my Phuket Part 1 (Chao Fah Variety Market), Phuket Part 2 (Thai Zhi Char) and Phuket Part 3 (To-Try Activities)! (:
---
We booked all of our tours and activities from this very friendly agency. Among all the other agencies that we went to, he gave us the best rates every time we went there. Really nice and honest.
His name is Mr. Puttachat and his booth is located at 100 Sainamyen Road, T.Patong A.Kathu Phuket 83150 Thailand. You can contact him at 086 3674337 when you're there (:
We also went for the
Simon Cabaret
show during our stay there. It's more about watching them dance rather than hearing them sing as they lip-synced. We're not allowed to take photos/videos of any sorts during the show, however, at the end of the show, they will line up in one row and you can take photos with them, and you should tip them if you take photos with them (:
Cost: THB600 / SGD25.70 per ticket

This is the VIP seats and it includes 2-way transfer - from our hotel to Simon Cabaret venue and from there back to our hotel. We got this deal from Mr. Puttachat and we bought the tickets only two hours before the show starts. VIP simply means the first row. A little bit straining on the neck but it's so much nearer to the dancers.
During our trip, our friend rented a car and we headed out to various viewpoints in Phuket. The weather that day was awesome - really hot and sunny plus a little bit hazy in the morning. The first one (which is the nearest to us) is Karon View Point. You can see 2 of the main beaches of Phuket, Karon and Kata. The small one (the small beach at the bottom) is Kata Noi. Karon View Point is located on the way to Promthep Cape.
The next viewpoint is Windmill Viewpoint, also located on the way to Promthep Cape. I really like the scenery here. It's also quieter as there's lesser people.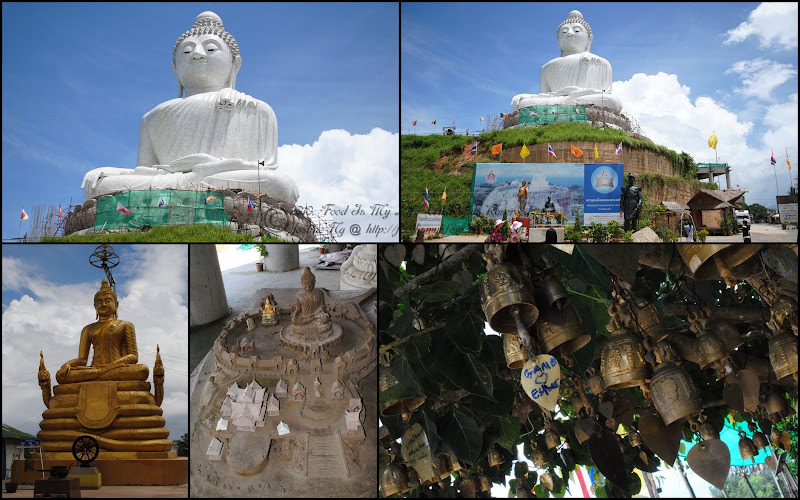 Before we had our lunch, we went to Phuket's Big Buddha. Finding it is quite a challenge as we didn't know where to turn and there aren't proper road signs indicating where to turn. So, to reach the Big Buddha, drive along Chao Fah West Road and look out for
RED arrows

that
also has the Big Buddha signs. You will turn in into a residential area and pretty soon you'll be climbing up a fairly steep slope. The time I went there (July...), it was still under construction as they are building a ramp up to the Big Buddha to provide access for the elderly and the handicapped.
After lunch, we headed towards Cape Panwa and we stopped at the next viewpoint - Khao Khad Views Tower. There is a small convenience store there if you're interested in getting a drink or snack. When you climb the stairs and reach the top, you'll be rewarded with a 360 degrees view of Southern Phuket. It is not a very popular spot with tourists (maybe because it's very far) but the view here is amazingly stunning.
View at Khao Khad Views Tower
The last viewpoint we went to is Panwa View Point, located at the foot of Cape Panwa. There is nothing much to see here but we bought some snacks from this auntie who's selling barbeqed chicken parts. Includes chicken meat, chicken hearts, chicken liver etc. Can't remember the price but it's definitely affordable.
And so this marks the end of my 2010 Phuket trip. (: Sorry it took so long... d: I'm heading to Bangkok next month and X had planned a lot of sight-seeing activities to do there. Can't wait!