Do you love homemade vanilla ice cream but can't stand the thought of cooking the custard or freezing the troublesome ice cream machine component? Fret not! Because I have an extremely easy vanilla ice cream recipe to share today. It doesn't need an ice cream machine, doesn't involve the cooking of a custard (i.e. no eggs needed), and uses only 3 ingredients!
To be perfectly honest, I was a little sceptical and doubtful when I saw the recipe on Martha Stewart's website - it seems too good to be true. But I was proven wrong when I had my first "bite" of this ice cream that is made with only cream, condensed milk and vanilla. The ice cream is sweet and extremely rich, with each mouthful bursting with vanilla flavour.
Now, why cream and condensed milk (leaving out vanilla as it's only a flavour) can make such a rich ice cream?
First, let's see what makes an ice cream! Water, fat and sugar are the important components in ice cream making. Water freezes and form ice crystals, which gives ice cream the solid texture, but you want the ice crystals to be as small as possible so you don't get a grainy texture in the ice cream. Fat increases the density, smoothness and richness of the texture. Sugar (or any kind of sweetener) lowers the freezing point of the ice cream base, so that the ice cream does not freeze into a rock-solid mass. The churning of an ice cream disperses and break the ice crystals and incorporates air, giving it a smooth and light texture.
Cream is composed of the higher-layer of yellowish fatty component that accumulates at the top surface of un-homogenized milk, which is skimmed from the top of the milk before homogenization. The amount of butterfat (indicated by the % on the packaging) determines how well the cream will whip and how stable it will be. The higher the %, the better the cream tends to taste and will have a richer texture. (Source)
Condensed milk, on the other hand, is milk in which the water has been removed and sugar is commonly added (so far I have not encountered unsweetened condensed milk), making it very thick and sweet. (Source)
Cream and condensed milk create an ice cream base that is high in fat, high in sugar and low in water. I guess that is why no churning is required, as there is not much ice crystals in the mix. The fat gives the ice cream a rich texture, and the lack of churning creates a heavy and dense texture, making the ice cream even richer. I think the high sugar and low water content also results in the ice cream to be softer than commercial and regular ice cream, making it immediately scoop-able straight out from the freezer. This also translates to the ice cream melting faster hence it must be served immediately. But I'm not complaining because, seriously, why would you want to wait and not dig into the ice cream immediately?
Ok I think I'm getting carried away with the science of ice cream, so let me show you the step-by-step photos and the recipe!
| Step-by-step Photos | |
| --- | --- |
| | |
| 1) Place the cream in a chilled bowl and whip on high speed. | 2) Until stiff peaks are formed. |
| | |
| 3) Add in condensed milk. | 4) And a good dollop of vanilla. |
| | |
| 5) Fold the mixture together gently. | 6) Transfer to a container and freeze! |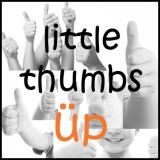 This post is linked to the event, Little Thumbs Up (June 2015: Cream) organised by Bake for Happy Kids and My Little Favourite DIY, and hosted by Diana from the Domestic Goddess Wannabe.
Easy 3-Ingredient No-Churn Vanilla Ice Cream
This ice cream is soft enough to be scooped straight out from the freezer. Scoop the ice cream into a frozen bowl and serve immediately as it melts fast.
INGREDIENTS
125

ml

cold heavy cream

,

1 cup

200

grams

sweetened condensed milk

,

about ½ can

1

teaspoon

vanilla paste

,

or extract
INSTRUCTIONS
Chill a mixing bowl in the refrigerator for at least 15 minutes. Pour in the cream and using an electric mixer, whip on high speed until stiff peaks are formed, checking every now and then to make sure you don't overwhip.

Add in the condensed milk and vanilla paste (or extract) and mix in gently with a spatula.

Transfer the mixture into a container and freeze overnight before serving.
NOTES
- In hindsight, this ice cream is pretty sweet, so you can try reducing the condensed milk to 150 grams instead. I will serve it with a very dark chocolate sauce to balance out the sweetness of the ice cream.
- Serve the ice cream with some homemade and easy 3-minute chocolate sauce
- Adapted from Martha Stewart