This classic buttercream frosting has cocoa powder added to cut back on the sweetness, with freshly chopped mint leaves added for a refreshing taste! Mint extract can also be used in place of the fresh mint leaves.
This frosting has been used in the following recipe: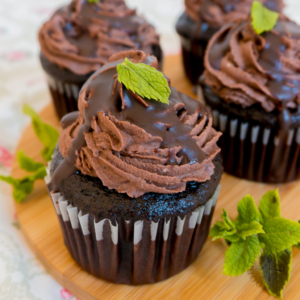 Fresh Mint Chocolate Buttercream Frosting
Click
here
for step-by-step photos!
Yield:
Makes enough to frost 10 to 12 cupcakes
Ingredients
95 grams unsalted butter, at room temperature (⅜ cup)
95 to 125 grams icing sugar, sifted (¾ cup to 1 cup)
40 grams Dutch-processed cocoa powder, sifted (⅓ cup)
2½ tablespoons fresh mint leaves, finely chopped
½ teaspoon vanilla
Method
Cream butter and 95 grams (¾ cup) of icing sugar until pale, light and fluffy. Beat in cocoa powder, mint leaves and vanilla. Taste and beat in more icing sugar if desired. If the mixture is too thick, thin it out with a little milk.