This intensely chocolatey and moist chocolate cupcake, frosted with a refreshing and not-too-sweet chocolate and mint buttercream, then drizzled with a luscious and rich chocolate ganache, is perhaps one of the most delicious and chocolatey cupcakes I've ever baked and eaten.
Jump to: Step-by-Step Photos · Recipe
The Cake
The cupcake is named a Devil's Food Cupcake, which is a moist, airy and rich chocolate cake. The rich and intense chocolatey-ness comes from the two types of chocolate used – cocoa powder and chocolate. The recipe specifically stated natural unsweetened cocoa powder and milk chocolate, but I'm a rebel (actually it's because I have none on hand), so I used Dutch-processed (my favourite Varlhona) and 55% dark chocolate instead. Both chocolates are then mixed with hot water – the hot water causes the cocoa powder to bloom, a process which intensifies the chocolate flavour and at the same time melt the dark chocolate. The chocolate won't sieze as there is a lot more water than chocolate.
As natural cocoa powder is acidic, only baking soda is used in the original recipe as they will react with each other to produce carbon dioxide, creating a lift in the cake (making it light and soft). However, since I'm using a Dutch-processed cocoa powder which was neutralised, I added a bit of baking powder to aid in the lift. Using Dutch-processed cocoa powder also makes the cupcakes a lot darker in colour.
The next key ingredient is oil as it keeps the cupcakes moist. As oil is 100% fat (not like butter which has a mixture of fat and water), it will not evaporate during baking and make the cupcake dry. When butter is used, the water content will evaporate during baking, creating a more dry cupcake.
I actually have another Devil Food Cake recipe (which is featured here), but this is much more chocolatey and moist. So, I guess I'll be using this cake base more often now!
The Frosting
The original recipe calls for a sour cream frosting, but since I had no sour cream at home and the weather was too excruciatingly hot for me to walk out and buy (okay fine, just call me lazy), I decided to make a buttercream – which was a very standard recipe by creaming butter and icing sugar together. I added freshly chopped mint and vanilla for flavour, then realised the buttercream is too sweet for my liking, so I dumped in cocoa powder, which cuts back the sweetness and firmed up the buttercream into a piping consistency.
Usually I would sift the icing sugar and cocoa powder to get rid of lumps, but since X and I were going to be the only ones eating the cupcakes, I didn't bother sifting – please don't be so lazy like me!
Anyway… I love how the frosting turned out – the mint flavour really came through and was not overpowered by the cocoa powder. I could taste some tiny bits of mint leaves in the frosting (plus some lumps of icing sugar oops), which might be weird for some, so I will suggest using mint extract if you don't want to taste the bits. But then again… why use artificial when I can use the real deal?
The Ganache
The ganache is a simple mix of cream and dark chocolate in the ratio of 1:1. It is purely for aesthetic purposes (I love photos of ganache dripping down cakes) and can be omitted if you don't want a third component. Do let the ganache cool so that it thickens into a pouring consistency. If you did not let the ganache cool, it will melt the frosting and you'll end up with a mess.
Overall Verdict
What can I say? This cupcake is simply too pretty, too chocolatey, too delicious and too good to share (oops!) It's one of the rare times that I broke my rule and had one of these after dinner! (I usually don't eat anything sweet after dinner, unless I'm out having dinner.) This is also the first time I tried a mint frosting (I've never bought the extract as I knew I wouldn't be able to finish it before it expires) and I love how it turned out. Can't wait to use the fresh mint leaves to create more mint desserts!
And now, here are the step-by-step photos!
| Step-by-step Photos | |
| --- | --- |
| Cupcakes | |
| | |
| 1) Add hot water to chopped chocolate and cocoa powder. This process intensifies the cocoa flavour. | 2) Whisk to melt the chocolate and dissolve the cocoa powder. |
| | |
| 3) Add in buttermilk (or milk+vinegar/lemon juice) and whisk to mix together. | 4) Whisk the dry ingredients together in a small bowl. |
| | |
| 5) Place the sugars, oil, egg and vanilla in a mixing bowl. | 6) Beat with an electric mixer until thick. |
| | |
| 7) Beat in half of the dry ingredients. | 8) Then beat in all of the chocolate mixture. |
| | |
| 9) Beat in the rest of the dry ingredients. | 10) Then scoop and bake! |
| Frosting | |
| | |
| 1) Cream butter and icing sugar together - remember to sift the icing sugar! | 2) Add in the finely chopped fresh mint and vanilla. |
| | |
| 3) Beat in the cocoa powder - sift the cocoa powder too! | 4) Beat until frosting is light, airy and creamy. |
| Ganache | |
| | |
| 1) Heat cream until simmering in a small pot. Remove from heat and add in chopped chocolate. | 2) Whisk to melt the chocolate and let cool to thicken. |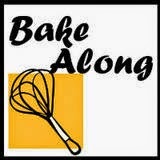 I'm submitting this to Bake-Along #83 : Devil's Food Cupcakes hosted by Zoe from Bake for Happy Kids, Joyce from Kitchen Flavoursand Lena from Her Frozen Wings.
By the way, if you love cupcakes, check out this one below, it's one of my favourites!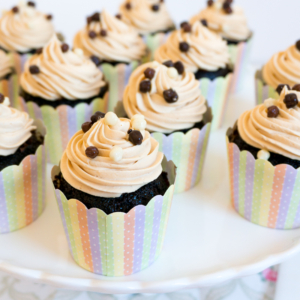 Devil's Food Cupcakes with Fresh Mint Chocolate Frosting
INGREDIENTS
Cupcakes
30

grams

Dutch-processed cocoa powder,

1/4 cup

30

grams

dark chocolate,

finely chopped (up to 60% cocoa solids)

60

ml

boiling water

,

1/4 cup

60

ml

buttermilk,

1/4 cup

55

grams

plain flour,

1/2 cup less 1 tablespoon

8

grams

cornflour

,

1 tablespoon

1/4

teaspoon

baking soda

1/4

teaspoon

baking powder

Scant 1/4 teaspoon table salt

50

grams

brown sugar

,

1/4 cup

55

grams

caster sugar

,

1/4 cup

60

ml

canola / vegetable oil

,

1/4 cup

1

large egg,

at room temperature

1/2

teaspoon

vanilla
Ganache (optional)
30

ml

heavy/thickened cream

,

1/8 cup

30

grams

dark chocolate,

finely chopped (up to 70% cocoa solids)
INSTRUCTIONS
Cupcakes
Preheat oven to 175C / 350F. Line cupcake tins with paper liners.

In a small bowl, combine cocoa powder and dark chocolate together. Add in the boiling water and whisk until chocolate has melted and mixture is smooth. Add in buttermilk and whisk until smooth. Set aside.

In a small bowl, whisk together plain flour, cornflour, baking soda, baking powder and salt. Set aside.

In a large mixing bowl, beat brown sugar, caster sugar, oil, egg and vanilla with an electric mixer on medium-high speed until thick, about 2 minutes. Turn the mixer speed down to low and beat in half of the flour mixture. Beat in all of the chocolate mixture on low speed, then beat in the rest of the flour mixture. Use a rubber spatula and mix all the ingredients together.

Fill the paper liners 3/4-full (no more than that else it will overflow) and bake for 15 to 18 minutes until a skewer inserted into the centre comes out with some crumbs. Cool the cupcakes in the tins for 10 minutes, then remove the cupcakes onto a rack and let cool completely before frosting.
Frosting
Cream butter and 95 grams (3/4 cup) of icing sugar until pale, light and fluffy. Beat in cocoa powder, mint leaves and vanilla. Taste and beat in more icing sugar if desired. If the mixture is too thick, thin it out with a little milk.
Ganache
Heat the cream in a small pot until simmering. Remove from heat and add in all the chocolate. Whisk until the chocolate has melted. Let the ganache cool completely to room temperature before using.
Assembly
Place the frosting in a large piping bag fitted with a star tip. Pipe the frosting onto the cooled cupcakes then drizzle with the chocolate ganache. Garnish with mint leaves and serve.
NOTES
- If using natural cocoa powder, omit the baking powder and use 1/2 teaspoon baking soda.
- To make your own buttermilk, stir 60 ml (1/4 cup) milk with 1 teaspoon vinegar / lemon juice together. Set aside for 10 minutes before using.
- Instead of using the plain flour and cornflour combination, you can use cake flour instead if you have it on hand.
- The batter is quite liquid-y, so use an ice cream scoop to scoop the batter or transfer the batter into a measuring cup to fill the paper liners.
- Do not overbake the cupcakes else they will become dry.
- Cupcakes can be made in advance and stored in an airtight container in the refrigerator. To acheive the dripping ganache look, make the ganache just before serving.
- Adapted from Bon Appetit by Barbara Fairchild