I had leftover coconut milk from the curry-cooking last week so while thinking what to do with them, I suddenly had a craving for coconut ice cream. I first tried coconut ice cream in Chatuchak, Thailand – served in a young coconut shell and garnished with toasted pine nuts and fresh coconut meat, it was superbly refreshing, not too sweet and really delicious. I remembered we could also grab a cup of coconut water to drink. The combination of coconut water and coconut ice cream provides a much-needed relief while shopping in the sweltering hot, humid and crowded market.
Jump to: Step-by-Step Photos · Recipe
Since I don't have an ice cream machine, I looked for a no-churn coconut ice cream machine and to my delight, I found one that is similar to the no-churn vanilla ice cream I made a few weeks back! So I froze some of the coconut cream for future curries and used the rest for this ice cream. Instead of keeping the ice cream in a container, I simply scooped some in a serving bowl and in some small jars so I can dig in immediately without the scooping effort – I know, just how lazy can I get?
Taste wise, to be honest I cannot remember if it tastes the same as the one from Chatuchak market (I ate it many years ago), but this version is very coconut-y, creamy and very addictive, especially on a hot day! X doesn't like it because he only love sorbets and perhaps an occasional chocolate ice cream – but this means more for me, yippee! I added a little toasted coconut on top for texture but they can be left out if you are not keen.
Texture wise, it's not as soft as the vanilla ice cream, so just let it soften a little while before serving. It's also a little bit icy perhaps due to a lower fat content but given the fact that it's made in only 5 minutes… I forgive you, you delicious thing!
Step-by-Step Photos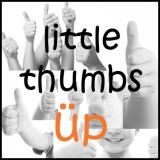 This post is linked to the event, Little Thumbs Up (June 2015: Cream) organised by Bake for Happy Kids and My Little Favourite DIY, and hosted by Diana from the Domestic Goddess Wannabe!
3-Ingredient No-Churn Coconut Ice Cream
INGREDIENTS
60

ml

cold heavy cream

,

1/2 cup

100

grams

sweetened condensed milk

,

about 1/4 can

100

grams

coconut cream

Toasted dessicated coconut

,

to serve (optional)
INSTRUCTIONS
Chill a mixing bowl in the refrigerator for at least 15 minutes. Pour in the cream and using an electric mixer, whip on high speed until stiff peaks are formed, checking every now and then to make sure you don't overwhip.

Add in the condensed milk and coconut cream and mix in gently with a spatula.

Transfer the mixture into a container and freeze overnight before serving with toasted dessicated coconut.
NOTES
- Adapted from Our Thrifty Ideas