In Southeast Asia, most curry is made by first preparing the spice paste, also known as rempah. The spice paste usually consists of shallots, garlic, ginger, chili, candlenuts, lemongrass and spices like cumin, coriander, and turmeric. The spice paste is then fried in a generous amount oil to get it fragrant before the meat, vegetables and liquid are added, and then simmered into perfection.
As you can probably tell, the process of making your own rempah takes time and effort, so to make things quicker and easier, ready-made curry paste became the answer. And it's not that it's not good, in fact I grew up eating curry chicken made with ready-made curry paste and I found them delicious. But when we moved, I only brought one packet of ready-made curry paste with us, and this became a precious commodity, so precious that I decided to try making curry from scratch.
Jump to: Step-by-Step Photos · Recipe
Luckily for me, I found a recipe that does not require me to make the rempah from scratch totally – it's made with onion, garlic, ginger and curry powder. I found the curry powder I bought is not spicy, so I added a bit of chili flakes (would have used fresh chili but I have none) into the curry paste as well. Which curry powder to use? All I can say is, use one that you like. I simply used one that is on sale in the supermarket and I like how it turned out – fragrant, spicy and so addictive!
The next question is, what do I serve with my curry? There's rice, noodles, bread, naan etc, but to me, besides rice, the best thing to serve with curry is prata. Prata is a pan-fried pancake that is flaky, crispy and extremely delicious with curry. It's a popular dish in Singapore and Malaysia but because of the fact that it's fried in a too-generous amount of oil, I seldom eat it – and now I'm missing it very much!
So to satisfy my craving, I tried out the prata recipe by Dr Leslie Tay from I Eat I Shoot I Post. It's not a very successful attempt, so no recipe for it, but they look good for the photos and they satisfied my cravings for a while. If I ever do succeed in making them… it will be such a huge achievement!
We had leftover curry so I reheated them the next day and served it with rice, fried egg and stir-fried vegetables. Drenching the rice with a tremendous amount of curry sauce is very shiok! Okay, I shall not blabber anymore, here's how to make the curry!
| Step-by-step Photos | |
| --- | --- |
| | |
| 1) Peel and roughly chop onion, garlic and ginger. | 2) Blend in a food processor into a fine paste. Alternatively, you can do it in a pestle and mortar. |
| | |
| 3) Add water to curry powder. | 4) Stir to form a paste. |
| | |
| 5) Add in the onion-garlic-ginger and mix into the curry paste. | 6) Rinse and drain the chicken parts (using chicken drumsticks here). |
| | |
| 7) Add in 2/3 of the curry paste. | 8) Mix well and marinate for at least 2 hours. |
| | |
| 9) Fry the remaining curry paste in oil until fragrant and colour has darkened. | 10) Add in the chicken. |
| | |
| 11) Fry for another 5 minutes, flipping the chicken frequently. | 12) Add in water. |
| | |
| 13) Followed by coconut cream and bring to a boil. | 14) Add in potatoes and simmer until potatoes are tender. |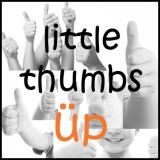 Edit 16/6/2015: Forgot to mention, this post is linked to the event, Little Thumbs Up (June 2015: Cream) organised by Bake for Happy Kids and My Little Favourite DIY, and hosted by Diana from the Domestic Goddess Wannabe!
Curry Chicken (Curry Powder Version)
INGREDIENTS
Curry Paste
Curry
About 600 grams chicken drumsticks

,

4 pieces

3

tablespoons

oil

1 1/2 to 2

cups

water

3/4

cup

coconut cream

2

medium potatoes

,

peeled and diced into huge chunks

Salt to taste
INSTRUCTIONS
Curry Paste
Using a pestle and mortar or a blender, pound/blend ginger, garlic, onion and chili flakes (or fresh chilis) into a paste.

Combine curry powder and water together in a bowl, then add in the ginger-garlic-onion paste. Stir well.
Curry
Rinse and pat dry the chicken drumsticks. Place into a bowl and mix in 2/3 of the Curry Paste. Cover and marinate in the refrigerator for at least 2 hours.

Heat oil in a large pot over medium-low heat. Add in the remaining Curry Paste and stir-fry until fragrant, about 3 to 5 minutes. Add in the chicken drumsticks and stir-fry for another 5 minutes. Add in 1 1/2 cups of water and coconut cream. Bring to a boil, then turn down the heat to a simmer. Add in the potatoes, cover, and simmer for 20 to 30 minutes until the potatoes are tender.

Season curry to taste with salt and add in more water if you prefer a thinner curry.

Serve curry with rice, prata or bread.
NOTES
- Adapted from Violet Oon's Curry Chicken