I bought a small pot of mint and coriander each a few weeks back from the market for garnishing purposes. It's a lot easier to snip off a few leaves here and there to use as garnish instead of buying a bunch, using only a little and leaving the rest to rot in the refrigerator (speaking from experiences).
Mint leaves are surprisingly, extremely easy to maintain - I have only watered them and they are just growing new leaves everywhere like crazy - so I thought of using more of them in recipes.
Jump to: Step-by-Step Photos · Recipe
I originally wanted to make mojito but didn't have rum on hand and since the weather is excruciatingly hot these days, a glass of iced mint and lemon tea sounds like the perfect drink to have on hand.
Making this is so easy that I almost didn't want to post the step-by-step photos (but I still did), you just need time to steep and to chill the tea, so it's best to make them a day ahead so they have sufficient time to chill in the refrigerator.
Another tip is to freeze some of the tea into ice cubes (with extra mint!) so that you will never have diluted ice lemon tea! I used a silicone mould gifted to me by the awesome Bobbi from Bam's Kitchen when we met up earlier this year (thank you so much Bobbi!). If you are using a silicone mould, place the mould on a baking tray before filling the mould with tea so that you can place the whole baking tray in the freezer - otherwise you'll find it really challenging to transfer the soft silicone mould to the freezer. Alternatively, regular ice cube trays will work perfectly as well.
| Step-by-step Photos | |
| --- | --- |
| | |
| 1) Steep tea bags and mint leaves in water for 1 to 2 hours. | 2) Supposed to remove the tea bags and mint leaves first, but... oh well! Add in lemon juice. |
| | |
| 3) Followed by sugar. Stir to dissolve the sugar. Remove the tea bags and mint leaves. | 4) Freeze some of the tea with fresh mint leaves into ice cubes. |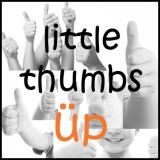 Almost forgot to mention, this post is linked to the event, Little Thumbs Up (July 2015: Tea) organised by Doreen from my little favourite DIY and Zoe from Bake for Happy Kids, hosted by Cheryl from Baking Taitai at this post.
Minty Ice Lemon Tea
The only thing you need is time - 1 to 2 hours to steep, and time to chill the drink, so make this one day ahead so you can chill the drink and freeze the tea cubes.
INGREDIENTS
2

litres water

2

English Breakfast tea bags

Handful of mint leaves

150

grams

sugar

,

⅔ cup

60

ml

lemon juice

,

fresh or bottled (¼ cup)
INSTRUCTIONS
Bring the water to a boil. Remove from heat, add in tea bags and mint leaves. Steep for at least 1 hour (up to 2 hours).

Remove the tea bags and mint leaves. Stir in sugar and lemon juice, tasting and adding more sugar or lemon juice if needed. Chill in the refrigerator completely before serving.

Freeze some tea with additional mint leaves in ice cube trays so that you can add them into your drink without diluting it.