I bought a few sweet potatoes last month to make green bean soup and ended up with one lonely sweet potato at the end. This lonely one sat in the pantry for quite some time before I decided that it's high time to use it. So while browsing through the Cake Keepers Cake, I found a sweet potato cake recipe and decided to try it out – am not disappointed!
Jump to: Step-by-Step Photos · Recipe
This simple cake uses roasted and mashed sweet potato and flavoured with vanilla, cinnamon and nutmeg. Truth be told, I can't taste the sweet potato as it was overpowered by the cinnamon and nutmeg, but it's not a bad thing because I really love this spice combination (I wonder why I didn't try this spice combination earlier!) There were also bits of mashed sweet potato in the cake, in which its mushy texture contrasted beautifully with the light, fluffy and moist cake.
It's a pity that I won't be able to make this cake again for the next couple of months as the price of sweet potatoes tripled this month – I know right, the price fluctuation is really crazy! I guess it's a seasonal thing, which can be a good thing (depends on how you see it) because the summer fruits right now (like cherries, peaches, rockmelon) are so cheap that I'm going crazy too! Hopefully they will have a chance to make a guest appearance on the blog (;
| Step-by-step Photos | |
| --- | --- |
| | |
| 1) Roast, peel and mash the sweet potato. | 2) Cream butter and sugar until light and fluffy. |
| | |
| 3) Beat in the egg and vanilla. | 4) Followed by sour cream - the mixture will look curdly but it's okay. |
| | |
| 5) Stir in the mashed sweet potato. | 6) Then fold in the dry ingredients. |
| | |
| 7) Look at the pretty orange batter! | 8) Divide among cupcake liners and bake away! |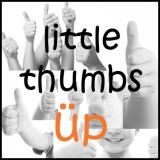 This post is linked to the event, Little Thumbs Up (June 2015: Cream) organised by Bake for Happy Kids and My Little Favourite DIY, and hosted by Diana from the Domestic Goddess Wannabe!
Sweet Potato Mini Cakes
Servings:
to 8 mini cakes
INSTRUCTIONS
Preheat oven to 200C / 400F. Rinse and dry the sweet potato and place on a baking sheet. Roast the sweet potato until cooked, about 1 hour. Peel and mash the sweet potato. Measure 1/2 cup of sweet potato purée and set aside. (Eat the remaining sweet potato or mix it into regular mashed potatoes!)

Lower oven temperature to 175C / 350F. Line a muffin tin with paper liners. Set aside.

In a small bowl, whisk together flour, baking soda, baking powder, cinnamon, nutmeg and salt. Set aside.

In a mixing bowl, cream butter and sugar on medium-high speed until mixture is pale, light and fluffy, about 5 minutes, scrapping the sides occasionally. Add in egg and vanilla and beat on medium speed for about a minute until incorporated.

On medium-low speed, beat in the sour cream, followed by the reserved 1/2 cup of sweet potato purée. Using a spatula, stir in the dry ingredients until just incorporated.

Divide the batter among the paper liners and bake for 15 to 18 minutes until a skewer inserted into the center of the cake comes out clean. Let cool completely on a wire rack.