Sep 2020: I have updated the calculator to include the instructions on the fields to be filled in. Thanks Candice for the suggestion!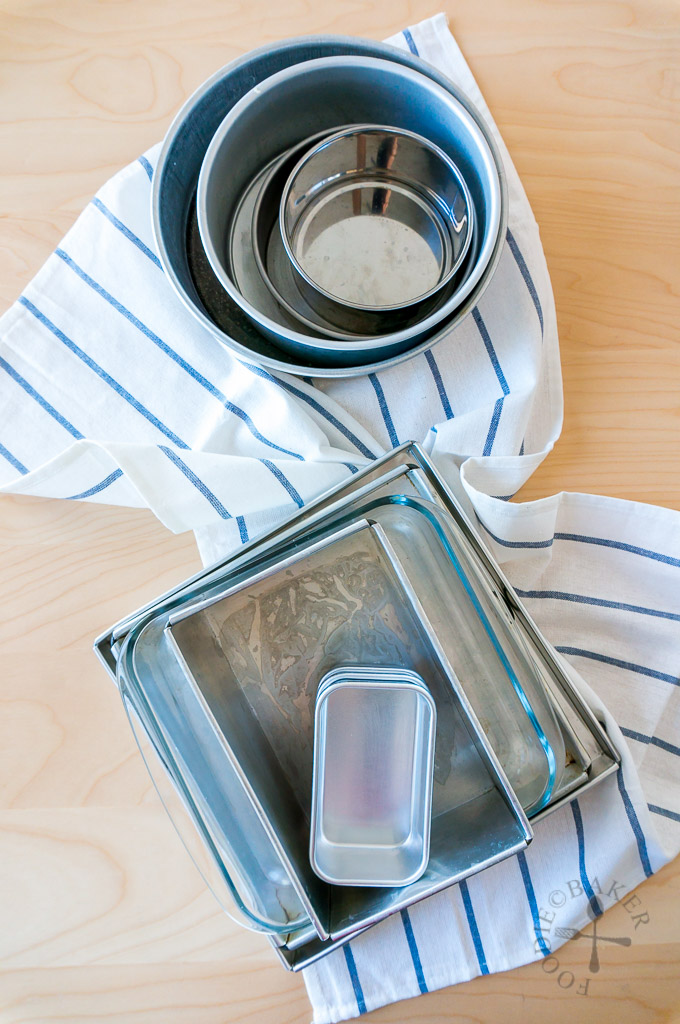 Recipe calls for a 9-inch cake pan and you've only got a 7-inch one? Want to bake brownies in a round pan instead of a square / rectangular one? Or want to bake a bigger cake for a party? These are perhaps some of the common problems that we home bakers face because firstly, many of us cannot afford stocking up different shapes and sizes of baking tins and pans at home due to space and budget constraints. And secondly, there may be times when we want to bake a cake in a different size - a bigger cake for a party or just a mini cake for that someone special.
Scaling recipes properly and accurately is important because if you try to bake a 7-inch cake in a 9-inch cake pan and follow the baking times stipulated in the recipe, not only will you get a very thin and flat cake, you will also most likely end up with a burnt cake because the cake will be cooked for way too long. If you do it the other way round - baking a 9-inch cake in a 7-inch cake pan - there will too much batter and the baking times will be a lot longer than the one stipulated in the recipe and there is a risk that your cake batter will overflow, leaving a mess in the oven *horrors*.
For me, most of the times I need to scale down recipes because I'm baking only for 2 people these days - if I bake a full recipe, we will have trouble finishing all of the desserts (not to mention the disastrous effects on my waistline). But not to worry, this Cake Pan Conversions Calculator is here to help!
The Formula
The formula used is a very simple and straightforward one we all learned in school - volume. For round cake pans it's just πr²h (π x square of radius x height), for square and rectangular cake pans it's lbh (length x breadth x height). I only made it easier by combining everything in an Excel document so all we need to do is to 1) choose the type of pan you are converting from and converting to and 2) key in the cake pans' measurements.
The only key thing to note is to use the same type of measurements throughout - inches or centimetres. Do not mix them together otherwise the scale factor will not work.
Scale Factor
After entering the details, there will be a scale factor in the yellow box. This scale factor is the number to multiply your ingredients with. Take this scale factor for example (assuming I used inches for the cake pans dimensions):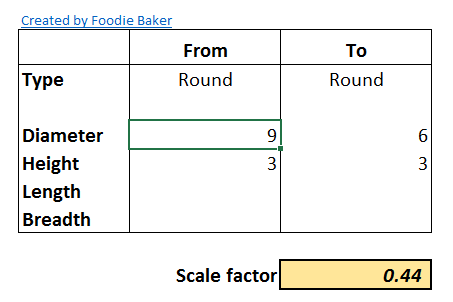 So in order to convert a recipe for 9-inch cake pan to my 6-inch cake pan, I need to scale the ingredients down to 0.44. So the ingredients required for a 6-inch cake pan will be:
Ingredients
Original Recipe

Scaled Recipe


(Multiply everything by 0.44)
Plain flour
Caster sugar
Eggs
200 grams
100 grams
4 eggs
88 grams
44 grams
1.76 eggs
Approximation
From the above, you will noted that the scaled recipe requires 1.76 eggs, which is a very weird quantity of eggs. Unless all your ingredients are measured by weights, you will most likely end up with a weird quantity of eggs. So what I will do is to approximate - I will round up or down the ingredients so that I get something that is easier to work with - in this case I will most likely round up the quantities so that I use 2 eggs for this recipe:
Ingredients
Original Recipe

Scaled Recipe


(Multiply everything by 0.44)
Approximation Recipe
Plain flour
Caster sugar
Eggs
200 grams
100 grams
4 eggs
88 grams
44 grams
1.76 eggs
100 grams
50 grams
2 eggs
Special Cake Pans
The formula will not work for chiffon pans, tube pans, bundt pans or springform pans. Chiffon pans, tube pans and bundt pans have a special design so the computation of its volume is not as straightforward as regular round, square or rectangular cake pans. For the conversion of these cake pans, it will perhaps be better to use the infographic from All Recipes.
For springform pans, the formula will work if you are scaling a recipe for springform pans with another springform pan (i.e. 9-inch springform pan recipe to a 7-inch springform pan). This is because springform pans usually hold more batter than regular cake pans (not sure why but apparently that's the case).
And that's it!
And that is how I scale most of the cake recipes I found on the internet! I've linked up to the calculator under the "Recipes" tab, so you can access it easily whenever you need to. If you would like to download this Excel file to keep it, you can grab it here. If you'd like to embed this on your site, you can find the script in the Excel file as well. And if you have further questions, drop them in the comments below and I hope I'll be able to answer them!
Have fun converting!