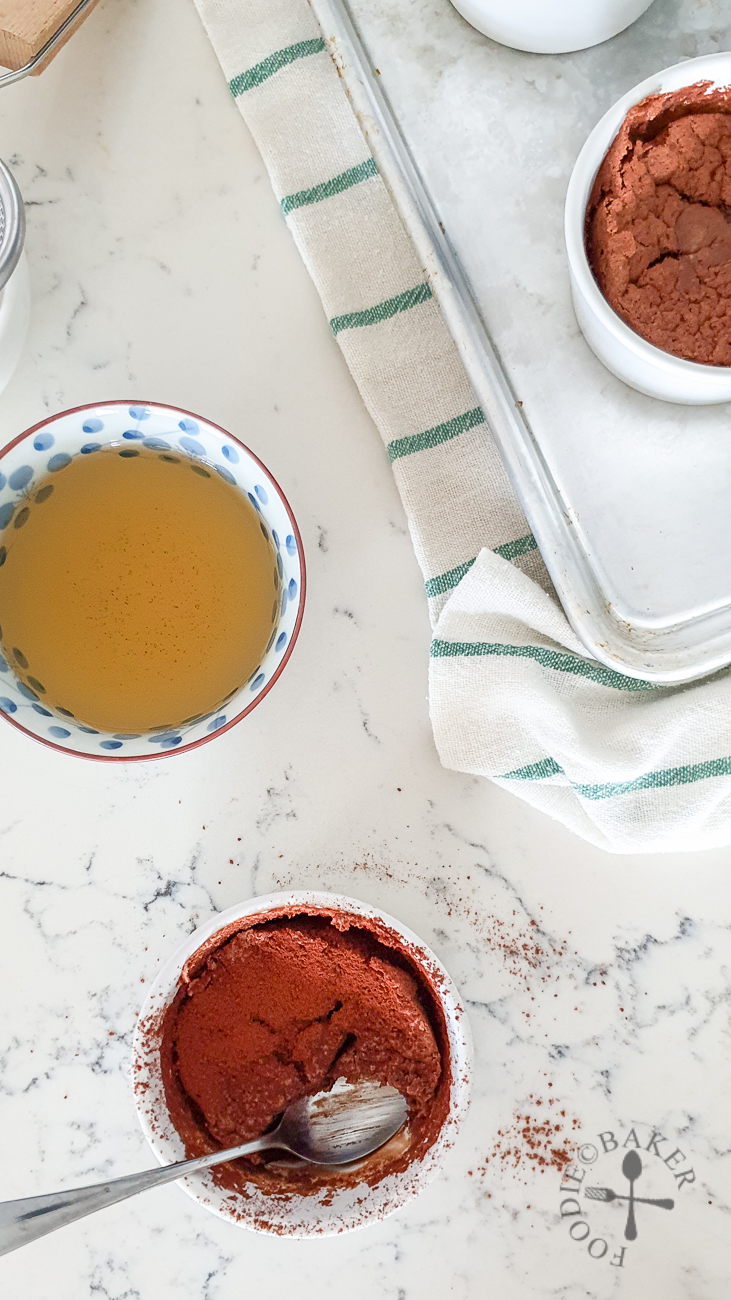 I was craving for something chocolatey for the past week but after cooking three meals almost every day, I just wanted to bake a really simple chocolate treat. This 4-ingredient (yes, only 4!) flourless chocolate cake fits all the criteria I'm looking for – dark, rich, intense and chocolatey.
With minimal ingredients, this cake is really all about the chocolate, hence the use of best-quality chocolate is a must. It is a little bit like eating chocolate truffles, but firmer in texture and minus the cream. I baked the cakes in individual ramekins, which cut short the cooking time, and also makes portion-control easier (at least that's what I thought / initially planned!).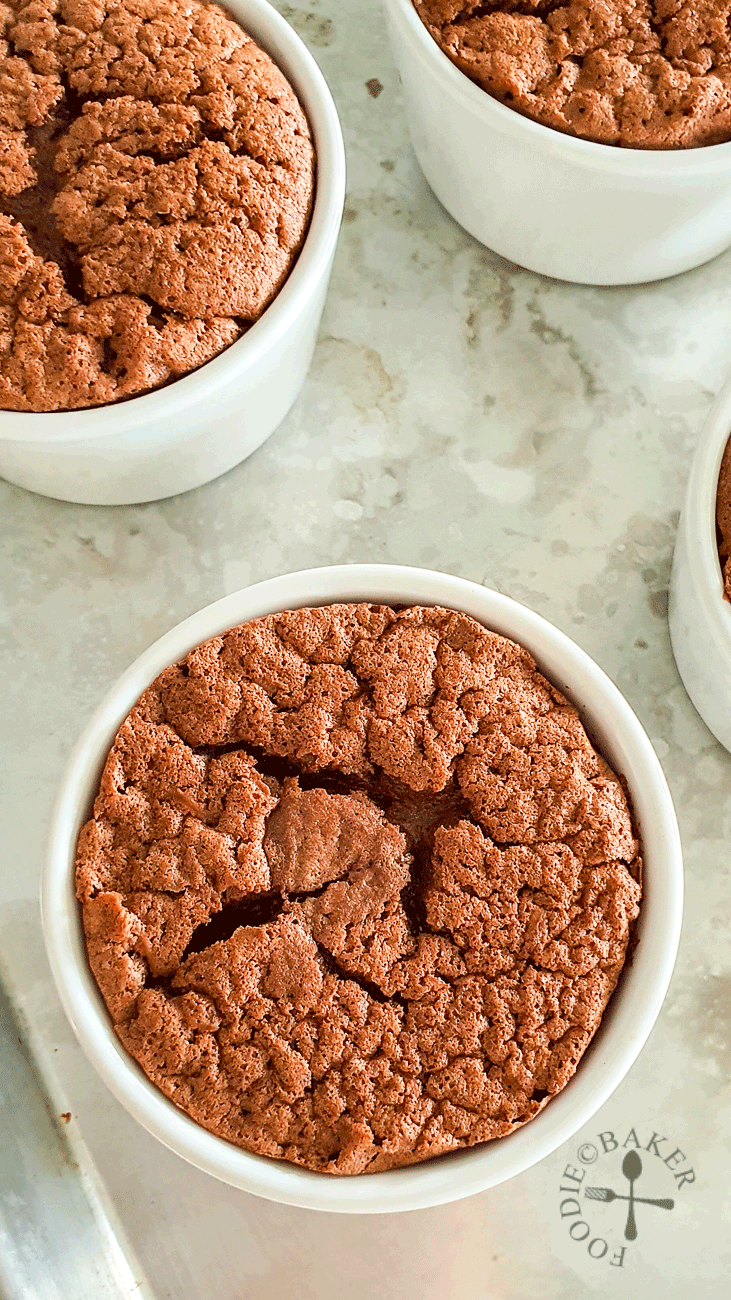 The cake will puff and crack during baking, then sink and forming a crater as it cools. I enjoyed them plain, but a dollop of whipped cream or vanilla ice cream definitely will not hurt – unfortunately I don't have any in my pantry. They keep quite well in the refrigerator too, so I get to enjoy 2 over the weekend, and the other 2 over the work week (a nice reward/break while working!)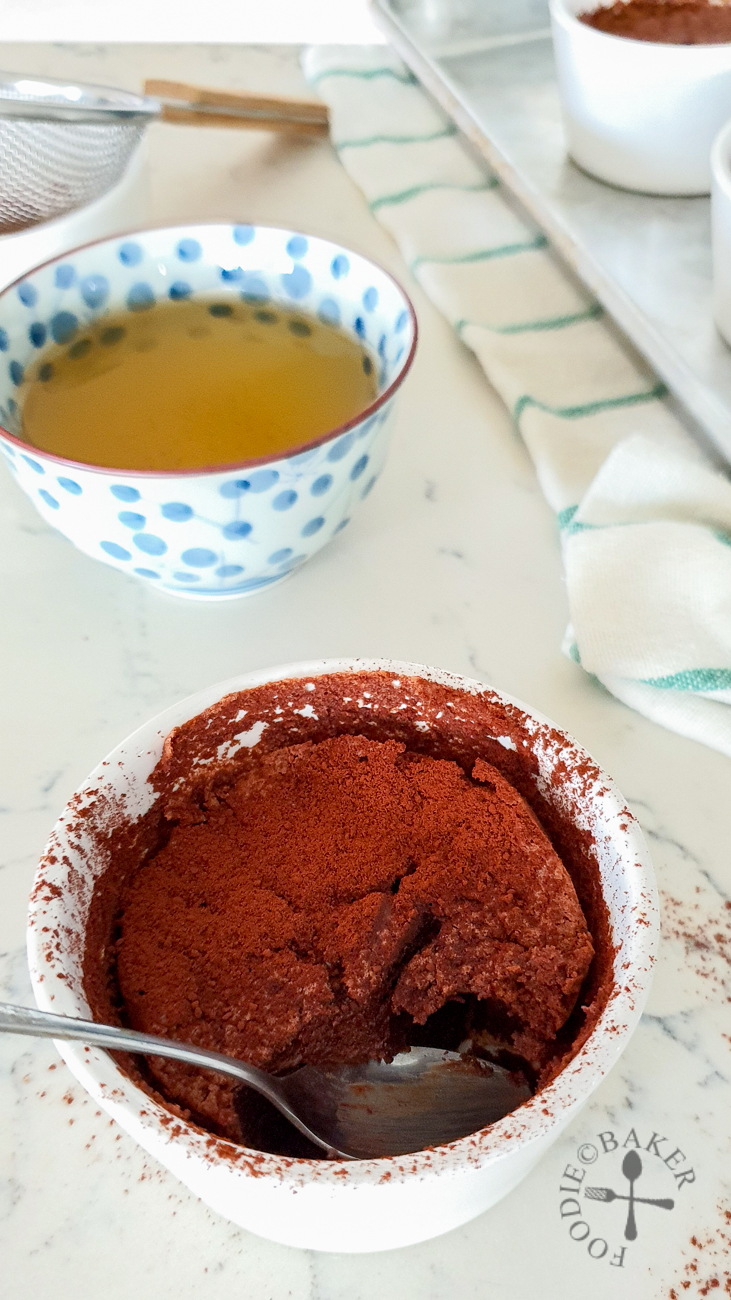 And here's the video and recipe – enjoy, stay safe and stay healthy!
4-Ingredient Flourless Chocolate Cake
Dark, chocolatey, rich, intense and indulgent, this flourless chocolate cake requires only 4 ingredients and only 30 minutes to whip up - the perfect chocolate treat!
INSTRUCTIONS
Preheat oven to 175°C / 350°F (for fan oven - 160°C / 320°F). Place 4 ramekins in a tray. If you wish to unmould the cake, butter and dust the ramekins with cocoa powder. If you are serving the cake in the ramekins directly, there's no need to do anything to the ramekins.
Chocolate Batter
Double Boiler Method

Place butter and chocolate in a heatproof bowl. Heat a small pot with 1-inch of water to simmering and place the bowl on top. The bottom of the bowl should not be touching the water. Whisk frequently, until butter and chocolate has melted. Remove from heat.

Microwave Method

Place butter and chocolate in a microwave bowl. Microwave for 20 seconds and whisk the mixture. Repeat until butter and chocolate has melted.

Whisk in caster sugar - it will be a little grainy but it's ok. Let mixture cool to room temperature before whisking in the egg yolks until fully incorporated. Set aside.
Meringue
Place egg whites in a dry and grease-free bowl. Using an electric mixer, beat on medium speed until soft peaks. Beat in sugar in 2 batches, then beat on medium-high speed until stiff peaks.

Fold the meringue in 3 batches into the Chocolate Batter gently.
Bake
Divide the batter among the ramekins. Bake for 15 minutes until the cakes are puffed, tops are cracked and the cakes are no longer jiggly. Do note not to overbake.

Let the cakes cool and serve warm or at room temperature. Serve with a dust of cocoa powder, or for more indulgence, chocolate sauce, whipped cream and/or ice cream!

Store leftovers in a container in the refrigerator. Let the cake come to room temperature (or warm it in the microwave) before serving.
NOTES
The key to make this delicious is to use best-quality dark chocolate you can find. I used Valrhona chocolate for this recipe.
Adapted from Food52 Genius Desserts
Nutrition
Calories:
260
kcal
|
Carbohydrates:
22
g
|
Protein:
5
g
|
Fat:
18
g
|
Saturated Fat:
10
g
|
Cholesterol:
117
mg
|
Sodium:
34
mg
|
Potassium:
168
mg
|
Fiber:
2
g
|
Sugar:
17
g
|
Vitamin A:
348
IU
|
Calcium:
25
mg
|
Iron:
2
mg