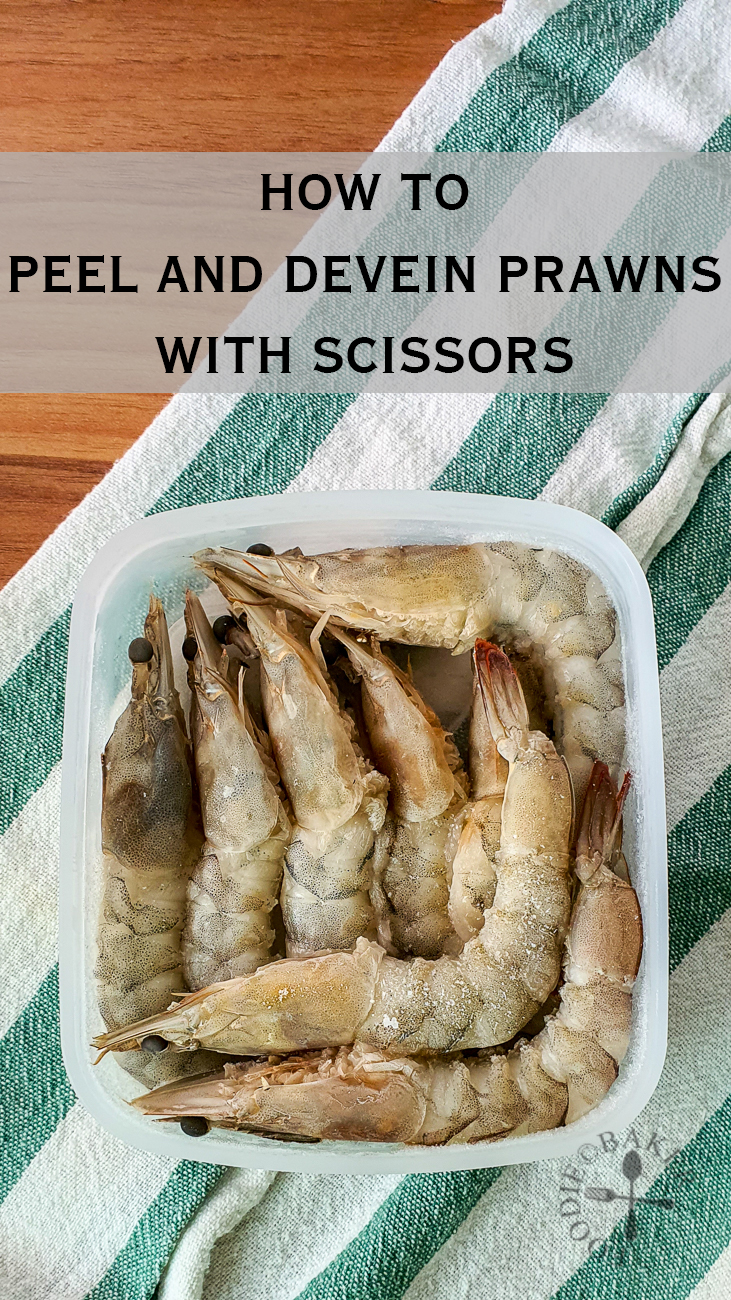 Today's post is on how I usually peel and devein prawns before they go into the freezer. I already have one post about it on the blog but I thought of videoing the process and sharing it this time round! I usually buy about 500 grams of fresh prawns from the wet market or supermarket. I will use some of the prawns on the day I buy them, while the rest will be frozen so that I can easily defrost whatever I need for a quick weekday dinner like prawn aglio olio or mee sua soup. But before freezing, I will prep the prawns by peeling and deveining so that it cuts down some prep time.
Why not just buy peeled frozen prawns?
Most of the ready-peeled frozen prawns have the prawn heads removed. As prawn heads add lots of flavours to food, and fresh prawns are readily available in Singapore (unlike when we were living overseas a few years ago), it is just a additional prep work that I don't mind taking on once in a while.
How I peel and devein prawns
There is no right or wrong in doing this, just sharing my experience and hopefully it's useful for you! Would love to hear how all of you deal with prawns too!
Additional Tips
1) Gloves – I wear a pair of disposable gloves before I start handling the prawns. As there are sharp spikes on the prawns, the gloves helped to reduce instances of the spikes poking the hands. It also help to reduce skin irritation, especially if you are handling a huge amount of prawns.
2) Ice – If I remember, I try to prepare at least two bowls of ice on the side before I start so I can add the ice into the bowls containing the prawns to keep them chilled. If I forget, I'll scream for X to help me get the ice :p
3) Kitchen scissors – I use a pair of kitchen scissors to snip off the sharp spikes, feelers and legs directly into a small bag (which makes it easy later on to bag and throw). By snipping down the middle of the abdomen shell of the of the prawns, it helps to cut the flesh as well, revealing the digestive tract which can be removed easily.
4) Leaving the head and tail on – Many people will freeze the prawn heads and shells separately to make prawn stock, then freeze the prawn stock again until required. As I don't have a huge freezer space, I try not to do this unless I am intending to make something that requires a lot of extra prawn heads and shells (e.g. prawn bisque). Plus, I tend to forget about the prawn stock sitting in the freezer. Hence, I leave the prawn heads on so that the prawn heads will add flavour to whatever I'm cooking. The tail is left purely for presentation purposes.
5) Work quick and line production – Prepping the prawns is the first thing I do whenever I reach home, so that the prawns can be kept in the freezer as soon as possible. If I cannot prep them immediately, I will throw them in the refrigerator with some ice. I also work like a line production, meaning I snip off the sharp spikes, feelers and legs of all the prawns first, then snip down the abdomen, then peel, then remove the digestive tract under a tiny stream of running water. My way of doing may not suit everyone, so do try and see how works best for you!
6) Salt – I like to toss the peeled prawns with a little salt before freezing to season the prawns and I find that it make the prawns "crunchier" (it may be just me). I use about 1/2 teaspoon of salt for every 500 grams of prawns (weighed with shell on). You can omit the salt, this step is optional. Similarly like ice, I will prepare the salt before I start so I don't have to remove the gloves or scream for someone for help.
7) Small containers – I like to portion the prawns in small containers for freezing – two per person for soups, noodle, fried rice or okonomiyaki; and three to four per person for pasta dishes (depending on how big the prawns are). This way, whenever I need prawns, I'll only need to take out one container and let thaw overnight in the refrigerator. If you want to store all the prawns in a container or ziploc bag, do freeze the prawns individually first so that they do not stick together. To do so, line a tray with parchment paper and place prawns on top – do not let the prawns touch one another. Freeze until solid and transfer into the container or ziploc bag.
How long can the frozen prawns last?
It really depends on how the prawns have been handled prior to freezing. I would recommend to finish consuming the frozen prawns within 3 months and to cook them thoroughly before eating. Please don't eat them raw! For me, out of the 500 grams of fresh prawns, I will usually cook some on the day itself, and I would have enough leftover to freeze for about 3 or 4 meals, which can last about 1 or 2 months before I need to buy a fresh batch of prawns (this is for a 2-people household). Unless the prawns are on sale (which are rare), I don't really see the need to buy in huge quantities!