I was looking through my old recipes to revamp them and I saw a really old Vanilla Cupcakes recipe blogged 9 years back (my blog is turning 10 years next oh my god!) Not only were the photos horrible, they weren't even rotated upright (meaning you are looking at the cupcakes sideways)… so they are definitely in need of a revamp! (If you are brave enough, you can see the old photo here.)
The Vanilla Cupcakes recipe comes from one of the first cookbooks I bought – the 500 series. I own their 500 chocolate delights, 500 cookies, 500 cakes, 500 pies and tarts, 500 breads and a few more of their series. They don't really have 500 recipes in the book, just about 100 base recipes with 4 to 6 variations for each base recipe. At that time when I first started buying the books, searching for recipes on the internet was uncommon for me, so I relied quite a lot on these books to build my baking experience and to build the blog. (This is quite a nostalgic moment right now.)
Anyway I digress – back to these Vanilla Cupcakes! I scaled down the recipe to using only 1 egg to make a smaller batch of cupcakes – and I ended up with 4 cupcakes, which is just perfect for both X and I. It is a one-bowl recipe, so making these cupcakes is an incredibly easy affair and wash up is minimal. The cupcakes are a bit dense with a tight crumb, so it may not be for those who light airy cakes.
The original frosting for these Vanilla Cupcakes was a mocha buttercream frosting but I didn't want to inhale all those butter and shocking amount of icing sugar, so I used a very interesting chocolate frosting that my friend introduced – it contains no butter (a little canola oil is used), no cream or other dairy and no crazy amount of sugar. It is a cooked frosting thickened with cornstarch. Don't worry, there's no cornstarch taste at all and it's plenty chocolatey. It's also incredibly glossy and pretty, stays soft even when refrigerated and it takes only 5 minutes to make it.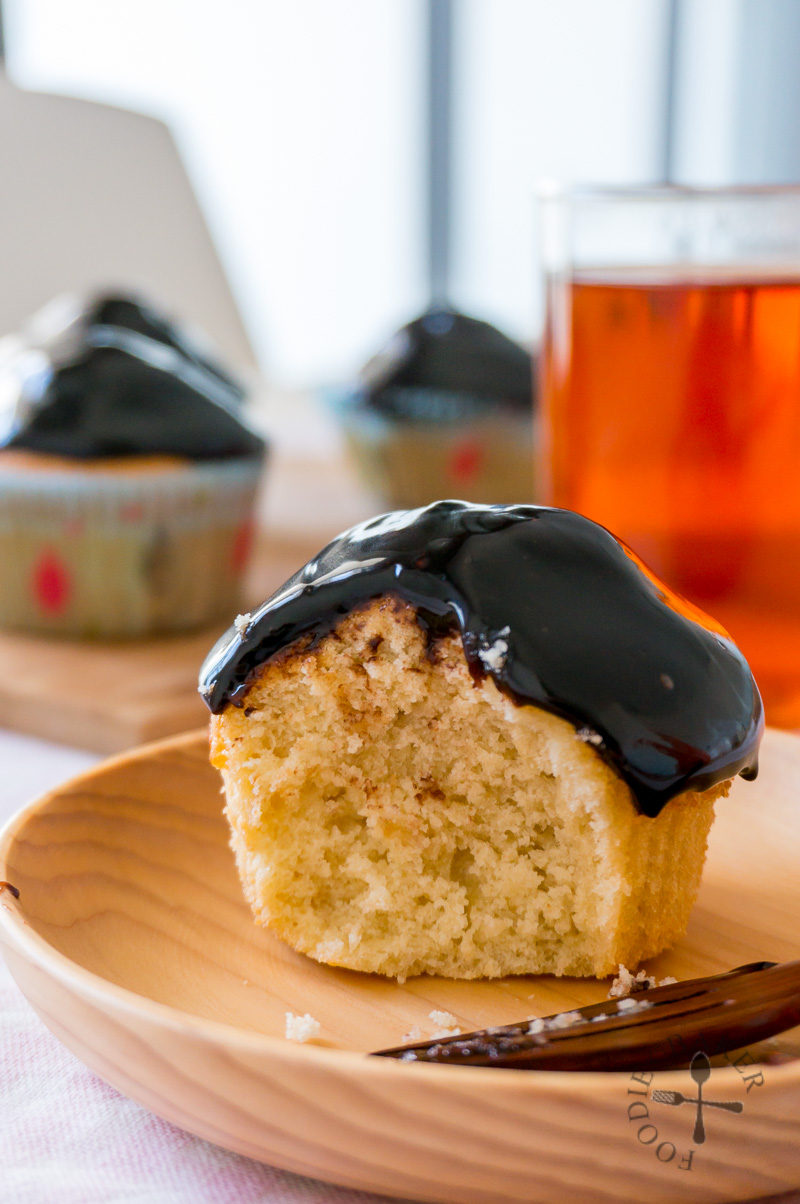 As the chocolate frosting does not contain any egg or dairy, that makes it a Vegan Chocolate Frosting – unfortunately the Vanilla Cupcakes are not vegan as they contain egg and butter. If you want a vegan cake, try this Eggless Chocolate Cake! Double chocolate can never go wrong anyway! 😉
Here are the step-by-step photos and recipe!
Step-by-Step Photos
One-Bowl Vanilla Cupcakes with Chocolate Frosting
Simple, delicious and makes only 4 cupcakes, these one-bowl Vanilla Cupcakes with a 5-Minute Chocolate Frosting is great for days wanting a quick cake fix!
INSTRUCTIONS
Vanilla Cupcakes
Preheat oven to 180C / 355F. Line a muffin tin with 4 cupcake liners.

Place butter and sugar in a mixing bowl. Sift in flour, baking powder and salt. Add in egg and vanilla. Using a handheld electric mixer, beat on low for 30 seconds, then turn the speed up to medium and beat for 1 minute. Scrap down the sides of the bowl with a rubber spatula and beat on medium speed for another 1 minute.

Fill the paper liners until 2/3 full (1/4 cup batter per standard cupcake). Bake for 18 to 20 minutes until a skewer inserted into the center of the cake comes out clean.

Remove the cupcakes and let cool completely before frosting.
Vegan Chocolate Frosting
Sift cornstarch, cocoa powder and salt into a small pot. Add in sugar and water and whisk with a wire whisk until there are no more lumps.

Place the pot over medium-high heat and whisk constantly with the wire whisk. When the mixture starts to thicken, remove from heat and whisk vigorously until the frosting is homogeneous. Return to medium heat and boil for 30 seconds to 1 minute, whisking constantly until the frosting is thick and spreadable. Remove from heat and whisk in oil and vanilla. Let cool completely before using.
Assembly
Spoon a heaping spoonful of Vegan Chocolate Frosting on top of each Vanilla Cupcake and frost with a palette knife or the back of a spoon. Leftovers can be kept in an airtight container in the refrigerator for up to 5 days.