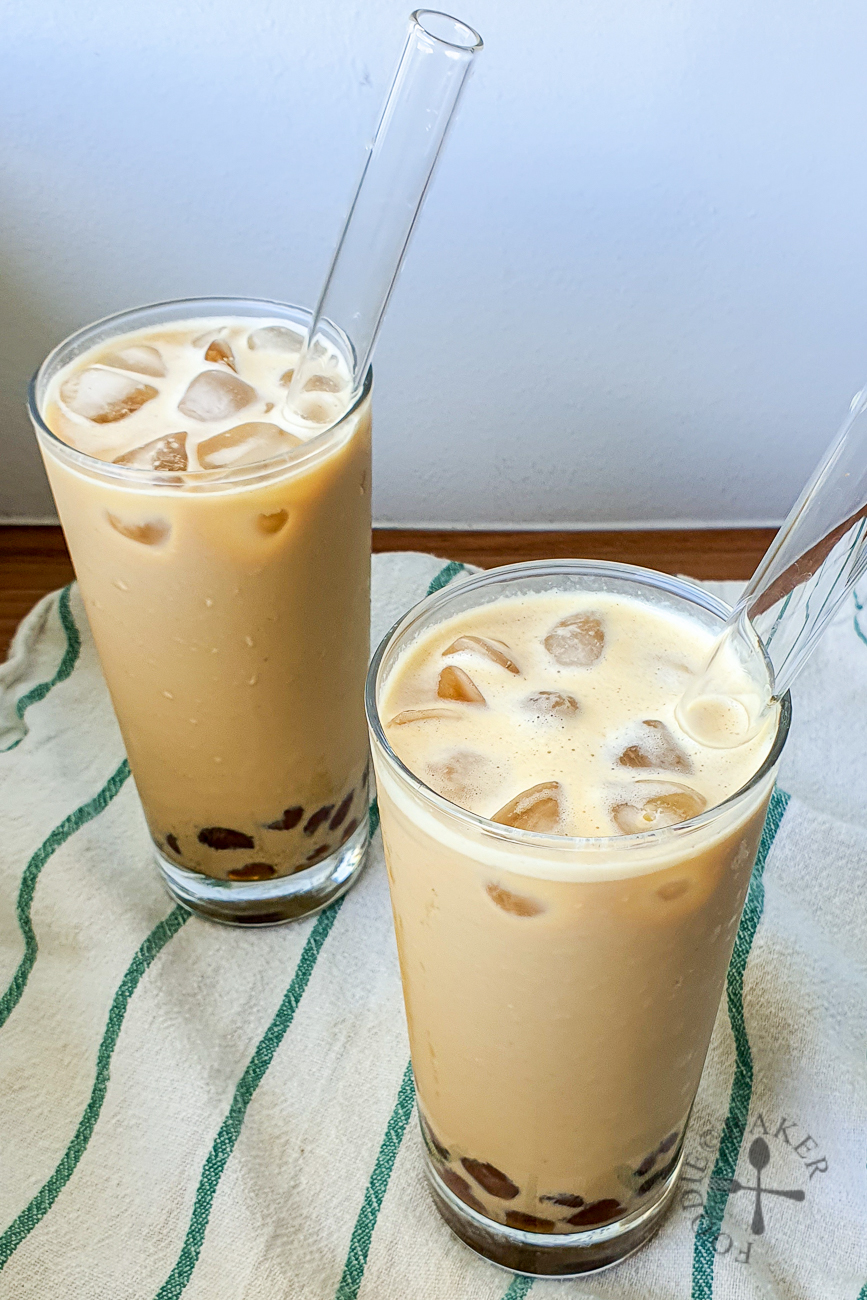 2 years 4 months – this is how long I've been away from the blog! I was full of excuses to not come back and blog proper: the laptop is old and slow; the camera is not working properly; work is too busy; weekends are reserved for rest and housework etc… While these external factors may play a part, but I know that me, myself and I is the reason for the absence.
Yesterday, Singapore announced that all standalone food and beverages will have to shut, and this includes majority of the bubble tea shops. This resulted in a mad rush to queue for the last bubble tea, or order that last sugar fix from one of the online delivery platforms. Then some of my friends asked me last night if I can make bubble tea – and actually I did tried making the boba pearls years ago when I was living overseas in a place where there's no bubble tea at all. But it's really tedious and I didn't make a second time to blog about it.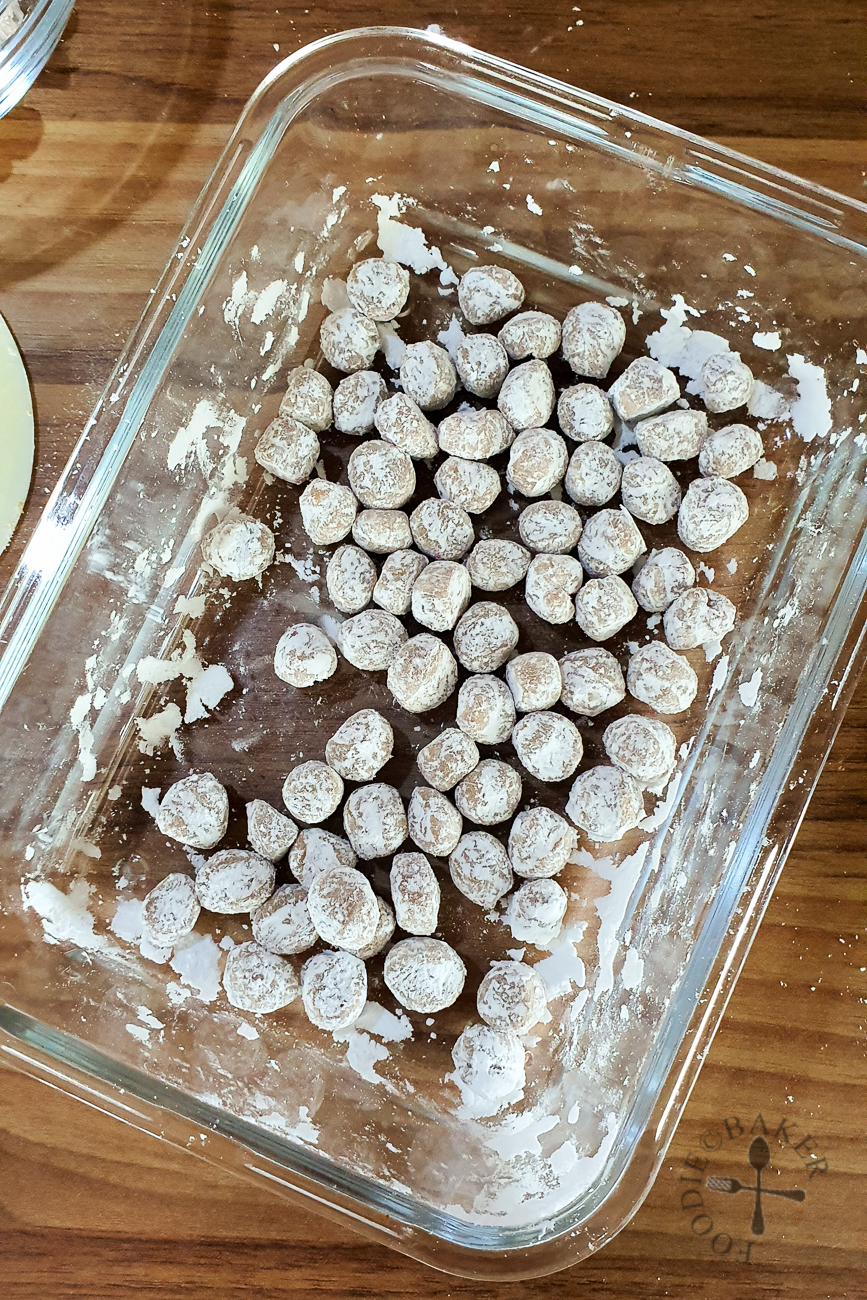 So I decided to ride the wave/hype and cash in on this current craze even though there's already plenty of bubble tea / boba pearl recipes and videos out there. The whole video and photo-taking was done using just my phone (though I did the editing in the laptop) – it's pretty amazing how a phone camera can be so powerful these days.
I'm sharing a milk-based bubble tea today that is made with fresh milk and tea, no creamer is used. The flavour of the tea is Oolong (乌龙), which is one my favourite bubble tea flavours. For the boba pearls, they are made with just dark brown sugar, water and tapioca flour (no food colouring!) The dark brown sugar I used is known as 黑糖 (hei tang) in Chinese – the kind usually used to make Chinese desserts. The pearls are not as dark in colour, but they are as chewy, if not more chewy, than those out there!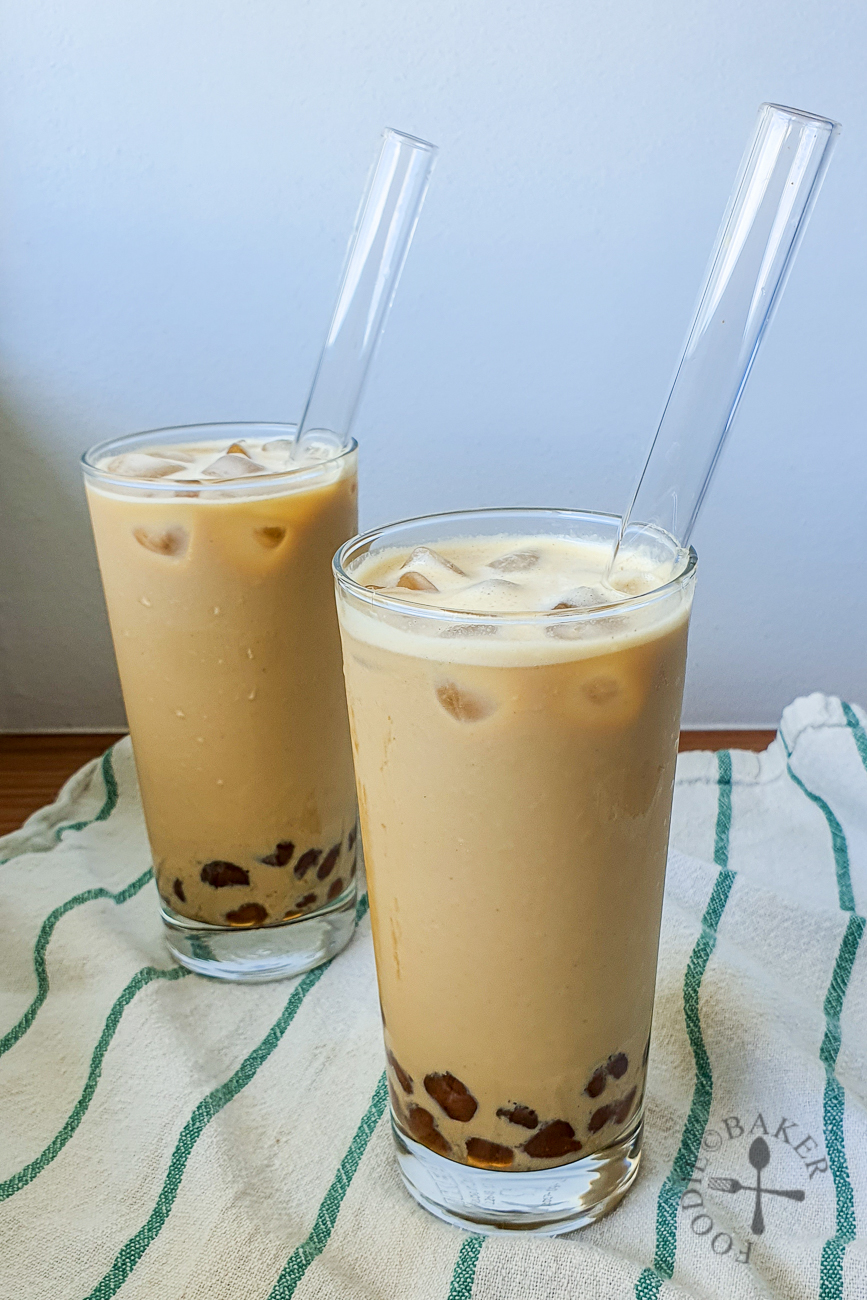 Leftover tapioca flour? No worries, check these two recipes out!
Oolong Fresh Milk Bubble Tea with Homemade Boba Pearls
Bubble tea made with fresh milk and served with homemade boba pearls. No creamer, preservatives or food colouring!
INGREDIENTS
Milk Tea (makes enough for 2)
500

ml

water

4

tbsps

Oolong tea leaves

2

tbsps

caster sugar

200

ml

fresh milk,

can use up to 250ml if desired
Tapioca Pearls (makes enough for 4)
70

ml

water

30

grams

dark brown sugar

100

grams

tapioca flour,

aka tapioca starch (plus extra for dusting)
Cooking the Pearls
1

tbsp

dark brown sugar

,

optional
INSTRUCTIONS
Milk Tea
Combine water and tea leaves in a small pot. Bring to a boil, stirring occasionally. Lower the heat, cover and simmer for 10 minutes. Stir in caster sugar and milk. Turn up the heat and bring to a simmer. Remove from heat, cover partially and let steep until cool to room temperature before storing in the refrigerator.
Making the Pearls
From the 100 grams of tapioca flour, scoop out 2 heaping tablespoons of tapioca flour into a small bowl and set aside.

Combine water and dark brown sugar in the smallest pot you own. Dissolve the sugar over low heat, then turn up the heat to bring it to a boil rapidly. This is to prevent over-evaporation of water.

Lower the heat to low and add in the 2 heaping tablespoons of tapioca flour and stir, quite vigorously, until the flour has been absorbed.

Turn off the heat and stir in the remaining tapioca flour. Scrape out the dough and knead the dough while it's still hot into a smooth dough. If it's too dry, add hot water bit by bit. If it's too moist, add a bit of tapioca starch.

Once dough is smooth, cut out a portion and roll into a log. Cut into small pieces and roll into a ball. The pearls should only be around 1-cm big as they will expand when cooked. Toss the pearls in extra tapioca flour so they don't stick together. (This is the most time-consuming step so you may want to do it while watching your favourite drama.)

Once all the pearls are rolled and coated with tapioca flour, transfer the pearls into a sieve to dust off any excess tapioca flour. (The pearls can now be cooked, or frozen for 3 months in an airtight container until needed.)
Cooking the Pearls
Bring a pot of water to boil. Add in the pearls and stir to make sure they are not sticking to each other. Cover and simmer for 15 minutes, stirring occasionally.

Once 15 minutes is up, turn off the heat and continue to steep for another 15 minutes.

Drain the pearls using a sieve (don't have to be completely dry) and transfer into a bowl. (If not using the pearls immediately, do rinse the pearls with running water to stop the pearls from cooking.)

Stir in dark brown sugar (optional).
Assembly
Strain the milk tea. Transfer into a cocktail shaker or a jar with a lid. Add in half of the strained milk tea and some ice cubes. Shake until frothy.

Scoop pearls into a tall cup. Pour in the frothy milk tea. Serve with a thick straw. Enjoy!
NOTES
Do note that the milk tea recipe is for 2 cups of bubble tea while the pearl recipe is for 4 cups of bubble tea. It is difficult to halve the pearl recipe as the quantity of the ingredients is little. If not doubling the milk tea recipe, freeze half of the rolled pearls until the next bubble tea craving!
Only tapioca flour / tapioca starch can be used. There is no substitute for this ingredient (at least none that I know of).
You can always substitute the tea leaves with your favourite tea. The amount of tea leaves to be used may vary depending on the strength / flavour of the tea.
Do cook the pearls only on the day you want to eat them and enjoy them as soon as they are cooked.