Gordon Ramsay is a popular celebrity chef who hosts many variety shows. I can't say I'm an avid fan of his, considering the huge amount of swearing in his shows – I can't decide if he meant what he said or he had to for show-effects. But even so, I have collected quite a few of his recipes that I have yet to try out, so this Cook Like A Star came at the right time!
I have tried out his method of cooking scrambled eggs (recipe with step-by-step photos here) and once I got the technique, every batch of scrambled eggs came out perfect! This time, I decided to try out a pasta recipe that consists of plenty of seafood. Velouté is a French term, referring to a soup or sauce made of chicken, veal, or fish stock and cream and thickened with butter and flour. Gordon Ramsay's version is thickened with cream and no flour is used.
Gordon Ramsay's version is of course more luxurious with all the oysters and scallops. Being a budget cook, I decided to adapt the recipe and make a more pocket-friendly (in terms of dollars) one – by omitting the oysters and scallops and added clams instead. Love the medley of seafood!
I had also made a very simple (and cheap) prawn stock by using the prawn heads and shells and a little herbs, instead of getting a ready-made stock. The resulting pasta is a bit like noodle soup as the sauce is not thick enough to coat the pasta but it is so tasty that X slurped up all of it! Will definitely be making this again!
Step-by-step photos!

1) Bring a small pot of water to boil.
2) Add in prawn heads and shells.
3) A bay leaf.
4) And some thyme.
5) Simmer, strain and you get your stock!
6) Return the stock to a clean pot.
7) Add in salmon pieces.
8) Followed by prawns.
9) And clams.
10) Cook until seafood is just cooked.
11) In a large pot, melt some butter.
12)

Sauté onion gently until softened.

13) Add in the yummy seafood stock.
14) And cream to thicken.
15) Some tomatoes for colour.
16) And reheat the seafood.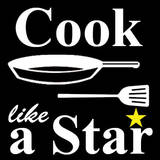 I'm submitting this to Cook Like A Star, hosted by Zoe from Bake for Happy Kids, Yen from Eat your heart out and Mich from Piece of Cake.
Spaghetti with Seafood Velouté (Gordon Ramsay)
Serves 2
INGREDIENTS
1 1/2

cups

water

,

375 ml water

1

bay leave

1/2

teaspoon

dried thyme leaves

8 to 10

large raw prawns

150

grams

salmon fillet

10 to 12

live white clams

150 to 180

grams

spaghetti

25

grams

butter

75

ml

heavy cream

Small handful of cherry tomatoes

Salt and freshly ground black pepper

Chopped fresh parsley

,

for garnish
INSTRUCTIONS
Combine water, bay leave and thyme leaves in a small pot and bring to a boil.

Peel and devein the prawns

, reserving the prawn heads and shells. Add the prawn heads and shells into the boiling water. Simmer for 15 to 20 minute to extract the flavours of the prawns. Strain the stock into another clean pot.

Gently rub 1 teaspoon salt into the peeled and deveined prawns and set aside for 10 minutes. Rinse off the salt, pat dry with paper towels and set aside. Skin the salmon fillet (or you can leave it, which was what I did) and slice it into 1 1/2-inch chunks. Season with a little salt and set aside.

Reheat the stock until it starts to simmer. Add in the salmon chunks and simmer for 1 minute. Add in the prawns and the clams and simmer until the clams are cooked. Remove all the seafood with a slotted spoon and set aside.

Boil a large pot of well-salted water and cook the spaghetti until al-dente, according to package's instructions.

In a third pot, melt the butter over medium-low heat then add in the onion. Sauté gently until the onion is translucent, then add in the stock. Bring to a simmer and add in the cream and cherry tomatoes. Add in the seafood and season with salt and black pepper (I used very little salt, so remember to do a taste-test before seasoning the sauce!) Bring the sauce to a simmer but take note not to boil it.

By now your pasta should be cooked - drain well (no need to rinse under cold water). Take a bunch of pasta, twirl and plate it. Spoon the seafood and the sauce over the pasta. Garnish with parsley and serve immediately.