When I saw that the theme for Bake-Along this time round is Madeira Cake, I decided to Google and find out what's so special about this cake that is named after a place in Portugal. It turns out that the cake is not from Portugal, but originated in England around the 1800s, and that its name, Madeira, is named for the wine it often accompanies.
Madeira wine is a fortified Portuguese wine made in the Madeira Islands. To accompany this wine which was a popular beverage in Europe since 16th century, this cake was developed, which consists only of butter, sugar, eggs and flour. Lemon juice and zest are later often added to give it a slight tang, and no wine was harm in the making of this cake (only after the cake is made).
Nigella's recipe yields a huge cake, and as I don't have so many mouths to feed, I scaled down the recipe to ⅓ to make a 5-inch round cake, which was enough to feed us for 2 to 3 days (as breakfast for X and as tea-break for me). I also modified the recipe a little so that I can put in cup measurements and increased the amount of lemon required in the recipe because I'm sure you all know by now, I love a strong lemony taste in my bakes.
The resulting cake is light but still rich and buttery. X says the texture was interesting because it was like eating a sponge cake and a rich butter cake at the same time. I'm glad I increased the amount of lemon as it adds a refreshing and lingering tang to the cake, and coupled with the crunchy sugar topping, it just keeps me coming back for more. But I have to restrain myself, otherwise my waistline is just gonna go *poof*!
| Step-by-step Photos | |
| --- | --- |
| | |
| 1) Measure flour, baking powder and salt in a small bowl. | 2) Whisk well to evenly distribute the baking powder and salt. |
| | |
| 3) Cream butter, sugar and lemon zest until fluffy. | 4) Add in the egg and 1 tablespoon of the flour mixture. |
| | |
| 5) Beat in the lemon juice. | 6) Beat in the flour mixture until almost combined. |
| | |
| 7) Then finish mixing in the flour with a rubber spatula. | 8) Transfer the batter into a cake tin. |
| | |
| 9) Sprinkle with sugar. | 10) Then bake away! |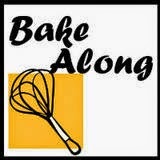 Bake-Along is hosted by these wonderful ladies – Zoe from Bake for Happy Kids, Joyce from Kitchen Flavours and Lena from Her Frozen Wings. See at the end of the post for all the yummy Madeira Cakes baked by other fellow bakers!
(The next Bake-Along theme is Croissant and I have to apologise that I won't be joining as it's a too challenging for me as I haven't master bread-baking yet, perhaps next time!)
Madeira Cake
Yield:
5-inch cake (serves 4)
Ingredients
95 grams all-purpose flour (¾ cup)
¾ teaspoon baking powder
⅛ teaspoon salt
75 grams unsalted butter, at room temperature (⅓ cup)
60 grams caster sugar (¼ cup)
Zest of ½ lemon
1 egg, at room temperature
3 tablespoons lemon juice (about ½ lemon)
1 to 2 teaspoons caster sugar
Method
Preheat oven to 170C / 325F. Butter a 5-inch round tin and line the bottom with parchment paper. Set aside.
Place flour, baking powder and salt in a small bowl. Whisk well to evenly distribute the baking powder and salt. Set aside.
In a mixing bowl, cream butter, sugar and lemon zest on high speed until light and fluffy, scrapping down the sides occasionally. Add in egg and 1 tablespoon of flour mixture and beat on medium speed until incorporated. Beat in the lemon juice on low speed. Add in the flour mixture and beat on low speed until almost incorporated. Use a rubber spatula and finish mixing in the flour mixture.
Scoop the cake batter into the prepared tin and using the spatula, spread the batter to the edges evenly. Sprinkle with the caster sugar and bake for 35 to 40 minutes, until the top is golden-brown and a skewer inserted into the center comes out clean. Let cool on a wire rack completely before serving.